The most common eye disorder which can affect an individual eyes is Dry Eyes. Nowadays, dry eyes is being a common eye problem which can affect anyone due to inadequate and unstable tear flow or productions. Understanding tear layers and its mechanism is quite complex as tear structure is made up of various components. The interactions of tear layer which composed of lipid, protein, salts, mucin and water is quite essential to obtain its stability. The outermost lipid layer functions to prevent our tear from evaporating, the middle layer of aqueous supplies moisture to our eyes, and the innermost mucus layer is to allow our tear to stick on the front surface of cornea. When this layer has been interrupted, dry eyes may occurs. There are numerous causes and reason for us to know about unstable tear production and tear inadequacy. Before that, we need to know what are the symptoms that we may experience once we have dry eyes. From there, we can able to detect the causes and risk factors of dry eyes. By determining the symptoms and causes, we are able to manage and treat dry eyes more effectively. So, lets read more to know how can someone know if he or she have dry eyes, what happen if I have dry eyes and what are the reason for you to have dry eyes.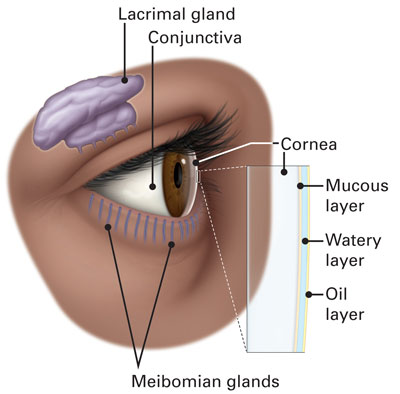 First and foremost, we need to discover how does one feel when they have dry eyes. The basic problem that one may encounter is their eyes feel discomfort after a long day facing at screen, watery eyes, experiencing clear and blur vision on and off. We as an optometrist are professionally well trained and experienced in facing various complaint from our patients about dry eyes symptoms. Despite of that, the prevalence of dry eyes has increased during this pandemic as many of us are assigned to do work from home, which makes us to face screen time more and causes dry eye more in the past year. Remember, blinking helps to moisturize our eyes as new layer of tear across the cornea is distributed when we blink. But when we are facing screen time or doing any near visual tasks for longer hours, our blinking rate will reduce half from the average rate (12-15 blink per minute). We should also understand that dry eye may seem to be common but if it left untreated it can lead to chronic condition affecting the front surface of the eyes known as cornea. Once the eye notices a lack of lubrication and moisture in its surface, this can lead to dry eyes. This can help us to know what happen if we have dry eyes. If we notice any of the listed symptoms as below, thus we should start to take an action to treat it.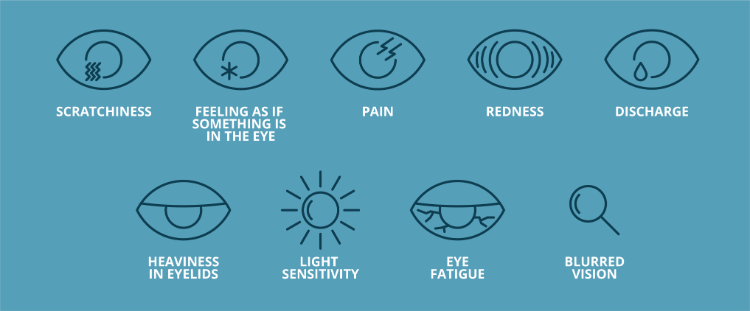 One may notice a constant uncomfortable feel in their eyes, following with the dry eyes symptoms such as irritation, burning or scratching sensation, tearing eyes, redness in the eyes, mucus discharge, blurry vision, easily can have eye fatigue and itchiness. We may experience one symptom or few combined symptoms at a time. Thus, understanding the tear layer and its anatomy may help us to know the reason of why we need to keep our eyes lubricated all the time and protect our eyes from foreign particles.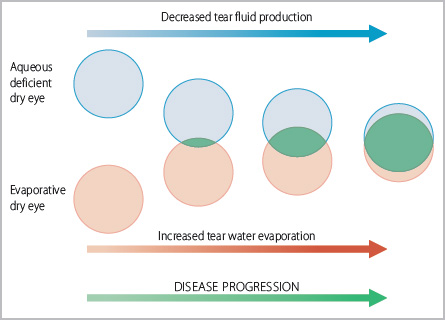 The two main type of dry eyes is known as evaporation dry eyes and aqueous deficient dry eyes. The evaporation dry eyes carries 85% of the reason for dry eyes to happen. When the lipid production from meibomian gland is insufficient, it will lead our tear to evaporate. Also if there is any blockage or dysfunction of meibomian gland, it will cause an inadequate lipid production, thus, evaporation may occur too. Next, the least common type of dry eye is known as aqueous deficient dry eye, which causes by the insufficient tear production from lacrimal gland and it can be further classified into Sjogren's and non-Sjogren's syndrome.
Before confirming on the management and treatment plan for dry eyes, we as an optometrist do also make sure by determining what are the causes of these dry eyes symptoms may occur. It is also important to understand who is at the risk of getting dry eyes easily and it would be helpful for us to monitor them frequently. Dry eyes may develop due to several reasons. It can occur due to aging factor, inappropriate use of contact lenses, side effect of certain medication such as (antihistamines, antidepressants), lack of vitamin A, laser or refractive surgery, hormonal imbalance, eyelid problems, allergic eyes, frequent computer users, and improper blinking effect. Whenever you blink, a new layer of tear film will spread across your cornea. Also severe dry eyes may lead to blurry vision and it can impact your daily life activities.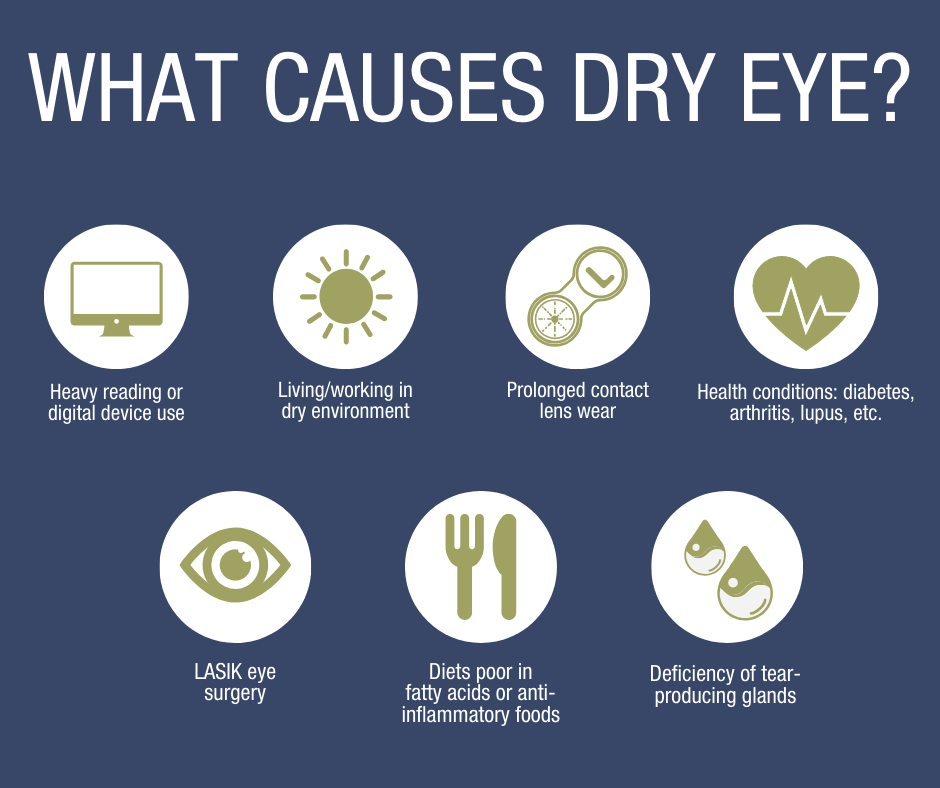 To avoid from getting dry eyes, you need to find out how does the dry eyes causes. You can apply some of these simple tips in your daily life. First, do not allow direct air blow into your eyes. Positioning air-condition or fans away from us will help our tears to not evaporate. Usage of artificial tear drops helps to moisturize our eyes and produce a smooth and soothing effect. There are tons of artificial tear drops available in market, and preservative-free tear drop is suggested to use so that it can avoid our eyes from irritation. For more severe dry eyes, you may need to use lubricants or ointment as the thick viscosity in the ointment will stay longer in the eye surface. Studies proved that supplement such as omega-3 and antioxidants helps to treat dry eyes by increasing the production of tears and improve the tear stability. If you have any of the symptoms as listed above, or would like to understand more about dry eyes, please do book an appointment with us today, and get your eyes tested with our professional optometrist in town.