Menicon is the only manufacturer in the world that is dedicated to all areas of contact lenses-related business . Menicon Alpha ortho K is the primary endorsement of the pioneering treatment for nearsightedness correction in Japan!
Candidate suitable for lens fitting
Menicon Alpha Ortho k is suitable for most people with mild to moderate myopia (with or without mild astigmatism).
Advantages of wearing Menicon Alpha Ortho K lens
Since the corneal reshaping impact is impermanent, little danger is included, and you can stop wearing the lenses at any time — provided you are eager to start wearing glasses or contacts again when your myopia returns!
Children and young adults who want to be glasses-free but are too young for LASIK or are not good candidates for refractive surgery due to reason such as dry eyes often are good candidates for ortho-k. People who participate in contact sports or work in dusty environments that can pose problems for contact lens wear also can be good candidates.
Lens characteristics
Monomers
Silicone methacrylate compounds
Fluorine methacrylate compoundsMAA
Lens color
Clear/Blue
Oxygen permeability
104 x 10-11(cm2/sec)⋅(mLO2/(mL x mmHg))
Lens structure

The base curve (BC) is the part that presses the anterior surface of the cornea to flatten it in accordance with the target power of the patient compression of the cornea by the base curve is responsible for this effect. The alignment curve (AC) is responsible for centering the lens and achieves a competent refractive effect. The reverse curve (RC) is the part responsible for reshaping the comeal epithelial cell layer. The peripheral curve (PC) encourages tear exchange and smooth removal of the lens.
When the Alpha ortho k fit is finished, the next night the wearer should sleep while wearing the lens, and have a consultation on the next morning following the first night of lens wear.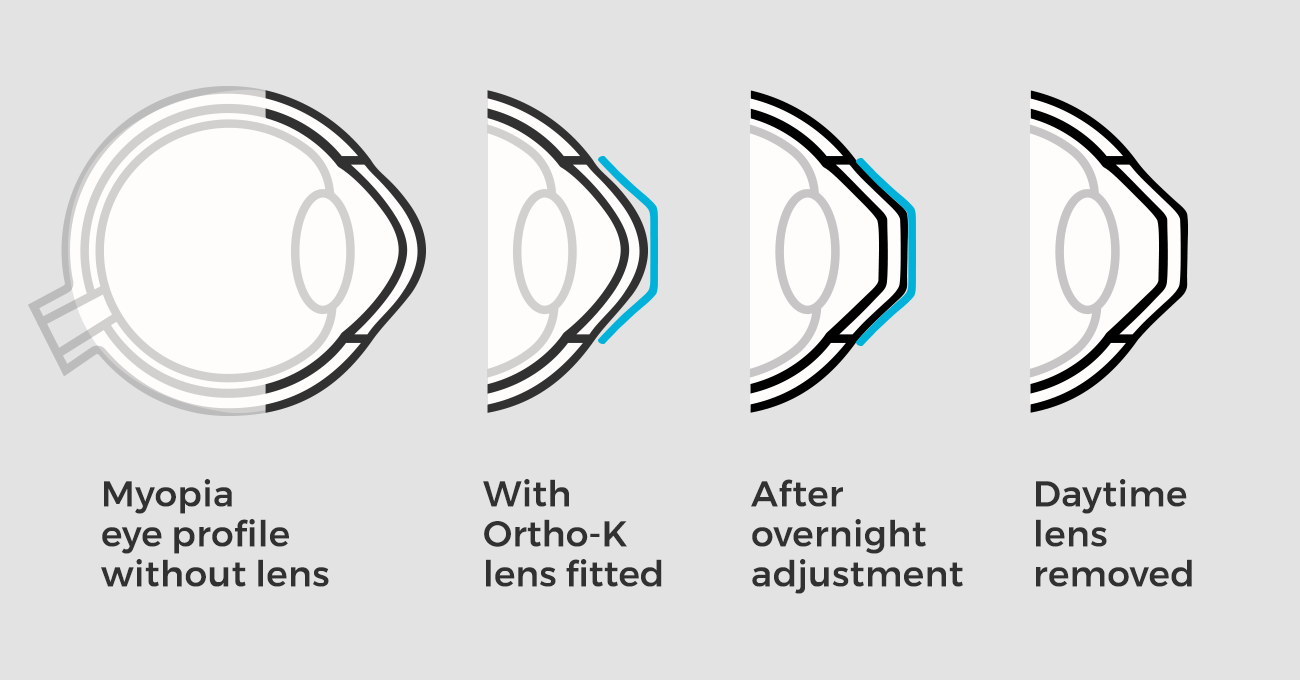 Fitting assessment
When the lens fitting evaluation has been finished, the lens ought to be taken out for corneal topography to be performed to survey corneal changes. Despite the fact that the corneal topography on the early morning following the first night of over night wear will give important data about the lens fit, the outcomes from the following three weeks of lens wear is crucial too as it will direct whether the lens fit is satisfactory.
Maintenance
Menicon suggests MeniCare Plus for every day ortho k lens cleaning, rinsing, sanitizing, and fitting, and Progent for thorough weekly cleaning. For additional information, it would be ideal if you see the instructions of utilization for these items.
If you are interested to know more, feel free to make appointment with us.