ACUVUE® Oasys 1-day with HydraLuxe™ Technology is designed and manufactured by Johnson & Johnson Vision Care. HydraLuxe™ is a wetting technology where a unique tear infused design mimics mucins that help to support a stable tear film. Polyvinylpyrrolidone (PVP) acts as a hydration agent and reduces friction. PVP and highly breathable hydrated silicone integrate with the tear film create an enhanced network of tear-like molecules which keep your eyes feel comfortable throughout the whole day.
ACUVUE Oasys 1-day is a daily disposable lenses which is the most convenient options for hassle and busy daily life. Wear it every morning and dispose every night and you do not need any cleaning and care routines. It is just as simple as ABC.
Features of ACUVUE® OASYS 1-DAY
· Tear like molecules that work with your natural tear film, providing all day performance and excellent vision, comfort and handling; known as HydraLuxe™ Technology
· Highest level of UV protection in contact lens, blocking more than 99% of UV B and more than 96% of UVA.
· Daily disposable lens
· Correction for near-sightedness patient (myopia), starting from -0.50 diopter to -12.00 diopter
· Base curve available in 8.5 and 9.0 with 14.3mm lens diameter
· With blue visibility tint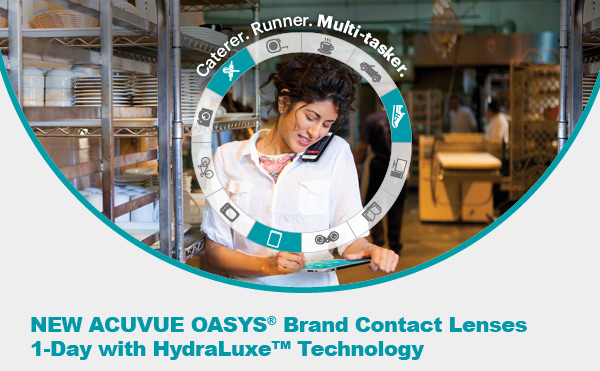 Who should consider ACUVUE® OASYS 1-DAY
Demanding lifestyle like staring at digital devices for few hours or exposed to dusty and dry environment could challenge the stability of your tear film, causing discomfort and tired eyes. ACUVUE® Oasys 1 day provides exceptional comfort and less dryness throughout the day.
People who are involved in the activities eg: exercising, travelling or hiking where they are uneasy with the spectacle may consider wearing contact lenses. Just like our skin, our eyes also need protection from sunlight. Oasys 1-day lenses help to protect against transmissions of harmful UV light to the cornea and into our eyes. People who want to look good and enhance the beauty can consider as well.
People who experience dryness when wearing hydrogel contact lens can consider ACUVUE® Oasys 1-day as Oasys lens is a silicone hydrogel lens which offer higher oxygen permeability, maximise the wearing hours.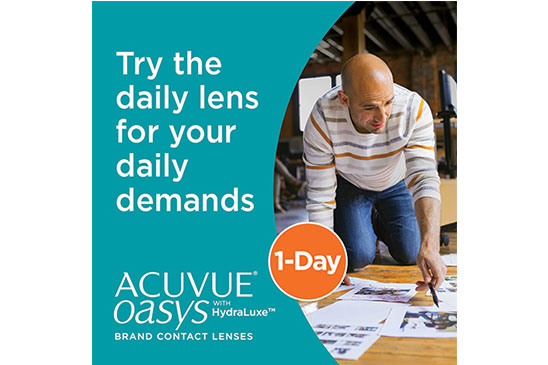 ACUVUE® Oasys 1-day with HydraLuxe™ is a proprietary technology designed by J&J Company which provide exceptional comfort and less dryness throughout the day. For more information, drop by our store and we have professional optometrists to explain in detail.