Nikon Eyeglasses strives to design lenses that offer the best possible vision to the wearers. The most common prescription lens is single vision lens which cover one prescription power throughout the entire lens,
to correct short-sightedness (myopia), far-sightedness (hyperopia) or reading problem (presbyopia). Nikon is one of the leading spectacle lens manufacturer in Japan since year 1946.
Nikon Lite AS lens features Nikon Advanced Aspheric Design to provide a sharp clear vision with limited peripheral distortion and good aesthetics. Aspheric lens has a more complex front surfaces compared to those conventional lenses (spherical lens). The front curve gradually changes from the lens's centre to the edge, allows flatter curves which result in a thinner, lighter and flatter lens that won't bulge unattractively. This type of lens is recommended for low to medium prescription power.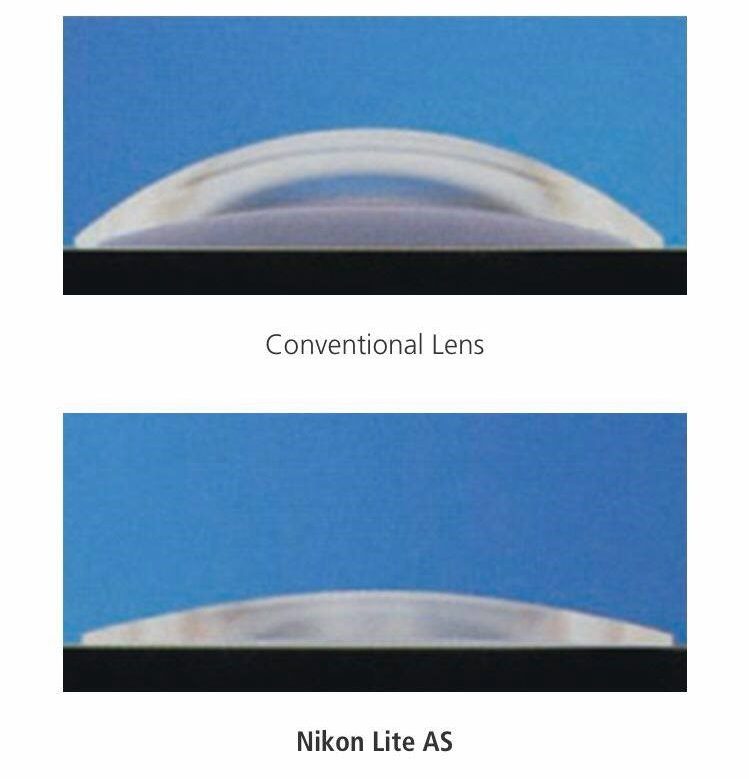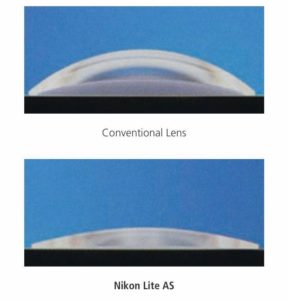 Another Nikon Eyeglasses – SV Lens which serves a special function to the users is Nikon LITE DAS. This is a lens of where both front and back surfaces are aspheric in design. This provides an outstanding optical performance where the unwanted astigmatism is reduced compared to aspheric lens. In addition to high index material, DAS designs further reduce the thickness of the lens. Thickness of DAS is reduced by about a third compared to standard lenses and can be up to 14% thinner compared to conventional single aspheric lens. Therefore, Nikon LITE DAS is strongly recommended to high prescription wearers, especially those do not want to compromise optical quality and aesthetics.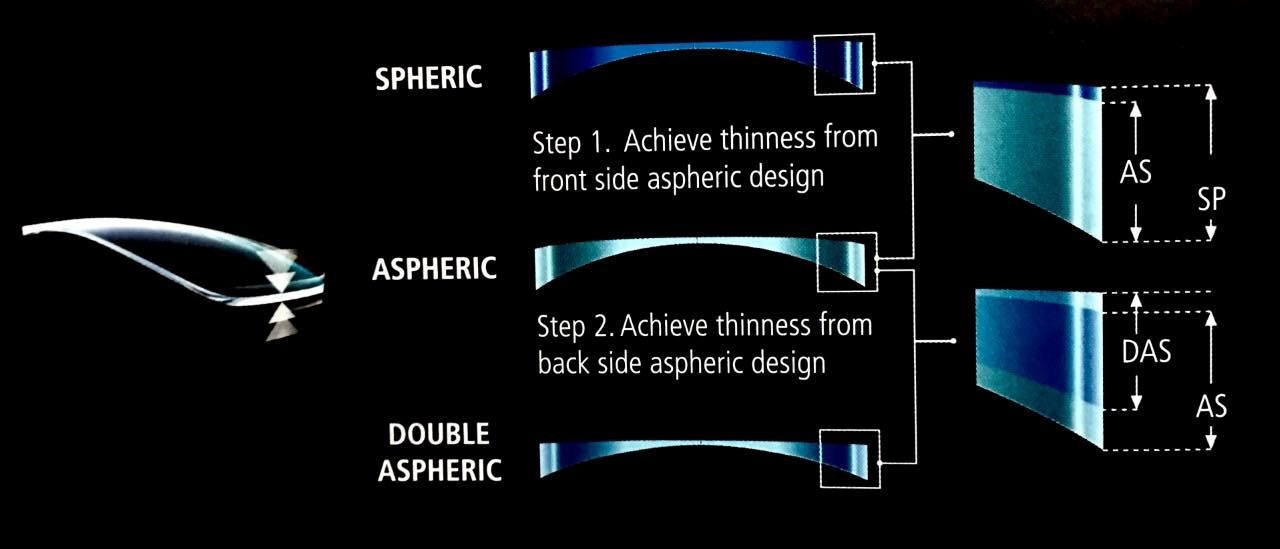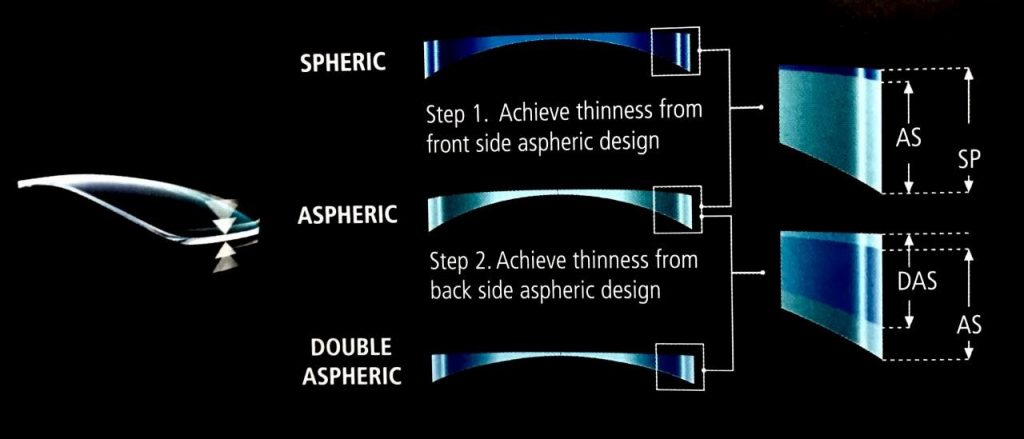 SeeMax AP is designed with an 8 axis cylinder optimization. This double side design allows consistent aberration reduction including oblique astigmatism. To order this lens, require some fitting parameters (tilt angle, wrap angle and vertex distance) to retain the outstanding performance. This minimizes residual aberrations for sharper and clearer vision regardless of gazing angle. Besides that, SeeMax AP offers different base curve selection so that the lenses fit perfectly into the frame combining superb cosmetic appeal and optimal visual performance. This is recommended to those wearers with astigmatism or with curvy frame.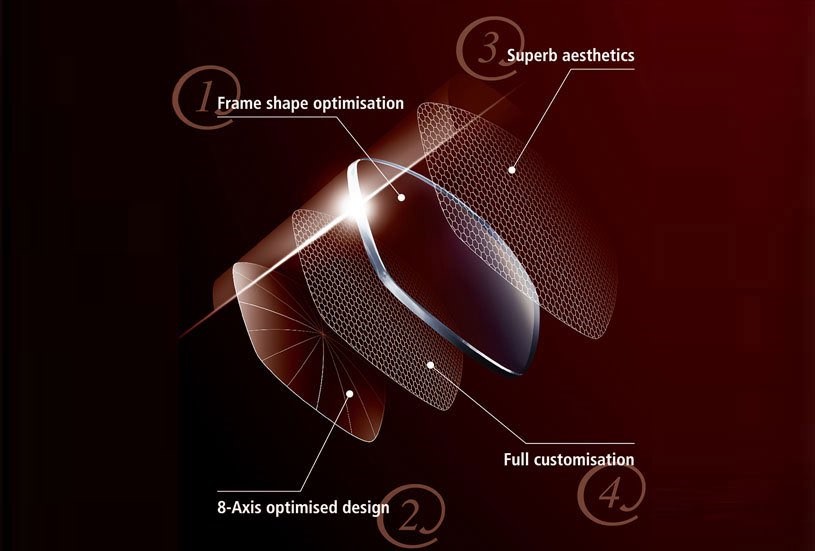 For all Nikon Eyeglasses- Nikon single vision lens, provided two different coating selection, Seecoat plus UV or Seecoat blue UV. Seecoat plus UV using advanced clear protection technology to produce 2 times more scratch resistant and longer durability. It is also easy to clean, smudge and dust resistant. Besides that, it optimised transparency giving more natural look.  Seecoat blue UV is recommended for computer and digital users especially for those with eyestrain, to protect their eyes from intense blue light emitted by digital screens. It also enhances the contrast by reducing unwanted blue light.
Book an appointment with our professional optometrists or drop by to your nearest Malaya Optical outlet to know more about Nikon Lenses.
FAQ *Nikon Prescription Lenses
What is nikon single vision lens?
Single vision lenses produced by Nikon provides a wide range offer that make you to feel the utmost in cosmetic appeal.
How much are Nikon lenses for glasses?
The price of the lenses and glasses is totally depends on the quality. Some lenses have better optical coatings, better glass material and they are larger in diameter to let in more lights as well. The cost of Nikon lenses starts from a $130 for a 50mm f/1.8 to over 10k$ and above for 200-400 or 600 mm lens.
What are Nikon eyeglass lenses made of?
Most of today's eyeglass lenses are made from plastic resins. They are known as organic materials which has lightweight and relatively impact resistant properties. Advantage of latest plastic material over previously used mineral glass is they are much safer, less weight and not easy to break.
What are the best lenses for glasses?
CR-39 and polycarbonate are the two best-selling eyeglass lenses in the market. Both of this lenses own a plastic material. Generally, for single vision prescription, CR-39 is the most common type of lenses sold out.
What is Nikon eyes?
Nikon Eyes lenses manufactured with latest technology and provide best protective coatings for better vision outcome. These lenses are specifically designed and digitally engineered for sharper, clearer vision. Nikon Eyes lenses also increases the sharpness of vision and provide good scratch resistance, easy to clean, and has high durability.