Single vision lenses are prescribed if you need correction for one field of vision, either for distance, intermediate (computer), or items up close (near vision). Single vision has the same optical focal point or correction over the entire area of the lens. Synchrony Single Vision HDC Lenses (formerly SOLA ATL SV) are an excellent choice for single vision correction.
Benefits:
Larger areas of clear vision than standard single vision lenses
Great edge-to-edge clarity
Lens customization using back-surface freeform technology
A thinner, flatter profile with excellent optics
Atoric optimization is an extension of aspheric design technology, allowing lens optimization for both the sphere and cylinder. This ensures a wide field of vision, especially for those patients with astigmatism. Position of wear customization provides edge-to-edge clarity in virtually any frame.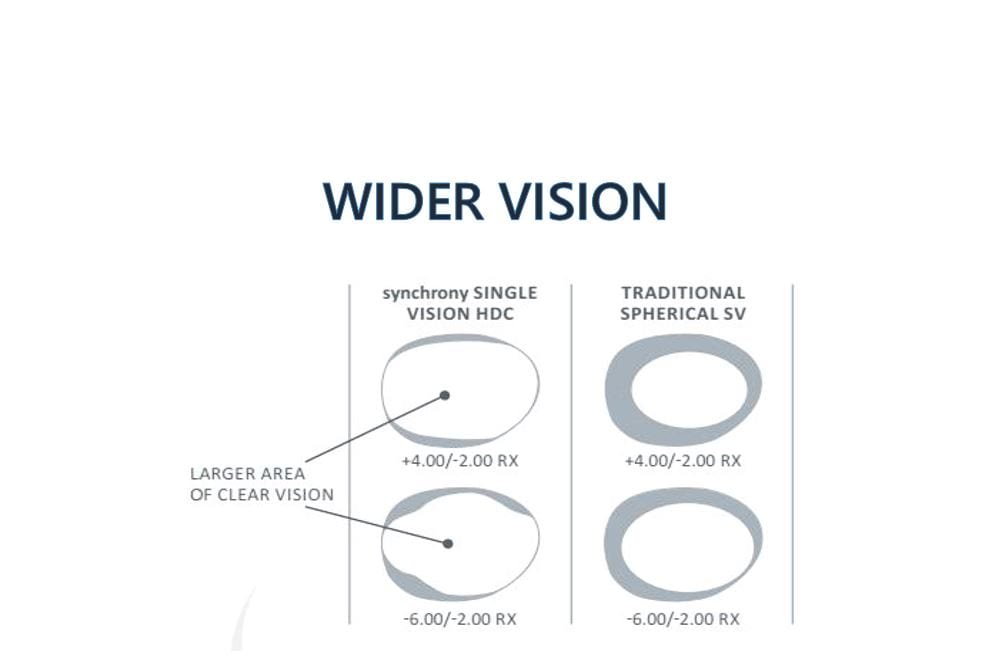 Available Models:
RX SV 1.67AS HMC+
RX SV 1.60AS HMC+
RX SV 1.50 HMC+
RX SV 1.67AS PHOTOFUSION HMC+
RX SV 1.60AS PHOTOFUSION HMC+
RX SV 1.50 PHOTOFUSION HMC+
Also available in Curves Wrapped Lenses. The ideal solution for sport, sun, and fashion frames. ` Panoramic vision with minimum lateral distortions. ` Available in multiple tint options and polarized.
More information at Synchrony Website
Visit us for a consultation at at Malaya Optical