We are going to introduce top 5 contact lens solution recommended by our optometrist. It is important to take good care of your contact lenses in order to extend the life of your contact lenses, and protect the safety and health of your eyes. Lens care varies depending on material and wearing schedule. Daily disposable lenses are discarded after a single use and thus require no cleaning. Other lenses require regular cleaning and disinfecting to prevent surface coating and infections.
There are many ways to clean and care for contact lenses, typically called care systems or lens solutions. Two types of solution that are commonly used included:
Multipurpose solutions are the most common method for rinsing, disinfecting, cleaning, and storing soft lenses. Clean your lenses, then rinse and disinfect, all with the same solution. When you are ready to wear the lenses, rinse them again.
Hydrogen Peroxide solutions
Hydrogen peroxide can be used to disinfect contact lenses. Care should be taken not to get hydrogen peroxide in the eye because it is very painful and irritating. With "two-step" products, the hydrogen peroxide must be rinsed away with saline before the lenses may be worn. "One-step" systems allow the hydrogen peroxide to react completely, becoming pure water. Thus "one-step" hydogen peroxide systems do not require the lenses to be rinsed prior to insertion, provided the solution has been given enough time to react.
Being concerned with your eye health and contact lens care, Avizor, the expert in solutions, has a single solution for every problem and occasion. Avizor is a laboratory in Madrid, Spain dedicated to the manufacturing of solutions for the cleaning and maintenance of all types of contact lenses. Avizor have been working in this field since 1985. Over the years, Avizor considered to be one of the best contact lens solution brand available.
As for multipurpose solution, there are two different types of solution to suit for different types of contact lens wearer. This include the following:
1) Avizor Unica Sensitive: "In a class of its own"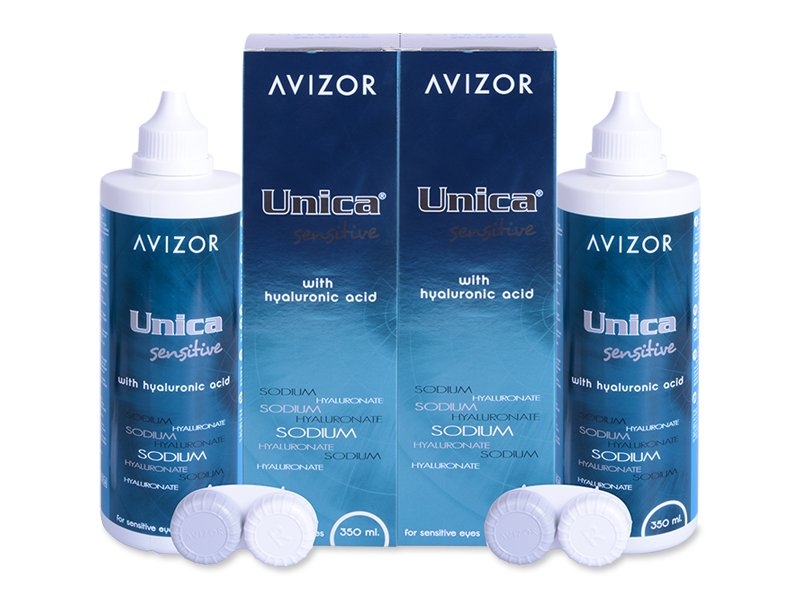 For users with sensitive eyes: With the addition of extraordinary lubricant agent (Sodium Hyaluronate or Hyaluronic acid), the solution has the following effects:
Protect cornea thanks to the prolonged time in the eye
Improved tear film stability- Hyaluronic acid is one of the most moisture-absorbent molecules in nature.
Increases the hours of comfortable use- Hyaluronic acid easily spread over the eye during blinking.
Accelerates healing time preventing irritation and redness caused by the mechanic action of the lens.
Clarify your vision by reducing the ocular symptoms of dry eye.
2) Avizor Alvera with Aloe Vera: "Protects in the most natural way"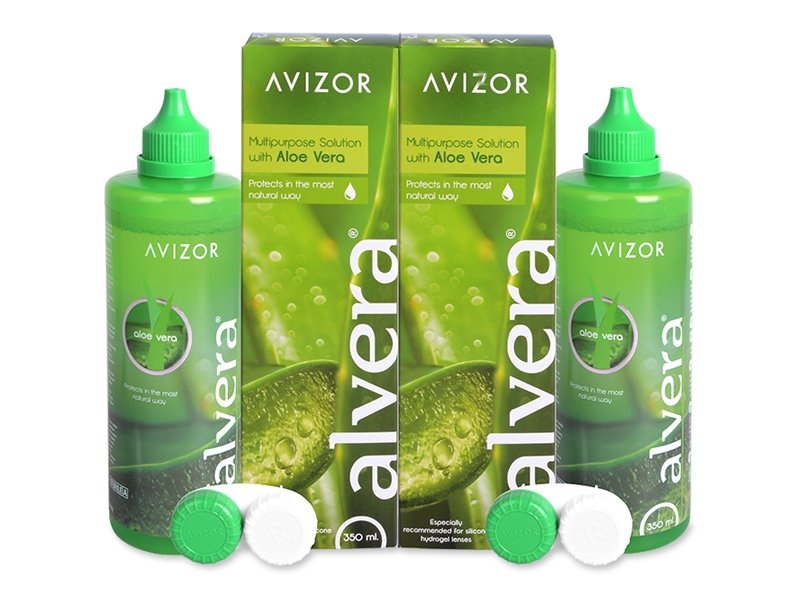 especially designed and tested for use with silicone hydrogel lenses.
The use of contact lenses can alter the physiology of the ocular tissue and may create intercellular spaces allowing the entry of foreign substances.
Aloe Vera creates a film over the epithelium that prevents the entry of these substances that may damage the epithelium, thus reducing the risk of irritation.
removes lipids more effectively, but also reduces the affinity of lipids to adhere to the surface of the contact lenses, which considerably increases hygiene and comfort in the use of silicone hydrogel lenses.
3) On the other hand, Hydrogen Peroxide solution produced by Avizor is called Ever Clean.
It is a revolutionary "One-step" system for the cleaning and disinfection of all types of contact lenses (Soft contact lenses and Rigid Gas Permeable lenses). Ever Clean contact lens solution is the result of eight years of research into creating a product to clean all contact lenses throughly without the need for rubbing in only 2 hours.
How it works?
Thanks to its 2 layer table EVER CLEAN has double action:
The white layer performs the cleaning action from the first movement, while eliminating lipids and proteins from the surface of the lens.
The green layer acts slowly and extensively controlling the disinfection and neutralization of the hydrogen peroxide.
On the whole, the Ever Clean tablet performs a powerful disinfecting and cleaning action after which the peroxide is transformed into a preservative-free saline solution where the lenses are stored and ready to use.
Ever Clean is specially recommended for users with:
1. Problems of deposit accumulation
No more deposit due to a greater capacity of cleaning and disinfecting.
2. Problems with allergies
After neutralization the final solution contains no preservatives.
3. Problems manipulating the contact lenses
As you no longer have to rub, users are less likely to damage or tear their lenses.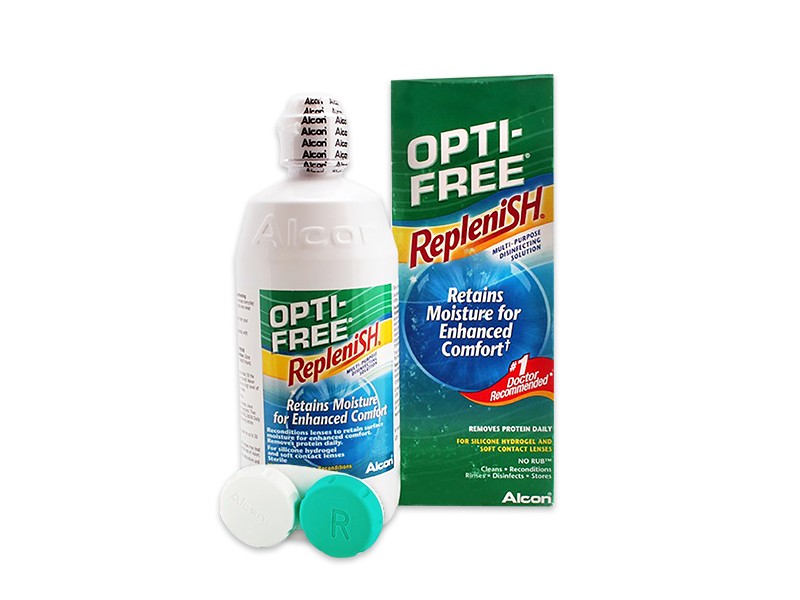 4) Opti-Free Replenish "Enhanced Comfort"
Multipurpose solution
Enhances comfortable wear and reconditions the lens surface to retain moisture.
Removes protein daily
Sterile silicone hydrogel and soft contact lens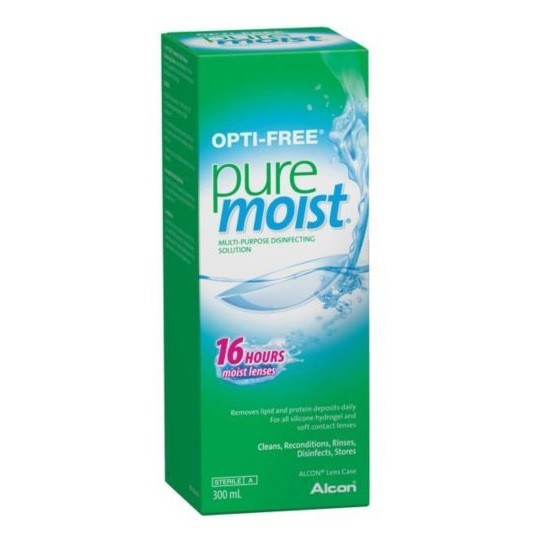 5) Opti-Free Pure Moist " All day comfort"
Multipurpose solution
Provides comfort and moisture from insertion to removal
Removes protein deposits
Reduces lipid deposition
Sterile silicone hydrogel and soft contact lens
Once you've decided which product you'd like to try, discuss your plans with your eye care practitioner. To have more information, please feel free to consult with our best optometrists in KL. Our professional optometrist can advise you to choose different contact lens care solutions that can suit different individuals.