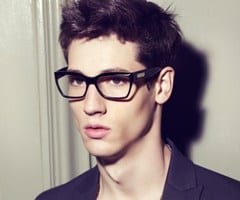 At Malaya Optical(Damansara Uptown), we carry huge selection of memory metal eyeglasses which are extremely flexible and comfortable. Flexible frames are extremely bendable back and forth without any damage on the frames. Moreover, arms of such glasses can be molded according to people's face and ears so as to make it more comfortable for the user. It is to note that anti-reflection lenses are supposed to be the perfect lenses that can perfectly complement with sunglasses for men.
Eye Wear of your choice available here at
href="https://www.malayaoptical.com/contact-us/optometrist-in-petaling-jaya" target="_blank" rel="noopener">Malaya Optical. Check out the collection of spectacles eyewear from Malaya Optical. We are your qualified Optometrist from Petaling Jaya located in Damansara Uptown and we sell a range of eyewear brands here.
For the people with high prescription, it would be advisable to go with thinner higher index lenses for men glasses equipped with anti-reflective coating in order to get appropriate appearance. Not only this, if you are above 40 then progressive lenses are also available to let you stay away from outdated lined bifocal lenses. Some subtleness to details helps as you would be able to identify all the needs of your men. The brands of eyewear that you could consider are Mykita, Parasite, Hugo Boss, Jf Rey, Undostrial, Prada, Benetton, Ray Ban, Oakley, Coppe+Sid, Less than Human, Infinity, and many others available at Malaya Optical in Damansara Uptown.
When u select the appropriate frame shape of your man, the glasses has to be opposite of his facial shape. It has been a known thing, that softer, fuller faces look great with sharper edged frames. While a more stronger and edger face, would suit a softer rimless style. While choosing glasses, one should consider that their faces would not always in symmetrical so your frame should get properly fitted to ears and should cross eyebrows at the same level otherwise it may create seesaw effect.
Basically, when choosing your eye glasses for your man, it's not about only getting to know the eyeglasses, it's about getting to know him. Do you know your man??