Does your child often come back from school complaining that they cannot see the blackboard clearly? Shortsightedness in children is more common than you think. Medically known as myopia, shortsightedness affects 27 per cent of the global population. The onset of myopia symptoms in school-going children starts from age six approximately. But what exactly is the cause of myopia? And in case your child is showing symptoms, how can you control it? Many of parents curious to know are miyosmart lenses best for myopic children? Lets look into it now.
Myopia in children
The causes of myopia in children can be partly genetic. If a child has myopic parents, it is more likely that they will develop the condition as well. The medical reason behind myopia is the abnormal shape of the eyeballs. In children with myopia, the eyeballs are elongated in shape. Hence, the image-forming part of the eye known as the retina is far off, which does not allow a distinct image to form. It results in blurry or double-vision.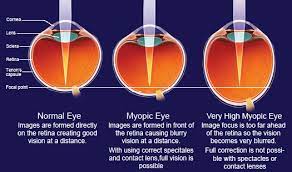 Vision problems can also be lifestyle induced. Exposure to the blue light emitted from screens causes eye strain, which ultimately causes eyesight to deteriorate. Children nowadays spend a lot of time glued to their computers or mobile screen. With the rise in online classes in schools, screen time has also increased considerably. It, in turn, makes children more prone to developing eye problems like myopia.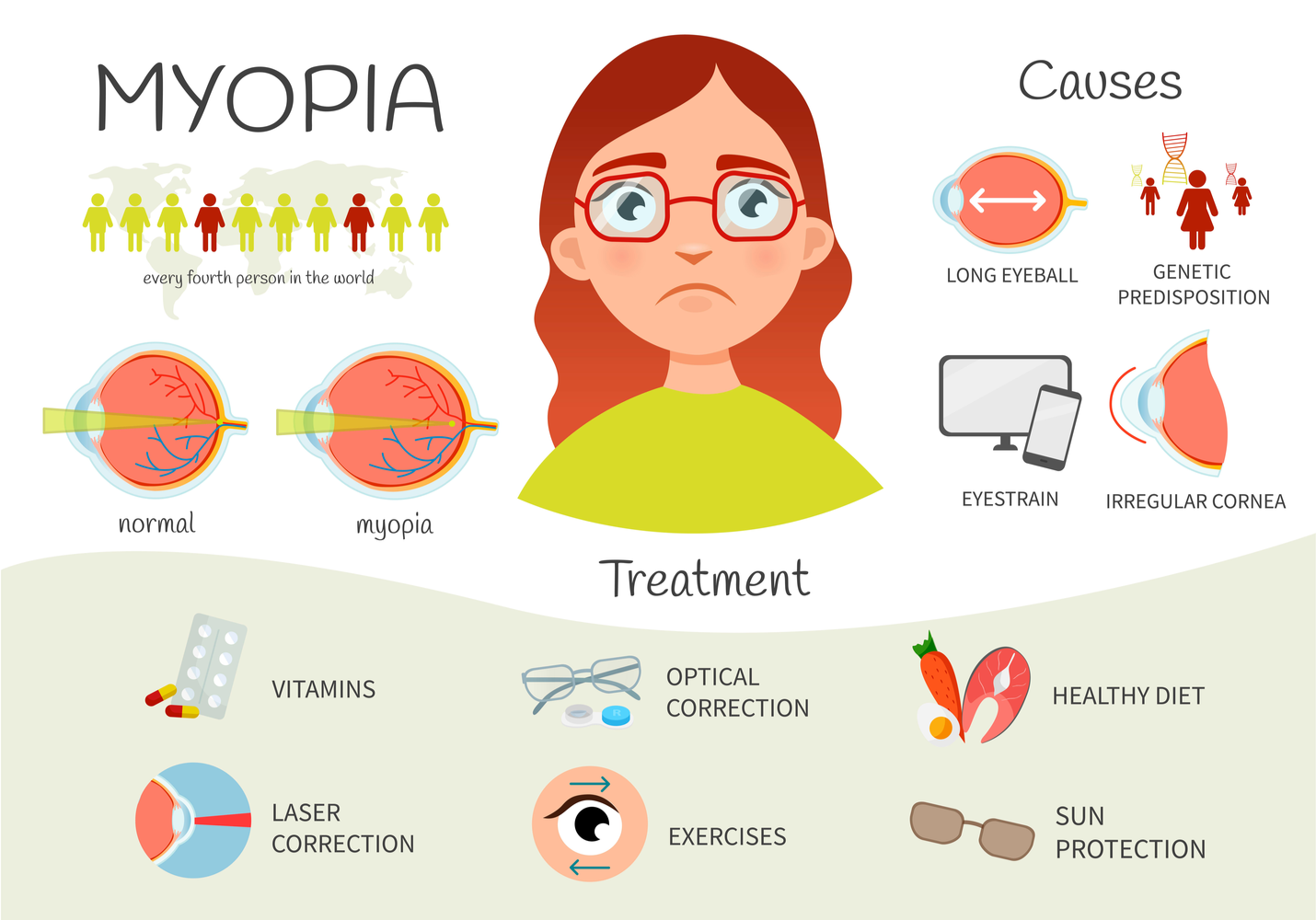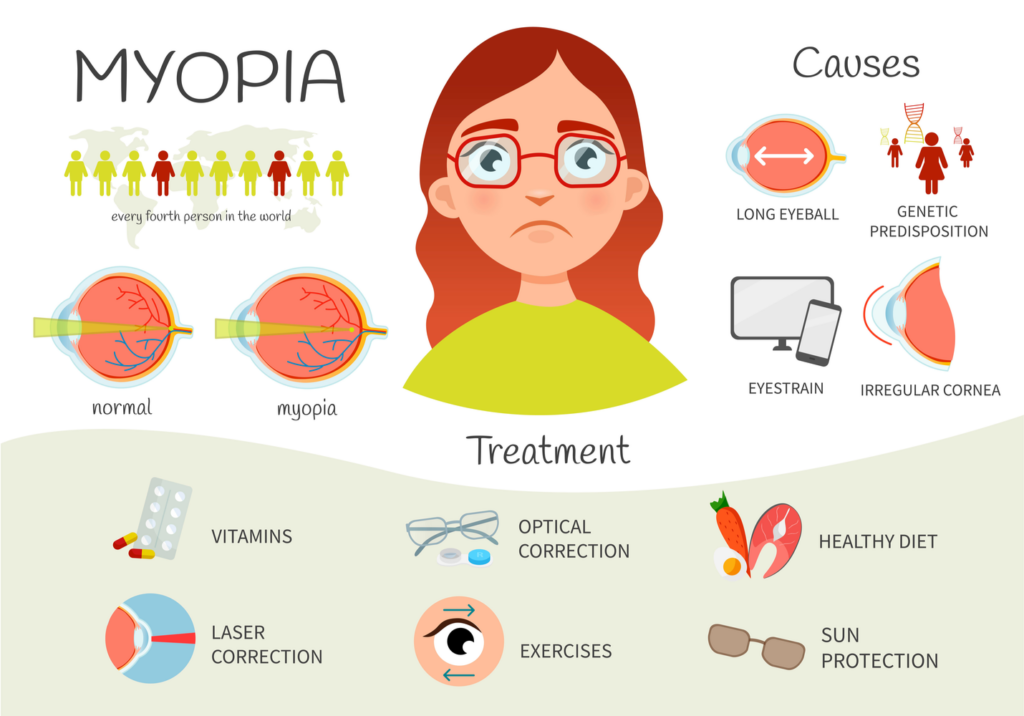 The only way to treat shortsightedness is by using corrective lenses. Additionally, prescription lenses also help cure eye issues that usually accompanies myopia, such as squinting, or headaches. Although not curable, when caught at an early age myopia management is possible.
How to prevent myopia in children?
There are simple ways to prevent the onset of myopia in children. They are-
Increased exposure to daylight – The more your kid engages in outdoor activities, the lesser the chances of developing myopia.
Maintain a healthy diet – It is necessary to incorporate vitamin A in your child's diet to ensure they do not develop issues with their eyesight. Yellow and orange-coloured fruits and vegetables are rich sources of vitamins and minerals that can be beneficial for your kid's eyesight.
Cut down on screen time – If necessary, make them take ten-minute breaks in between screen time to help reduce eye strain.
But what if your child is already having vision problems? This brings us to our next topic.
How to manage myopia in children?
The first thing that you can do is take your child to an optometrist to get their eyes checked. Regular eye check-ups are crucial, especially when it comes to children because myopia progression usually occurs during the early stages of childhood and automatically stabilises once your child reaches the late teenage years. Hence, it is important you effectively engage in myopia management during the growing-up years.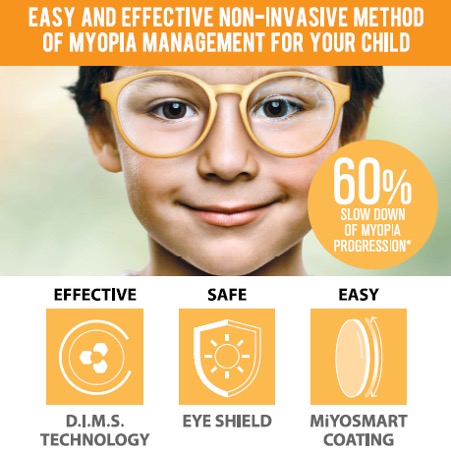 If your child is diagnosed with having vision problems, the optometrist will advise right lens that suits your child. This is where MiyoSmart comes in. The lenses are specially for youngsters with myopia. These lenses are non-invasive and are identical to normal spectacle lenses when it comes to shape and size.
So, how does MiyoSmart work, and how can it help your child's myopia?
Let us guide you through it.
What is MiyoSmart?
MiyoSmart is the latest innovation in the field of spectacle lenses. It uses a technology called Defocus Incorporated Multiple Segments (D.I.M.S.) – the result of a collaborative effort between Hoya and the Hong Kong Polytechnic University in 2014. The appearance of a MiyoSmart lens is the same as any regular lens but is highly effective in controlling myopia progression. This award-winning invention has undergone two years of clinical trials where professionals put one-sixty children under examination. The result was that 21.5 per cent of the children who wore D.I.M.S. lenses showed minimal to no myopia progression for two years.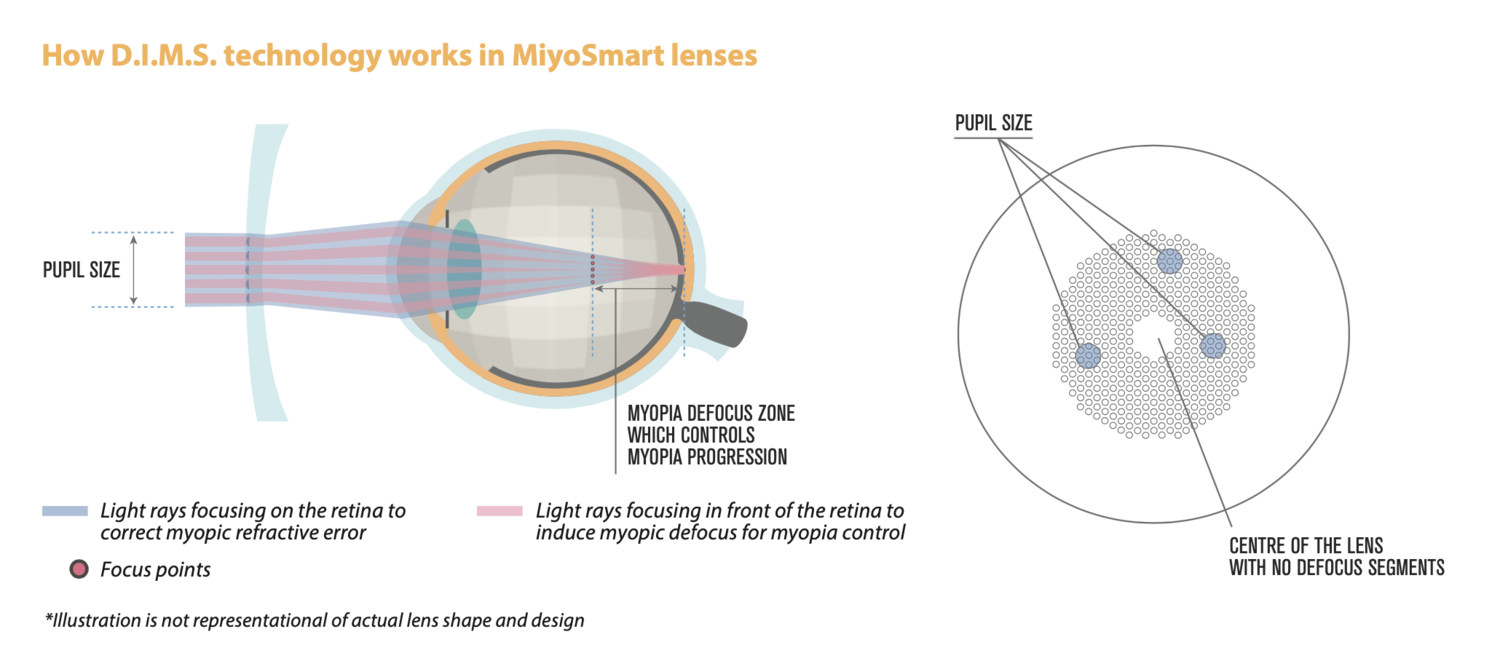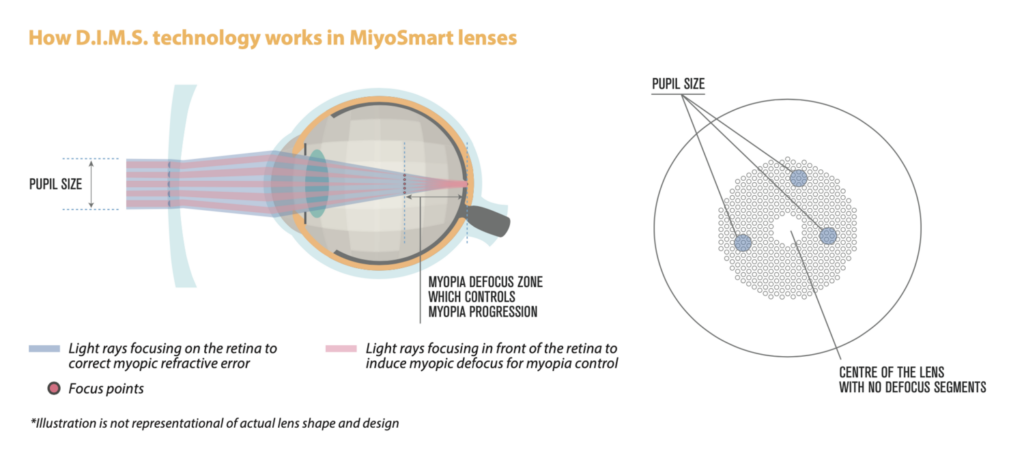 This is the reason why the best optometrists in Malaysia suggest MiyoSmart lenses for myopic children and top international schools like Garden International School, Mont Kiara International School, and International School of Kuala Lumpur, suggest MiyoSmart lenses to their students too.
How does the lens function?
The key is the structure of the lens. There is a clear area which is the focus zone. Around this focus zone is a ring-shaped treatment area, which is called the defocus zone, that extends up to the mid-peripheral region of the lens. The defocus zone is instrumental in slowing down myopic progression as it helps control the growth rate of the eye. Controlling eyeball prolongation effectively manages myopic progression. Hence, it is a good option for maintaining proper eye health in myopic children.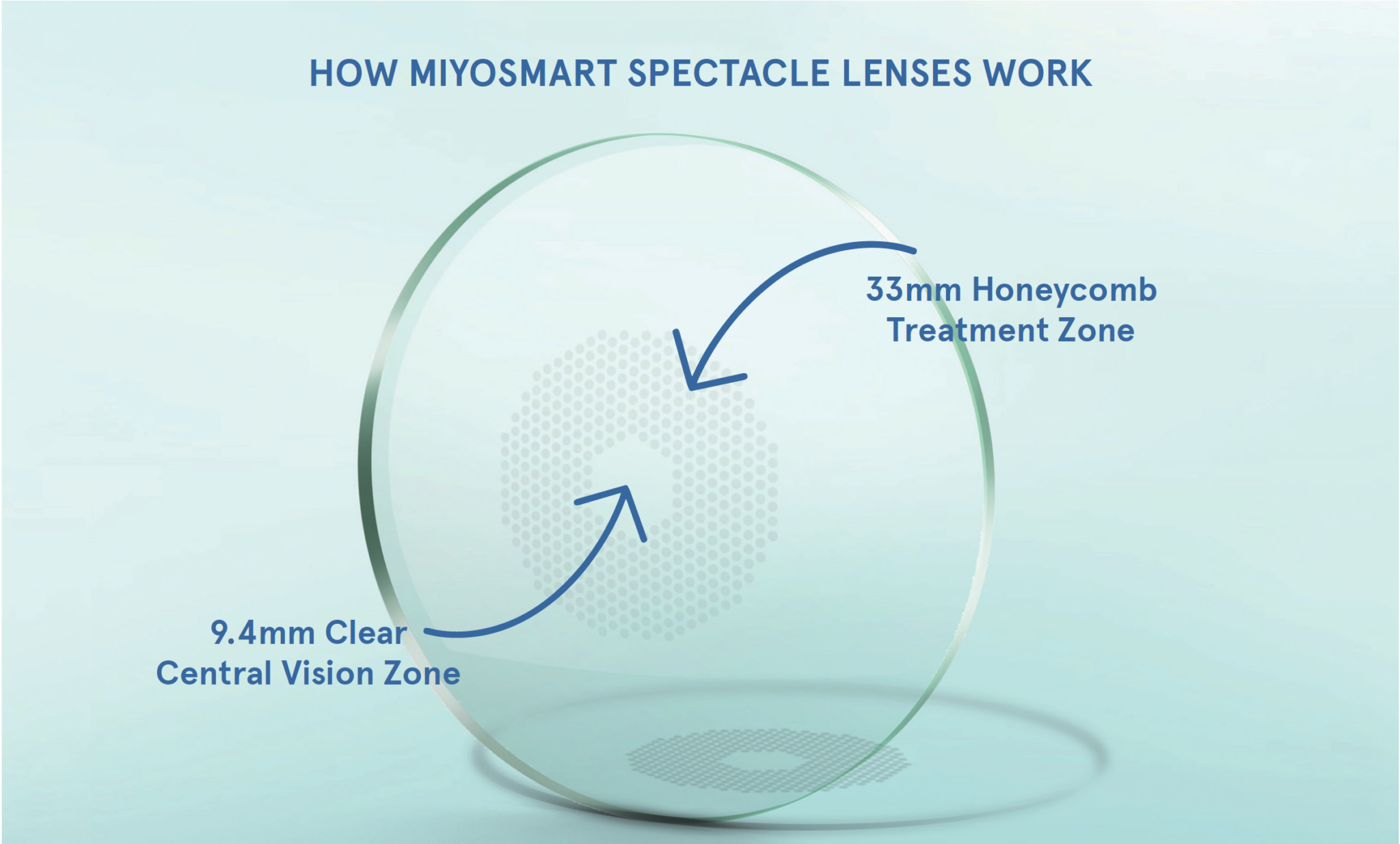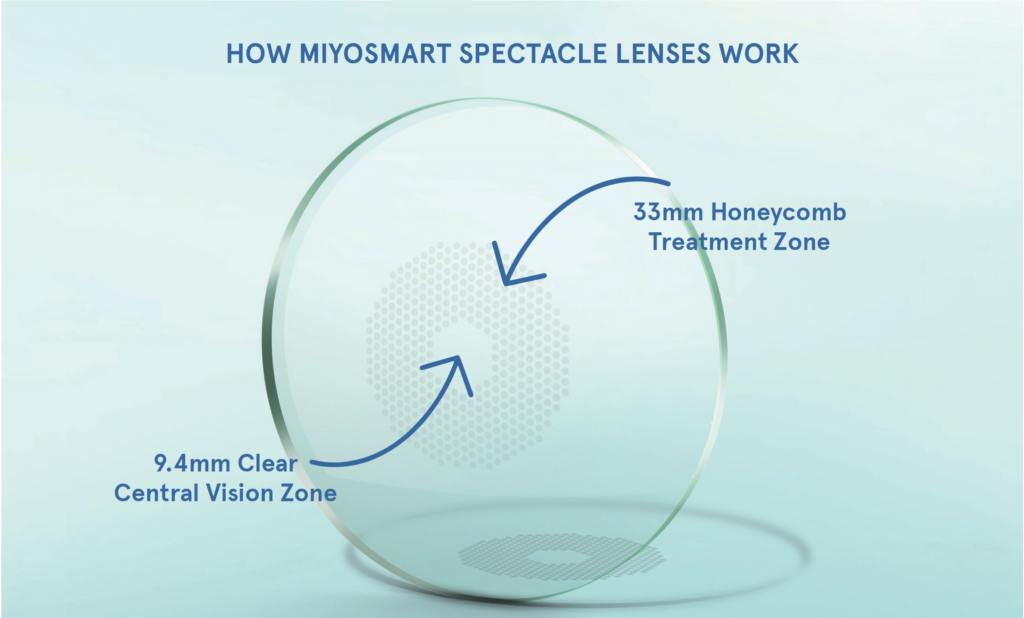 But before you make a choice, it is necessary you know both the pros and cons of these spectacle lenses. It helps to ensure you are choosing the best option available for your child.
Now, let us balance the pros and cons of wearing a MiyoSmart lens. What are the advantages that it has to offer?
The MiyoSmart lens is meant specifically for children – What this means is that the makers took into account their active lifestyle. The lenses are made of polycarbonate 1.59. It is highly durable- it is not brittle and does not get damaged easily. This feature adds a layer of safety since usually, single-vision glass lenses are highly breakable. It can prove to be quite hazardous if they break while your child is in the playground or school, unsupervised.
It is safe and non-invasive – No medical procedure is needed before getting the lens for your child. All you need is to get their eyes examined by a professional optometrist.
Lightweight – Another advantage point of polycarbonate lenses is that they are light and do not weigh down on the wearer. The spectacle lenses also come with UV protection, which ensures your child's eye has sufficient protection from harsh sunlight.
It corrects not just myopic vision, but astigmatism in children as well.
The nature of the lens does not affect the choice of frames – The MiyoSmart lens is available for children of all age groups. Hence, the lens is highly adjustable, no matter what frame you choose for your kid.
Now, coming to the cons of using this lens –
One major issue is that the myopia progression in children will only remain under control as long as the MiyoSmart lensesare used regularly. If your child discontinues wearing the lens, it can adversely impact their vision.
It is most effective in children whose lenses are less than -10 dioptre in power. If it is more than that, you may have the option to use MiyoSmart along with normal spectacle lenses. However, there is a chance it may not be effective.
The lens is not a very cost-effective choice. Hence, you should familiarise yourself with how it functions, before you decide to invest in it.
In the following section, we have tried to address some probable questions that may arise in your mind regarding MiyoSmart lenses and how they can help your child with myopia. By how you may have a rough idea to know are MiyoSmart Lenses Best for Myopic Children?
How long does it take for a child to adapt to it?
The adaptation period is generally lesser than normal single vision lenses and usually takes one to two weeks. If the dioptre of the lens is on the higher side, it may take a slightly longer period to adjust. Also, you need to make sure that your child wears the lens constantly. It will help to speed up the adjustment process.
What does the lens look like?
With respect to their appearance, MiyoSmart lenses look similar to single-vision glasses. The treatment area mostly remains invisible. It is very light and extremely easy to wear because of its polycarbonate makeup. Hence, your child will experience no difficulty while wearing it. They can freely engage in physical activities as well.
At what age should a child get MiyoSmart lenses?
You can get MiyoSmart lenses for your child at the first hint of myopia. The earlier you get it, the better it will be. Usually, children from age six to eighteen can get MiyoSmart lenses.
If you are satisfied with your choice, the next step is to find a clinic that can provide you with this lens.
Where can you get MiyoSmart lens?
In cases of myopia, or any other vision problem, regular check-ups are instrumental in power management. The right diagnosis and proper treatment are important to ensure your child's vision doesn't deteriorate. This is why you need to take your child to an experienced and licensed optometrist who uses the latest technologies for diagnosis. So, Are MiyoSmart Lenses Best for Myopic Children? The answer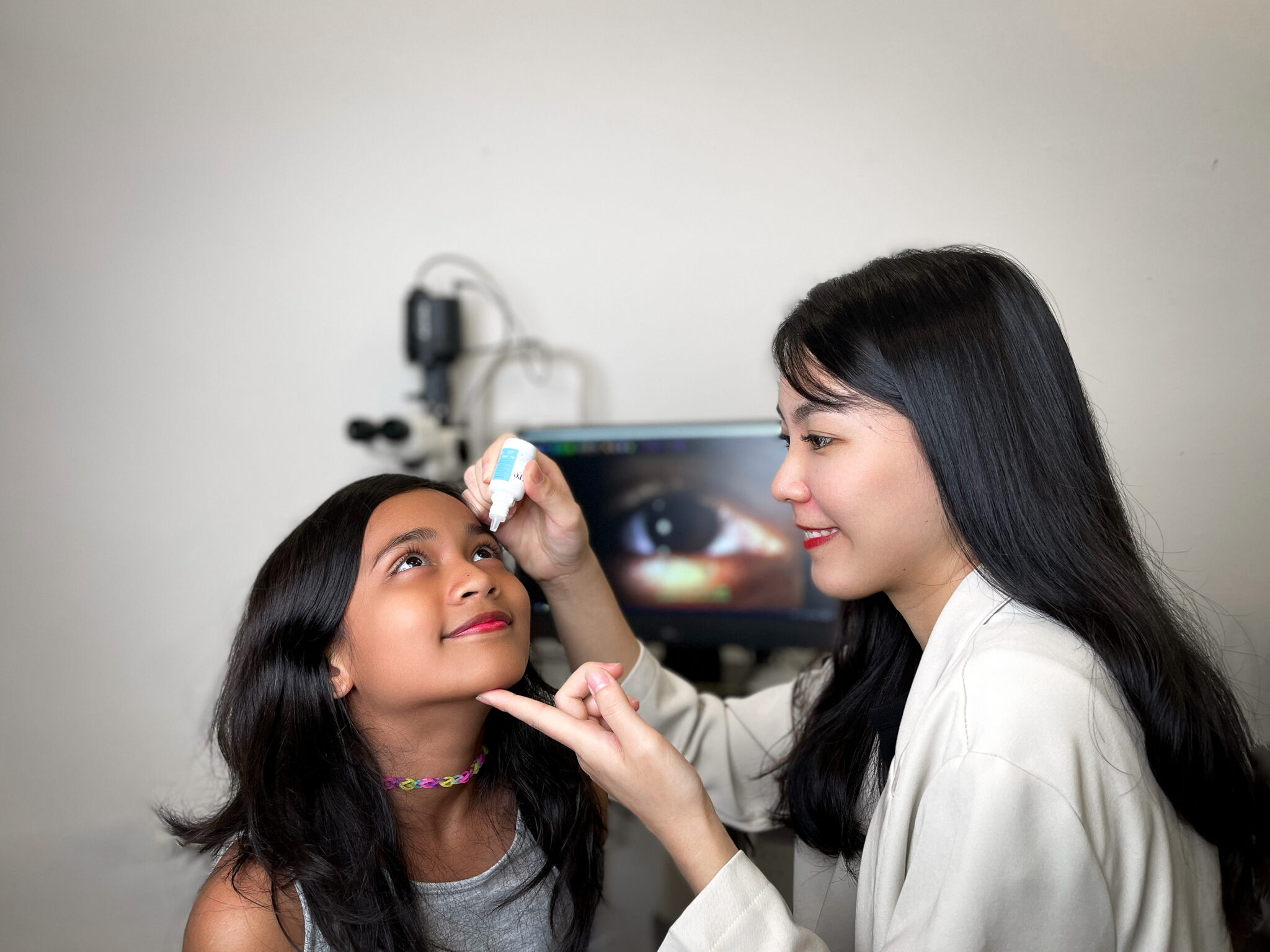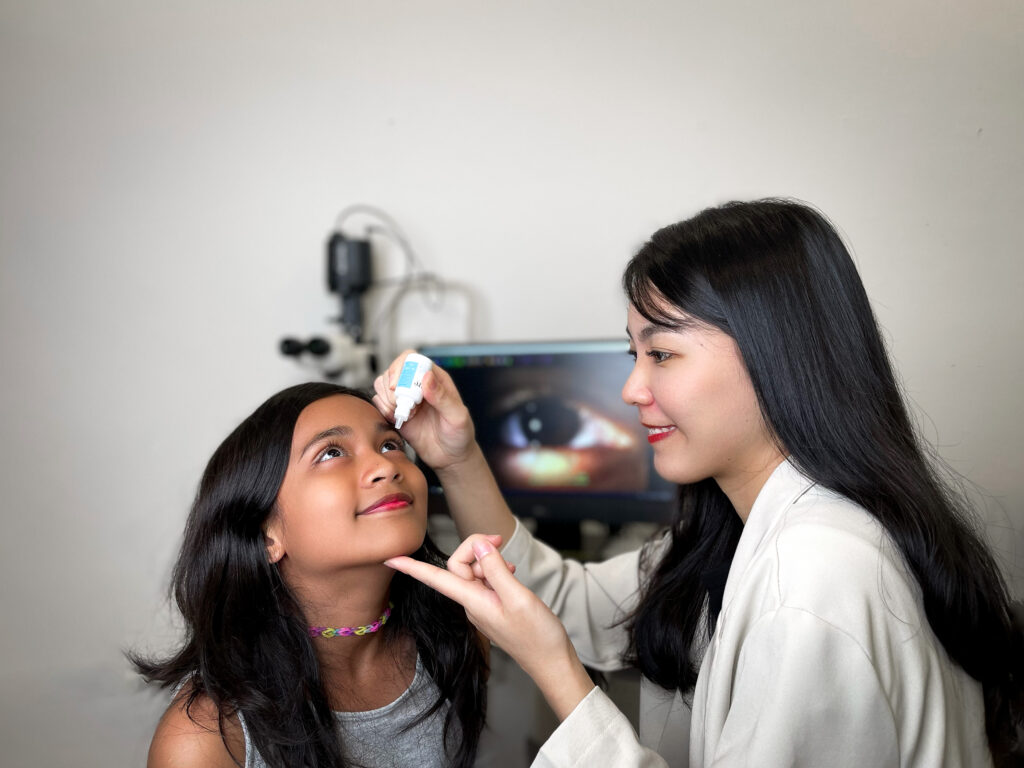 Malaya Optical is one of the most trusted and renowned brands when it comes to housing expert optometrists along with state-of-the-art eye testing equipment. We have a designated centre where you can get your child's eyes examined by the best professionals. According to the diagnosis, you can choose among original MiyoSmart lenses or a variety of other options. If you think contact lenses are a better option for your child, we offer that as well.
If you are interested in finding out the kind of services we offer, you can easily visit our website and you can also contact us if you are looking for MiyoSmart lenses in Bangsar, Desa Sri Hartamas, Mont Kiara, or Desa Park City.