Our visual behavior has changed in todays's connected and busy lifestyle. We will have frequent gaze changes in various directions at different distances.
In the same time, our visual needs changes as we grow older too. Zeiss Smartlife Progressive lenses is here now to solve all your problems that you found difficult with other standard lenses, mostly with intermediate and near vision issues.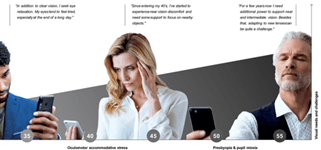 In 40s, many of us may experience near vision discomfort. We may feel the intermittent need to have support if want to accommodate on nearby objects. While for 50s, our eye sight starts to develop more power to support near and intermediate vision. This comes with the challenge to adapt to new lenses.
Zeiss SmartLife progressive lenses, is all in one premium lenses. It resolve whatever your eyes face today. It allows us have a clear and comfortable vision for connected and move lifestyle. This progressive lenses is best and suitable to be used for all. No matter what is your age range, it is related to your visual challenges.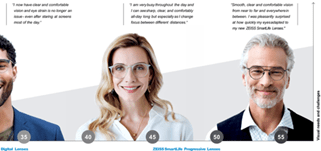 Zeiss SmartLife progressive lenses have been improve to the new design fingerprint. Below is the list of benefits found in this lens:
Optical performance in the lens periphery is design for frequent changes of head and eye's positions.
Provides lower level of blur.
Smoother transition into areas with more blur in the periphery from near to far across all viewing area.
Smooth vision from near to far across all viewing zones.
Enables peripheral vision in natural dynamic interaction.
Despite of being aware of your surrounding world, you also should have a freedom to look and feel everything around you. We as an optometrist always do concern about your vision so that you can achieve a comfort and clear vision.