Spectacle frames – how to choose the best one?
Spectacle frames are made for treating several eye problems by using specific lenses required for a particular eye condition.
Our vision is one of our strongest assets. To protect it, we need to be aware of all the ailments that can affect our eyes so that we can get proper medical attention at the right time. There are several ways of treating eye conditions – Lasik eye surgery and retina surgery among several others. But, one of the most widespread ways is the use of spectacles.
Lenses vary from concave, convex, and bifocal for refractive errors in the eyes, to blue-cut lenses which save the eyes from the blue light emitted by computers, mobile phones, and other gadgets. Spectacles are long-lasting, portable, and comparatively more affordable than surgeries.
Types of eye issues
In this section, we will explore the three most common kinds of vision issues.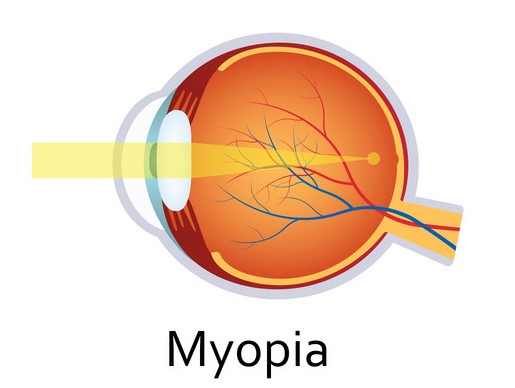 Myopia, commonly called nearsightedness, is an eye condition where objects nearby or at a closer distance appear clear, but faraway objects or objects at a greater distance appear blurry or unclear. The situation arises when light rays refract inaccurately or precisely, the light rays focus on the front of the eyes instead of focusing on the nerve tissues at the back of the eye. And the image forms in front of the retina instead of the retina itself. It is a refractive error, as the shape of the eyes or the cornea results in the light ray being inaccurately focused. Some symptoms include blurry vision, headaches, constant or rapid blinking, and rubbing of the eyes due to the strain.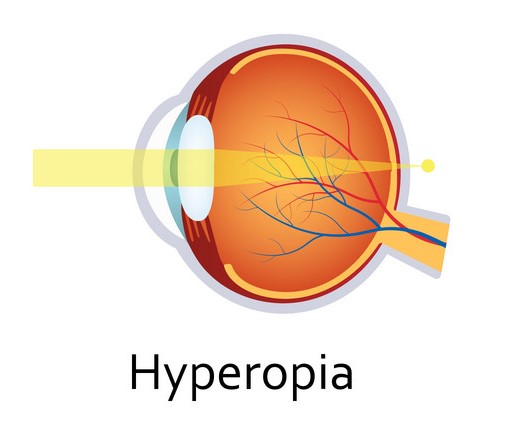 Hyperopia, called farsightedness, is an eye condition where faraway objects or objects at a greater distance appear clear. But, objects nearby or at a closer distance appear blurry or unclear. Farsightedness may vary from person to person, some with severe farsightedness might see only those objects which are pretty far and those with mild farsightedness might see things a little closer. It can happen due to a misshapen cornea or when an eyeball grows shorter than the normal shape. It causes the light to not pass properly resulting in image formation at the back of the retina. This leads to a lack of focus and poor vision. Some symptoms include blurry vision, headaches, constant or rapid blinking, and rubbing of the eyes due to the strain.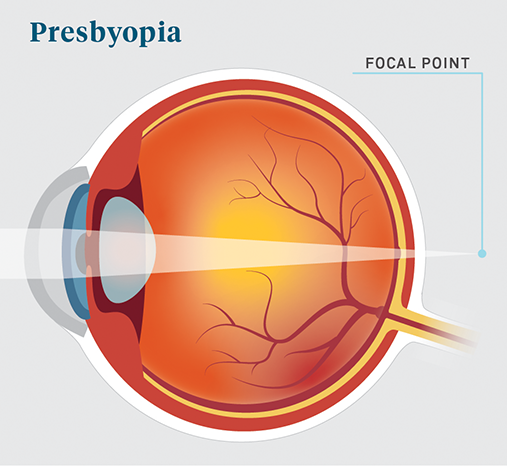 Presbyopia is the gradual loss of the ability to see nearby objects. It is an eye condition that develops with age, somewhere during the late forties or later, and worsens with age. It is age-related farsightedness since unlike myopia or hyperopia, which can develop from as young as three years of age, it develops at a much-advanced age. The cornea and the lens work together to make the human eye able to see things and it is when the lens hardens with age that presbyopia sets in. Some symptoms include blurry vision, headaches, constant or rapid blinking, and rubbing of the eyes due to the strain.
Different lenses for each eye condition
All three above-mentioned eye conditions can be treated with different prescription eyeglasses.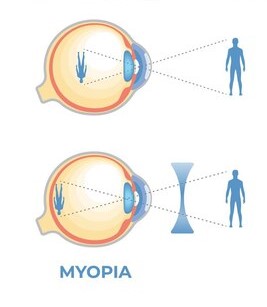 For treating myopia, or nearsightedness, concave lenses are used. In myopic patients, the image forms on the surface of the retina instead of forming on the retina itself. One uses concave lenses to split the light rays before they can hit the lens which results in the image forming on the retina, thus giving clear vision. Contact lenses can also be used.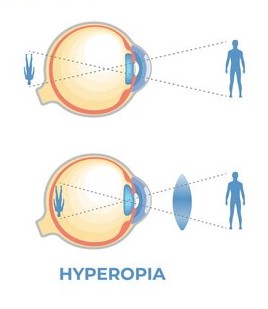 For treating hyperopia, or farsightedness, convex lenses are advised. Since in patients with hyperopia the image forms at the back of the retina, a convex plus lens pushes the image in front of the eye resulting in clear vision. As for myopia, contact lenses can be used for hyperopia too.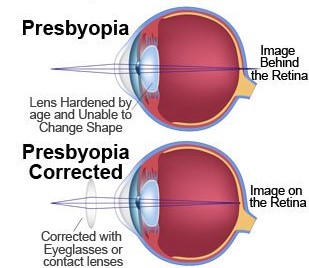 For treating presbyopia, several kinds of lenses like bifocal contact lenses, monovision contact lenses, and modified monovision can be prescribed. In bifocal contact lenses, there are two types of correction on the lenses, for both distance and close correction on each lens. In monovision contact lenses, two different types of lenses are given – one for distance vision and another for near vision – one in each eye. In modified monovision, a bifocal or multifocal contact lens in one eye and another contact lens for distance vision in another is typically advised.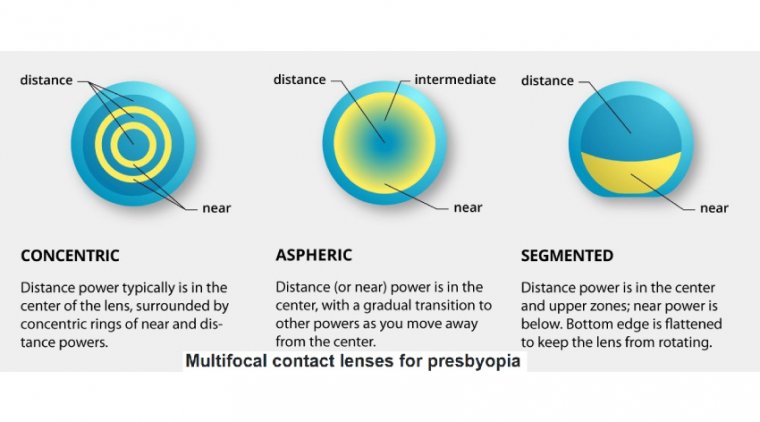 Now that we have explained the medical side of it, let us find out more about spectacle frames.
Types of spectacle frames
The lenses in prescription eyeglasses come encompassed within frames that help balance the lenses and keep them in their places. The thin covering bordering the outer edge, made of a hard material like metal or plastic is known as the rim. Spectacle frames come in different types, based on the design of the rims, like the ones mentioned below: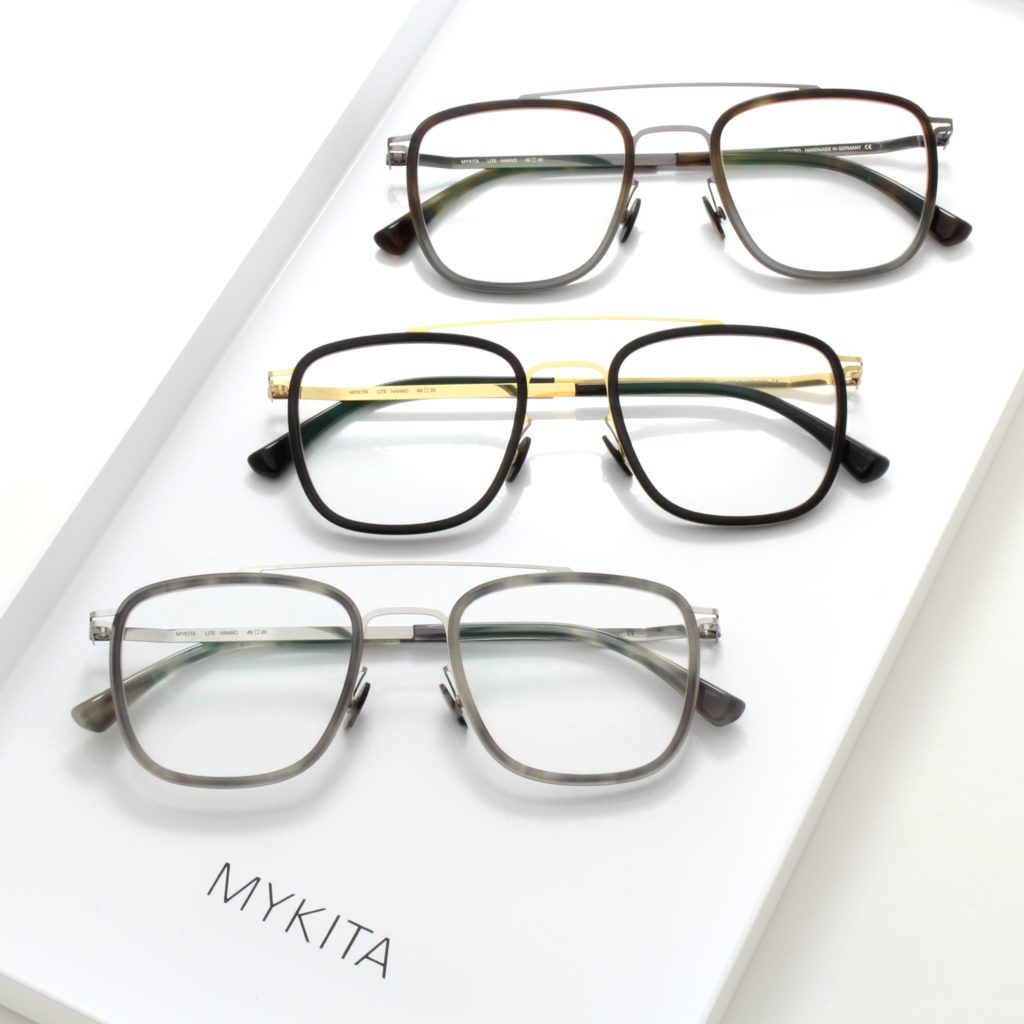 Full-rimmed spectacle frames – Full-rimmed frames surround the lenses of an eyeglass completely. The material can be plastic, polycarbonate, titanium, or metal. While the full-rimmed frame supports all types of lenses, including lenses made of fiber or glass, it is perfect for thick lenses and also works well for complex lens power. The full-rimmed frame is very suitable for frame shapes like round frames, square frames, rectangle frames, and cat eye frames. It is also suitable for trendy styles like hexagon frames and wayfarer frames. Full-rimmed frames are heavier and sturdier, especially when made of titanium, and are less prone to scratches or fractures. Full-rimmed frames are very suitable for round faces, which give a very sophisticated yet bold look. You can try MYKITA, Moscot, Blackfin, DITA, and Monoqool for stylish full-frames.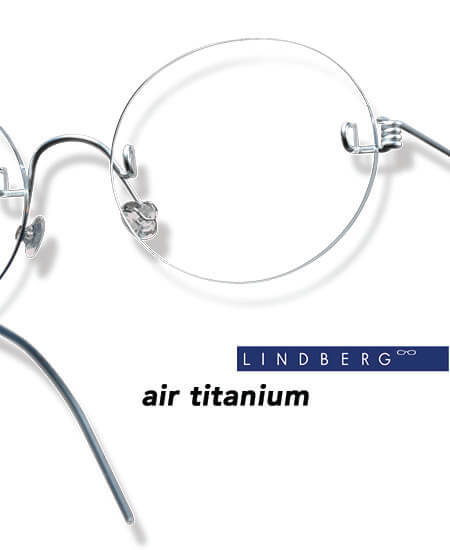 Rimless spectacle frames – Frames in eyeglasses where the lens is not covered by a hard outer edge are rimless frames. Rimless frames are usually made of materials like stainless steel, titanium, Ultem, or plastic. Rimless frames are limited to prescription referred lenses but are best suited for trivex lenses and polycarbonate lenses. Trivex is a comparatively new lens in the optic world and is lightweight with an index of 1.53. It is a bit thinner than a regular plastic lens but thicker than a polycarbonate lens. Polycarbonate is almost as light as trivex in terms of weight but is much more flexible. The rimless frame comes in conventional designs like cat eye, round, oval, aviator, and also in new and trendy designs like hexagonal or wayfarer but the rimless is traditionally best suited for rectangular frames. The rectangular frame has been the standard choice for the rimless frame as it accentuates the shape more. Rimless frames are pretty lightweight compared to full-rimmed frames but are less durable. Take a look at Ryan Adda and Lindberg for trendy rimless frames.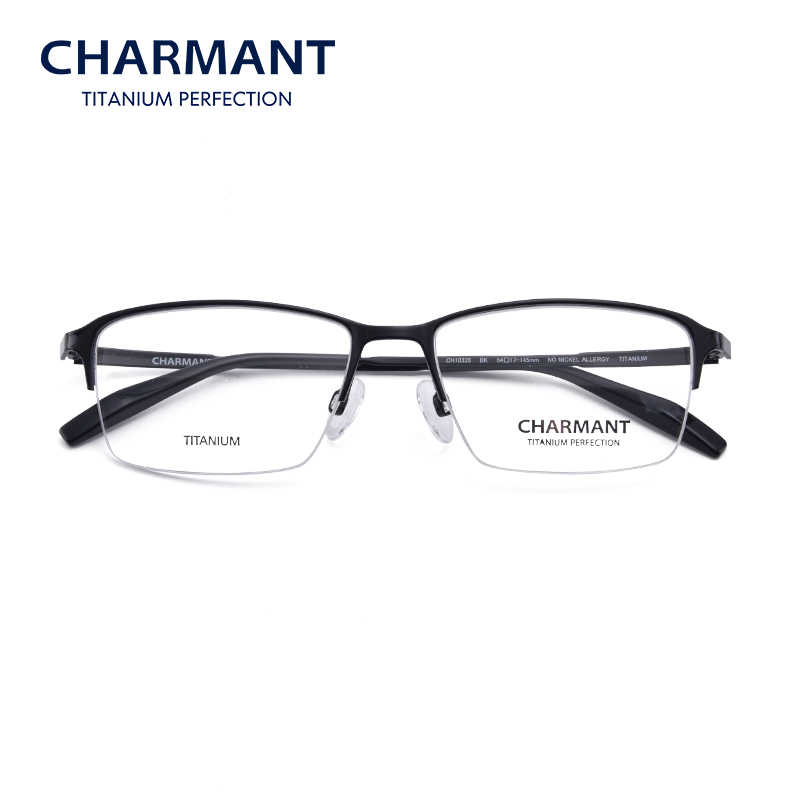 Semi-rimless spectacle frames – Semi-rimless or half-frame glasses are where the lens is partially covered with frames, notably the upper part. The lower part and side edges have no frames and resemble a rimless frame. The material used is titanium, stainless steel, Ultem, or TR90 – a type of lightweight thermoplastic material. While half frames do a decent job in terms of support and durability, heavy lenses tend to jut out of half frames which is why small, thin, and light lenses are apt for half frames. Lenses made of plastic-like polycarbonate are more favorable for half frames. People with diamond or triangular face shapes look good with semi-rimless glasses. Try Charmant, Agnes B, or Blac for durable semi-rimless frames.

Wire spectacle frames – Wire frames are frames that are thin and have a metallic texture. Unlike the other three above-mentioned frames, wireframes come in both rimless and full-rimmed frames. Wireframes are slim and shiny with a retro touch. The wireframe comes in various sizes like wide, medium, narrow, extra wide, and others. This frame is particularly made of metal or stainless steel. Wireframes come in various shapes and people with round faces look best in wireframes. The best collections of wireframes are by Monoqool, Markus T and Starck.
Frame materials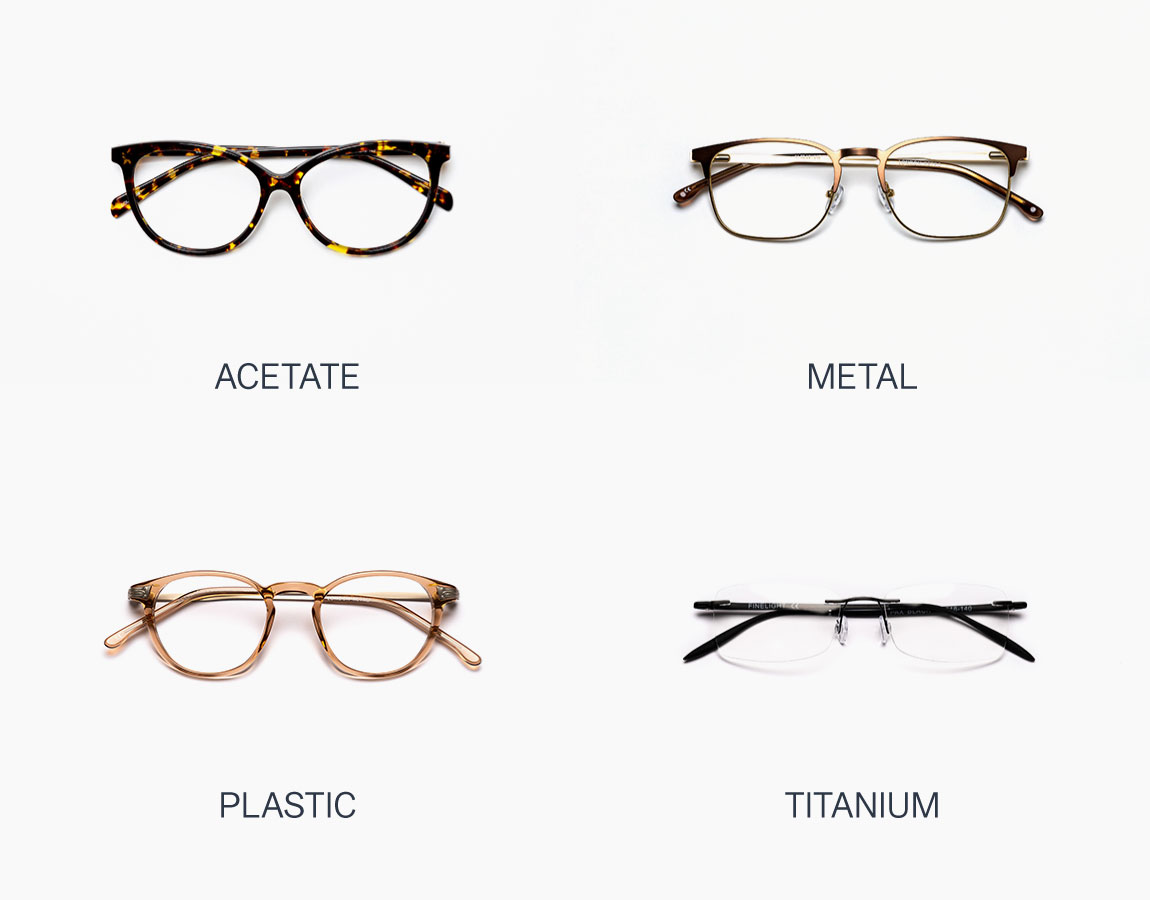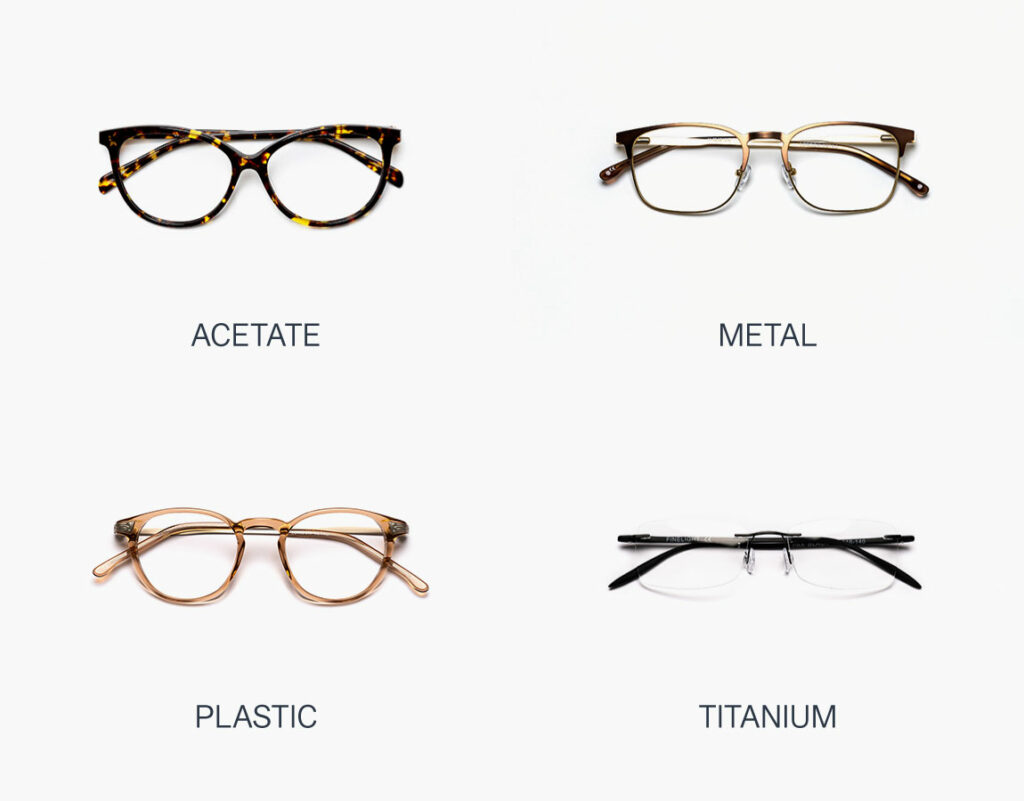 Plastic – Plastic is a very common and widely used material for prescription eyeglasses. It is lightweight and flexible, yet quite sturdy, and hence is best for various types of frames. Plastic frames have several categories like acetate, nylon, and TR90 or thermoplastic polyamide.
Metal eyeglasses- Another popular choice for frames is metal. It is comparatively heavier than plastic frames but equally or sturdier. They come in several types like aluminum, stainless steel, titanium, Monel, etc. Among these, stainless steel and titanium are very popular choices for their shiny look and durability.
Titanium- A type of metal frame, titanium is a frame material that is extremely sturdy and strong yet very lightweight and is best for all types of eyeglasses like cat eye, aviator, round frames, square frames, and more. It can be paired with rimless and full-rimmed glasses too.
Conclusion
Frames are no longer just eyewear necessary for a clearer vision, but are also used for fashion purposes and can be styled according to requirements. At Malaya Optical, you will get a wide range of glasses from famous brands. From high-end designer frames by Giorgio Armani, Dior, Fossil, and DKNY, to high-quality superior ones such as MYKITA, Ryan Adda, Moscot, Prodeign, and Blanc, Malaya Optical boasts an enviable collection of spectacle frames such as well as contact lenses.
Whether you have an oval, heart-shaped, round, or square face, Malaya Optical will surely have the perfect pair of glasses for you. You can shop for glasses online or directly visit the retail store. The retail store also has expert and experienced optometrists and houses all the latest and advanced eye-checking equipment. Hence, if you are looking to get your eyes checked or if you are looking for trendy yet durable spectacles in Bangsar, Desa Sri Hartamas, Mont Kiara, and Desa Park City, just visit Malaya Optical.