Transition lenses—also known as photochromic lenses—are the lenses that get darker in bright light and lighter in dim or low light. These lenses, which have been available for at least ten years, provide the comfort of sunglasses without requiring you to wear them over your prescription glasses or to alternate between the two all the time. Transition lenses equipped with the latest generation and breakthrough the best technology for you. It challenged the research team to develop a light intelligent photochromic lens that was darker outdoors, clear indoors, with improved reaction and fade back speeds, all without compromising on protection and quality. And now we have more newest transition lens technology which has the greatest future of new transition xtractive polarized.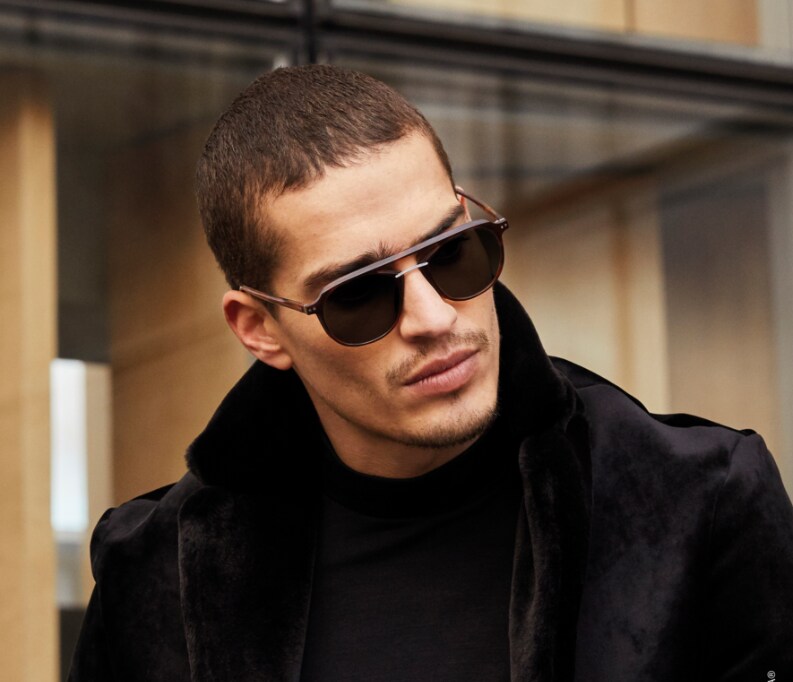 Essilor lenses has the best transition or photochromic technology compared to other lenses. Currently they are in 8th generation of improvising and developing all the new features in it and now we have transition Gen 8, transition style lenses, transition xtractive and today we are here with transition xtractive polarized. In very bright light and reflective glare, they are extra dark and achieve a polarization efficiency of up to 90% providing sharper vision, a bigger field of view, and vibrant colors. Here shows the dynamic polarization lens technology and the layers of lens involved in the transition xtractive polarized lenses.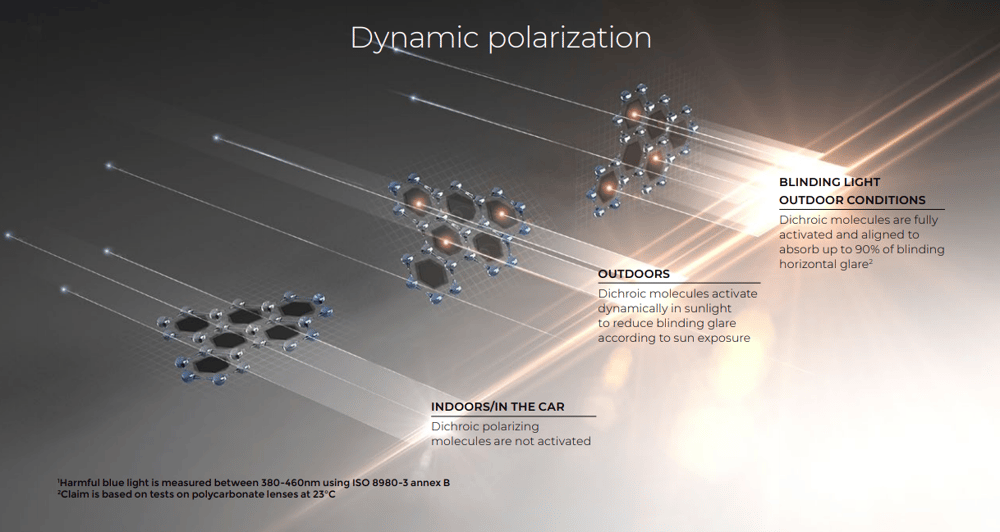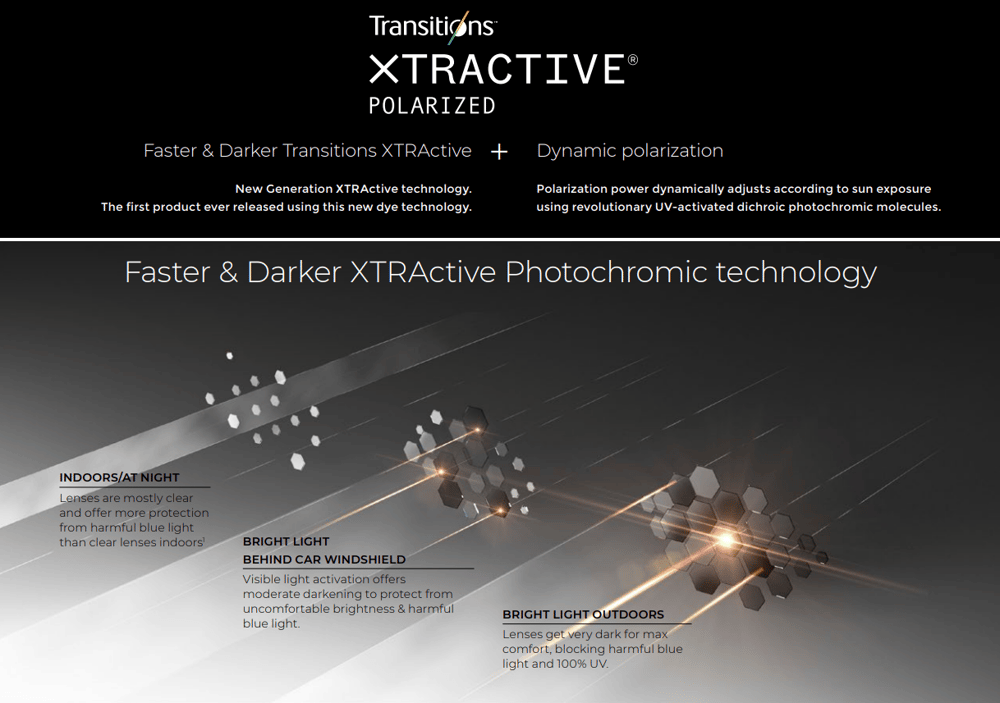 With the result of years of research and extensive scientific studies, transition lenses is the first light intelligent photochromic lens with a ground-breaking nano-composite technology that pushes photochromic performance and provides the best vision, comfort, and protection throughout the day. Transitions XTRActive Polarized lenses host a unique advanced technology combining an exclusive multi-layer matrix with new Transitions XTRActive broad-spectrum dyes for more darkness and new ultra-fast dichroic dyes for polarization.
TRANSITIONS® XTRACTIVE POLARIZED BENEFITS
Dynamic Polarised
Up to 90% polarization efficiency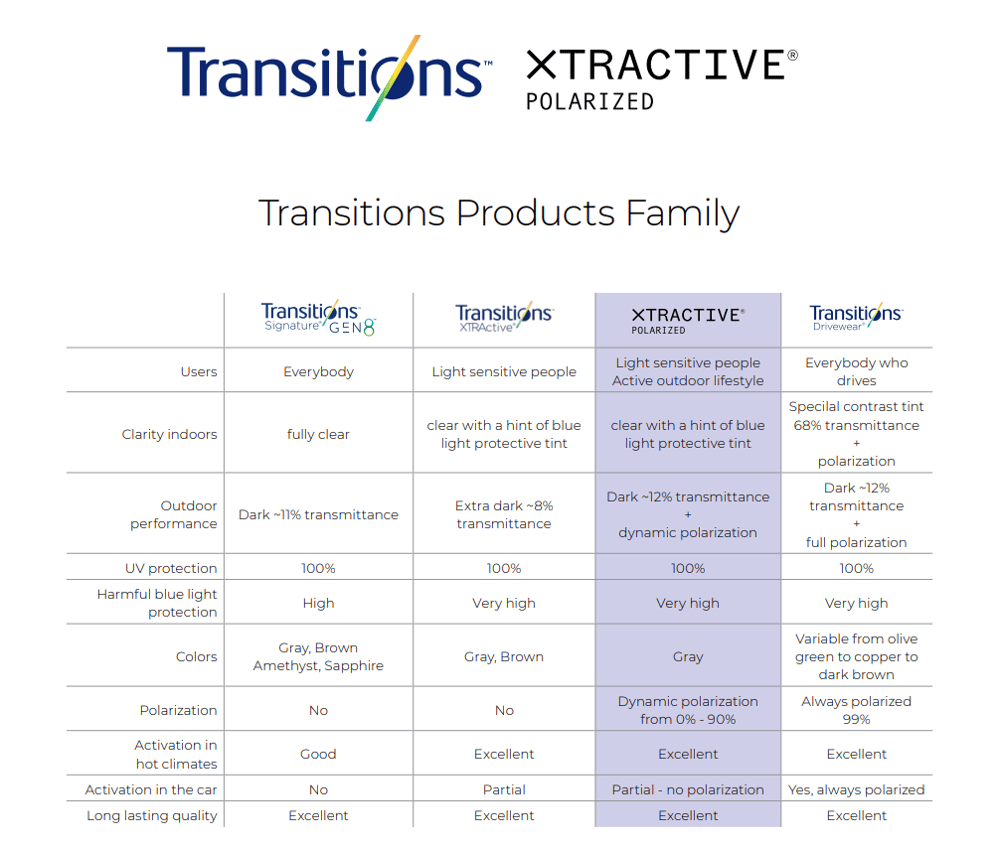 TRANSITIONS® XTRACTIVE POLARIZED FEATURES
Activates inside a car up to category 2
Extra Dark upto category 3
Provides best blue light filter indoors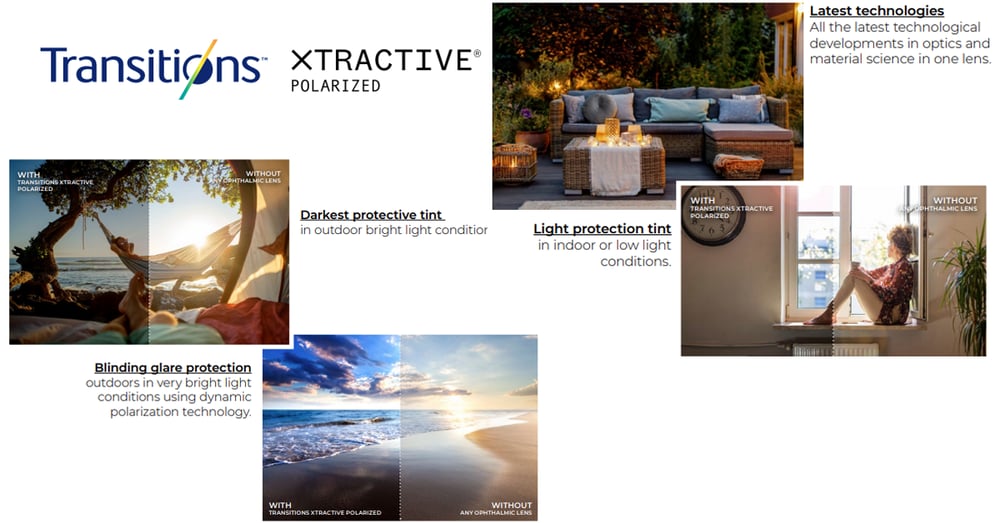 Combining the benefits of light intelligent lenses and dynamic polarization, the new transition xtractive polarized provide your eyes with extra protection in any light situation while delivering sharper vision, vivid colour and larger view outdoor. This lens has a polarization efficiency up to 90%. It even activated in the car and the colour change features gets extra dark up to category 3. Besides it also blocks 100% of ultraviolet A and B and provides best blue light protection in indoor. Transition Xtractive Polarized lenses available in grey colour only. This lenses will be the best solution for those who required higher level of protection in both indoor and outdoor. Do visit your nearest Malaya Optical outlet to get your own transition xtractive polarized lenses now!