The SofLens Toric contact lens is indicated for the correction of nearsightedness (myopia), farsightedness (hyperopia), and astigmatism. Ideal for current soft toric lens wearers who require excellent visual acuity and comfort with the health and convenience of disposable lenses.
Soflens Toric contact lenses are built for some extended use, but are really only good for up to two weeks. According to the manufacturer, Soflens Toric contacts are 1 to 2 week lenses, meaning they can be worn continuously day and night for one week, or daily for two.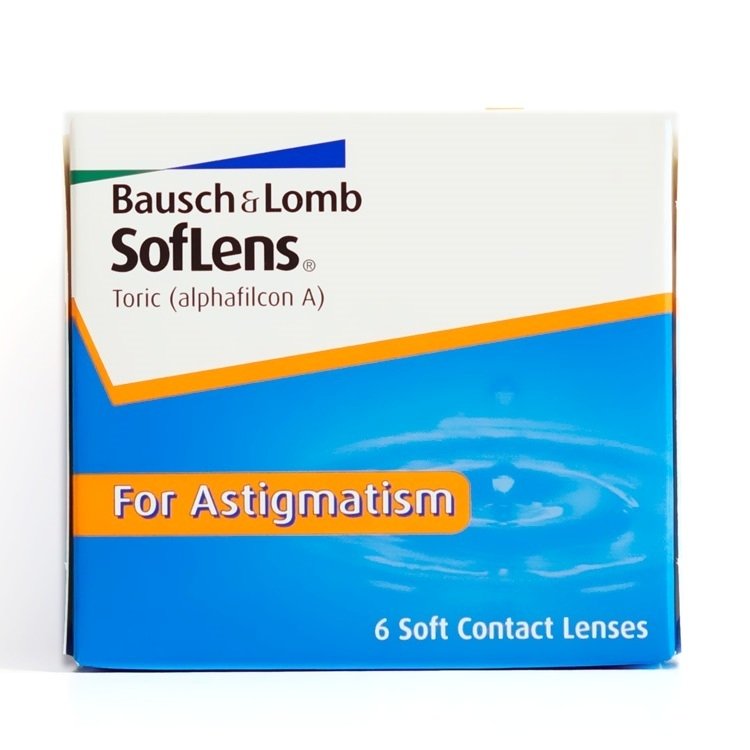 Parameters
Material:
alphafilcon A
Water Content:
66%
FDA Material Group:
II
Oxygen Permeability (Dk):
32
Oxygen Transmission (Dk/t):
16 at -3.00D
Orientation Method:
Lo-Torque® Design
Orientation Indicators:
3 marks at 5, 6, 7 o'clock (30º apart)
Toric Location:
Back Surface
Manufacturing Method:
Cast Moulded
Base Curves:
8.5mm equivalent
Diameter:
14.5mm
Powers:
Sph: +6.00 to -6.00, -6.50D to -9.00D in 0.50D steps)
Cyl: -0.75, -1.25, -1.75, -2.25, -2.75 (-2.75 available from Plano to -9.00D)
Axis: 10º increments around the clock
Optical Zone:
8.0mm
Centre Thickness:
0.195 (-3.00D)
Visibility Tint:
Blue
The patented Lo-Torque design keeps SofLens Toric contact lenses stable during wear, and the advanced optics correct astigmatism by refocusing light to a single point for clear vision.
The architecture of SofLens Toric lenses is distinguished by its robustness. This means even for beginners putting on and taking off the lenses becomes child's play. The light tint of the lenses facilitates use of the lenses even further. Your retina is provided ample respiration thanks to the high level of oxygen permeability – and your eyes will thank you for choosing SofLens Toric lenses!
Features and Benefits
SofLens contact lenses provide a uniquely accurate and stable vision throughout the day thanks to the patented Lo-Torque design.
Based on a daily wear plan, SofLens Toric will last up to 2 weeks with up to 7 days continuous wear.
Soflens is featuring 3 orientation marks at 5, 6 and 7 o'clock, each of them being 30º apart from each other.
Where to buy?
To purchase Soflens Multi-Focal, you can order online through shop.malayaoptical.com or if you just nearby Petaling Jaya area you can drop by to our shop at Malaya Optical Optometrist.