Air Optix Night and Day Aqua contact lenses by Alcon are designed to be worn for one month. AIR OPTIX® NIGHT & DAY® AQUA contact lenses are FDA approved to be worn up to 30 days without being removed from your eyes. With TriComfort™ Lens Technology, these lenses allow more rich, nourishing oxygen through the lens than any available soft contact lens, retain moisture and resist deposit build-up.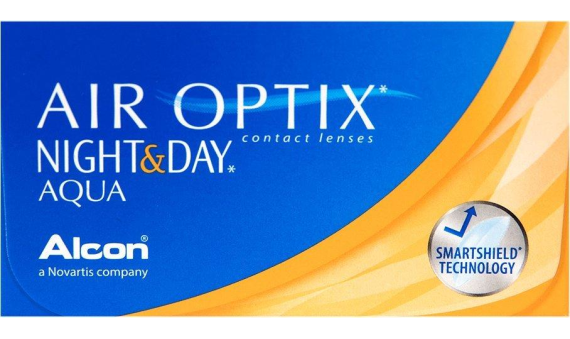 Offer Contains : 3 Lenses/Box
Replacement : Monthly Disposable
Water Content : 24% H2O
Material Content : 76% Fluorosiloxane (Lotrafilcon A)
Air Optix Night and Day Aqua have replaced the former Focus Night and Day lens. You may continue to use your valid Night and Day prescriptions to order the Air Optix Night and Day Aqua. The new name/packaging reflects the improvements made to this contact lens.
These contact lenses are great for those with active or busy lifestyles who don't have time to clean and maintain their contact lenses. These contact lenses have excellent moisture retention and coverage; and an ultra-smooth surface designed to prevent deposits.
With the highest oxygen transmissibility of any available soft contact lens1 they provide comfort day after day – even overnight.

– FDA approved for daily wear and extended wear for up to 30 nights of continuous wear.¤ Perfect for napping
– Provides the highest oxygen transmissibility of any available soft contact lens
– These contacts are ideal for people who've had trouble with other lenses, have sensitive eyes, or just need more comfortable lenses.
– Provides long-lasting comfort
– Relieves dry eyes
According to the manufacturer, the lenses should not be worn continuously unless consulted and directed by an eye-care professional. Continuous wear is not suitable for all users. Many eye care professionals do not recommend continuous wear at all; others recommend taking the lenses out after five days. Air Optix Night and Day are undoubtedly among the highest quality contact lenses available on the market. Nevertheless, it is highly inadvisable to buy these contact lenses without professional fitting. 
Where to buy?
To purchase Air Optix Night and Day Aqua, you can order online through shop.malayaoptical.com or if you just nearby Petaling Jaya area you can drop by to our shop at Malaya Optical Optometrist.