Soflens Multi-Focal(polymacon) visibility tinted contact lens is a soft hydrophilic contact lens that is a front surface asphere consisting of multiple aspheric zones with a spherical base curve. Soflens Multi-Focal lenses are a perfect choice for people who thought reading glasses meant the end of wearing contact lenses. With unique Natra-Sight Optics designed to provide broad transition for near, intermediate and far vision, Soflens Multifocal lenses offer crisp, clear vision at all distances.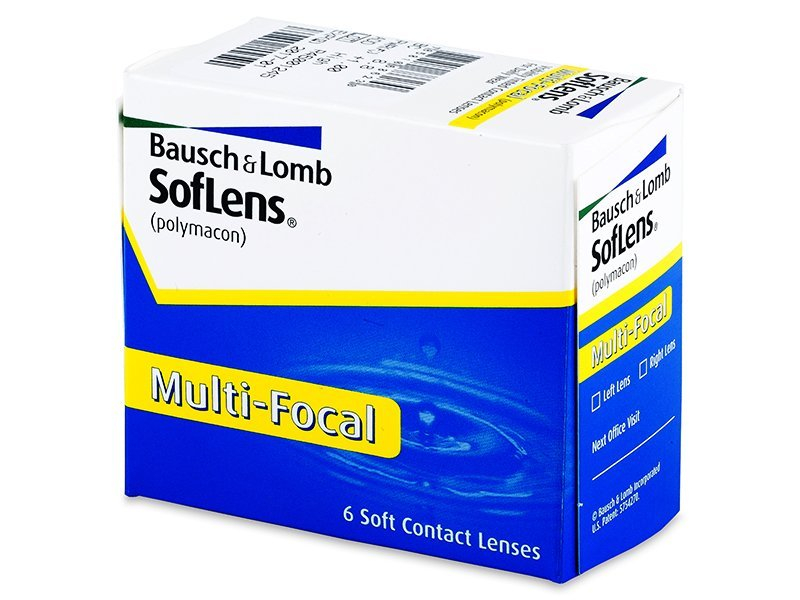 Parameters
| | |
| --- | --- |
| Material: | Polymacon |
| Water Content: | 38.6% |
| Manufacturing Method: | Cast Mold |
| Base Curves: | 8.5 mm and 8.8 mm |
| Diameter: | 14.5 mm |
| Powers: | +6.00D to -7.00D (0.25D steps) |
| Add Powers: | Low (+0.75D to +1.50D) and High (+1.75D to +2.50D) |
| Center Thickness: | 0.05 mm to 0.50 mm |
| Visibility Tint: | Light Blue |
| Design: | Front surface aspheric, center-near |
Soflens contacts are indicated for daily wear for the correction of refractive ametropia (myopia, hyperopia, and astigmatism) and presbyopia. Soflens Multifocal contacts provide a wide range of available powers and adds. he patented edge design and deposit resistant material provides all day comfort. It also features a visibility tint for ease of handling.
Results from a clinical study show Soflens Multifocal contact lenses were patient-preferred 2 to 1 over a leading bifocal contact lens for overall visual quality. Wear on a daily basis and replace every two weeks.
Benefits & Features
Based on a daily wear plan, Soflens Multifocal can be worn up to 2 weeks.
Natra-Sight Optics technology provides broad transition for near, intermediate and far vision and supports sharp and clear vision at all distances.
Soflens Multi-Focal are easy to fit and easy to handle.
An inside-out indicator (B&L) and the visibility tint support easier handling.
Where to buy?
To purchase Soflens Multi-Focal, you can order online through shop.malayaoptical.com or if you just nearby Petaling Jaya area you can drop by to our shop at Malaya Optical Optometrist.