SOFLENS 38 Brand Contact Lenses from Bausch &Lomb are monthly disposable lenses. The Bausch + Lomb SofLens 38 contact lens is indicated for the correction of nearsightedness (myopia) and farsightedness (hyperopia).SOFLENS 38 contact lenses combine a high-performance, ultra thin design with a time-tested lens material that provides crisp, clear vision, comfort, and deposit resistance and combine performance with a time-tested.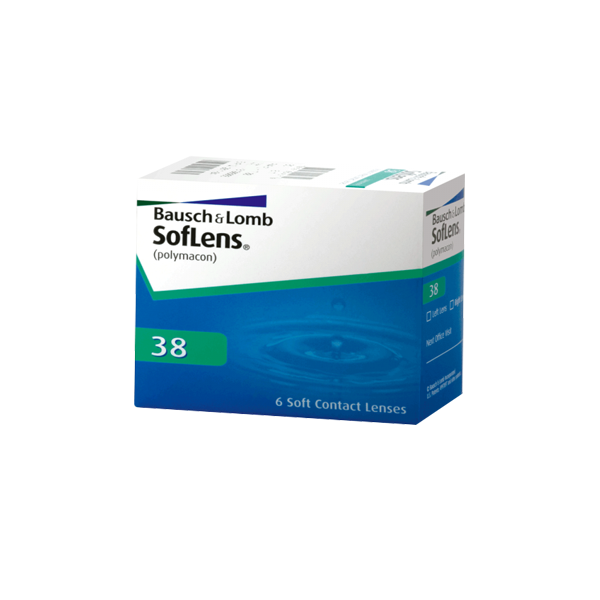 | | |
| --- | --- |
| Material: | polymacon |
| Water Content: | 38.6% |
| Oxygen Permeability: | 8.4 x 10–11[cm3O2(STP) x cm]/(sec x cm2 x mmHg) @ 34˚ C(Polarographic Method) |
| Diameter: | 14.00 mm |
| Center Thickness: | 0.035mm (-0.25D to -6.00D)0.032mm to 0.026mm (-6.25D to -9.00D)0.038mm to 0.094mm (plano to +4.00D) |
| Base Curves: | 8.4 mm, 8.7 mm, 9.0 mm |
| Powers: | -9.00D to +4.00D |
| Visibility Tint: | Blue |
Benefits & Features
Can be worn as extended wear (if approved by your optician)
Deposit resistant material
High water content to keep lenses hydrated throughout the day
Inversion indication to help you tell if the lenses are inside out
Visibility tint for easy application
As they are so adept at retaining moisture, you can wear these lenses for up to 12 hours a day, making them a durable and high-performing choice. They are monthly lenses so you can wear them for 30 consecutive days, provided that you clean and store them in a multipurpose solution each night. Ask your eye care professional for the replacement schedule that works best for you.
With a protein-resistant design, these monthly contact lenses have been created to keep your eyes free from irritation and ensure no dirt, deposits or build-up get in the way of you and clear vision. Be sure of a comfortable wear, even during extreme conditions, with these monthly contact lenses that are ideal for dry eyes.
Where to buy?
To purchase Soflens 38, you can order online through shop.malayaoptical.com or if you just nearby Petaling Jaya area you can drop by to our shop at Malaya Optical Optometrist.