Silhouette Eyewear – Iconic eyewear made in Austria

since 1964. Silhouette Eyewear has revolutionized the world eyewear with the world's lightest. In addition, all the eyewears are produced in an extremely high standard of workmanship and use the latest materials and production techniques to create new and innovative products.
Remarkably, Silhouette has always pursued a vision that holds till today from the very onset.
The vision is to create the most beautiful eyewear in the world.
The eyewear is made with heart and soul to turn the vision into reality.
It is believed that what makes a pair of Silhouette spectacles unique is due to the unlimited possibilities in term of shape, color and design expressed. For instance, customers who wear Silhouette expressed the individuality as each Silhouette creates clarity of design.
The Silhouette eyewear represents classic design which meets the spirit of an age.
Since 1964, this eyewear has been made thus high quality and exquisite workmanship is guaranteed. Only the finest materials are used in order to ensure the highest comfortability to the wearers.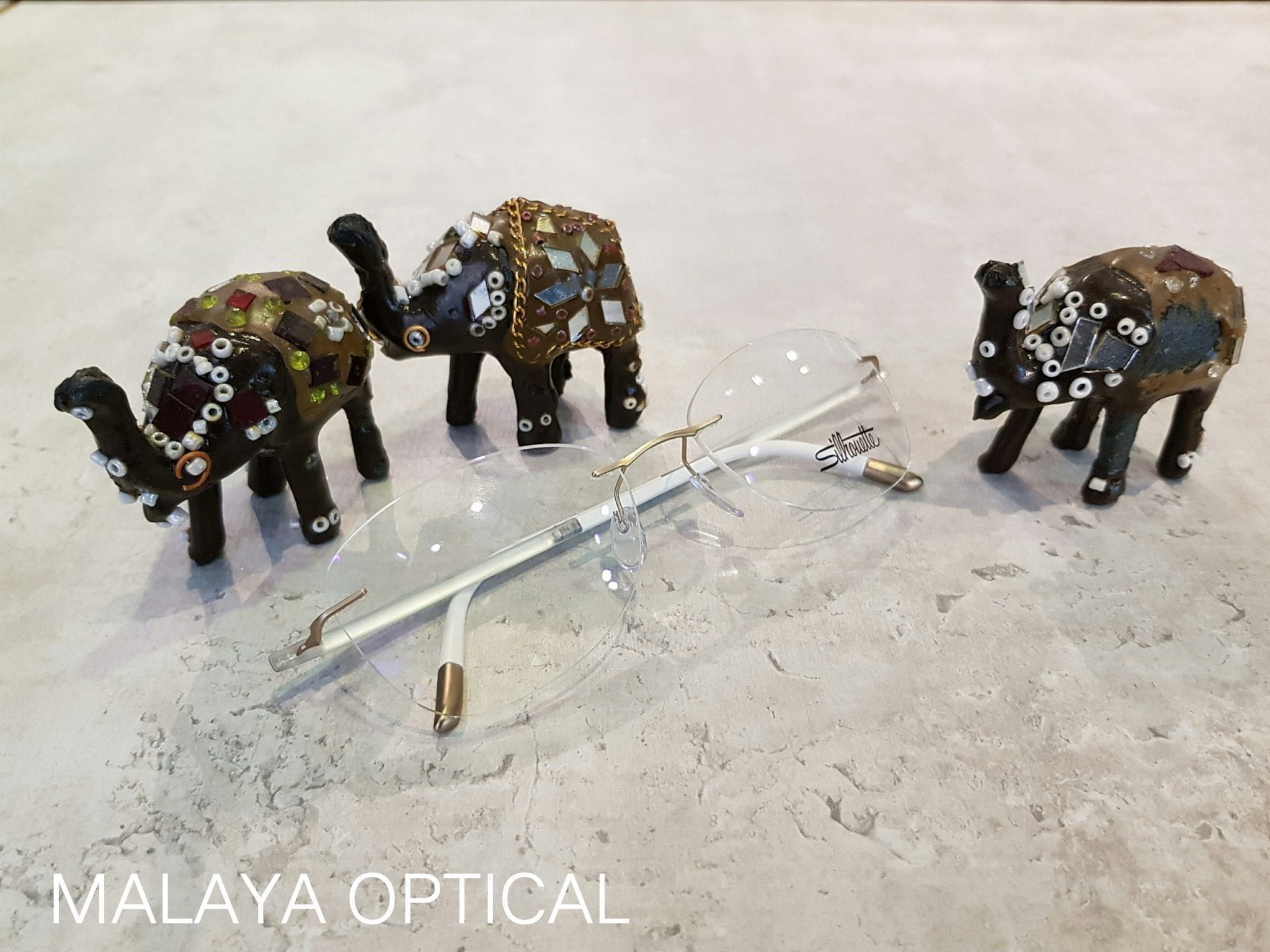 In a nut shell, innovative materials and puristic design define the unmistakable lightness of Silhouette eyewear.
See it and feel it yourself in Malaya Optical today!
1. 1. SILHOUETTE MATCH 1566 42 C6052 53 DARK PURPLE
2. 2.SILHOUETTE MATCH 2895 42 C6057 55 BLUE
3. SILHOUETTE URBAN LITE 2886 61 C6060 SMOKY
4. SILHOUETTE URBAN LITE 22886 62 C6066 MATT BLUE
5. SILHOUETTE TNG NYLON 4471 41 C6073 BLUE
6. SILHOUETTE TNG NYLON 4471 41 C6070 WHT GOLD
7. SILHOUETTE SIGNIA CARBON 5460 62 C6053 GUN
8. SILHOUETTE TITAN ACCENT 5448 12 C6050 MATT SILVER GREY
9. SILHOUETTE TNG NYLOR 4471 21 C6070 GOLD
10. SILHOUETTE TMA PULSE 5486 42 C6055 MATT BLUE/BLUE
11. SILHOUETTE TMA PULSE 5488 01 C6051 MATT SILVER/BLUE
12. SILHOUETTE TMA PULSE 5486 42 C6057 SHUNNY BLACK/GREEN
13. SILHOUETTE TMA PULSE 4533 41 C6054 SHINNY PINK/PURPLE
14. SILHOUETTE HINGE C-2 5421 61 C6053 23 CT SILVEL LIMITED EDITION
15. SILHOUETTE URBAN LITE 2891 6052TURLE SHELL
16. SILHOUETTE 5424 6051 (23CT) GOLD LIMITED EDITION
17. SILHOUETTE TMA PULSE 7610 6051 54 GOLD
18. SILHOUETTE TNG NYLOR 5279 6060 56 GUN
19. SILHOUETTE HINGE 5429 6951 23KT GP
20. SILHOUETTE MUST 6668 41 C6066 WINE
21. SILHOUETTE MUST 6671 41 C6102 HINY BROWN
22. SILHOUETTE MUST 7611 11 C6050 SHINY SILVER
23. SILHOUETTE MUST 7612 61 C6107 MATT GUN
24. SILHOUETTE MUST 7624 41 C6065 MATT BLUE
25. SILHOUETTE MUST 7625 12 C6061 MATT SILVER
26. SILHOUETTE FUSION 4520 21 C6054 MATT GOLD/HITE
27. SILHOUETTE FUSION 5477 41 C6059 DARK BROWN/BROWN
28. SILHOUETTE FUSION 5476 21 C6052 HINY GOLD/BLACK
29. SILHOUETTE RACE 5502 BS C6762 MATT GUN/BLACK
30. SILHOUETTE RACE 550 BQ C7732 GOLD/BLACK
31. SILHOUETTE TNG NYLOR 5278 42 C6063 BLACK
32. SILHOUETTE DYNAMICS 5500 BF C6041 SHINY DARK BROWN/SHINY DARK BROWN
33. SILHOUETTE DYNAMICS 5500 BA C3531 SHINY GOLD/VIOLET
34. SILHOUETTE DYNAMICS 5500 AV C7002 SILVER/BLUE
35. SILHOUETTE URBAN 2902 42 C6050 MATT BLACK
36. SILHOUETTE URBAN 2902 61 C6055 MATT BLUE
37. SILHOUETTE 5500 BD C3041 RED/RED
38. SILHOUETTE SIGNIA NYLOR 5419 50 6058 MATTE BLACK
39. SILHOUTTE 5419 41 6057 MATTE BLUE
40. SILHOUTTE 5287 12 6051 MATTE GUN