Jonathan Paul Fitovers originated in Australia 20 years ago as a solution to the intense Australian sun.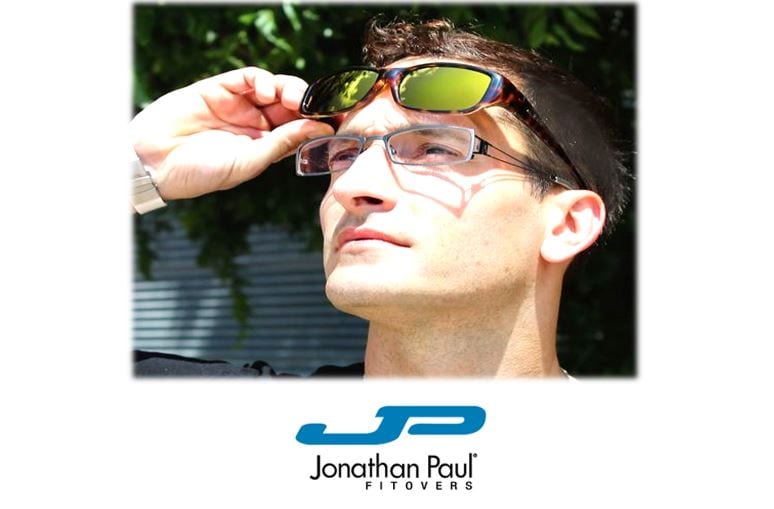 Effective, comfortable and affordable, this revolutionary new fashionable and functional fit over sunglass with its innovative wrap-around styling quickly caught on.
International demand for Jonathan Paul brand of fitover sunglasses led to distribution on a global scale and quickly developed a well-earned reputation as the world market innovator and leader in this unique eyewear category.
Jonathan Paul continually designs the finest sunglasses designed to fit over prescription eyewear. Maintaining our original emphasis on comfort, quality and visual performance, we utilize state-of-the-art frame and lens technologies to provide modern prescription frame wearers with a fit over sunglass that meets the needs of their frame styles and their lifestyles.
As the originator of this unique sunwear style, we continue to be the innovative market leader in the evolution of style and performance in the realm of sunglasses designed to fit over prescription eyewear. Often imitated but never duplicated, Jonathan Paul Fitovers has the most colors and styles, the highest quality materials and the best reputation over any competitor.
With polarized glare-blocking protection and full wrap-around styling, Jonathan Paul Fitovers are the perfect sunwear solution for any outdoor pursuit. Driving, walking, motorbike riding, pool side reading, fishing and any number of other outdoor activities are enhanced with the complete UV protection afforded by a pair of JP's.
The TR90 plastic frames are not only extremely durable, but also hypo-allergenic and light-weight. These state-of-the-art frames hold polarized Polarvue lenses that offer 100% UVA/UVB protection and are made of durable polycarbonate material.
Jonathan Paul also offers 25 frame shapes, available in a wide selection of 44 fashionable hand-painted colors and 8 polarized polycarbonate lens color options.
Jonathan Paul Fitovers provides 150+ unique styles in a huge assortment of shapes and sizes so that you can wear a fitover sunglass that matches your unique lifestyle and fashion style.
Collections Available:
Choopa
Glides
Coolaroo
Euroka
Razor
Aurora
Binya
Nowie
Ikara
Dahlia
Element
Kiata
Queeda
Lotus
Sabre
Navigator
Mooya
Neera
Aria
Orion
Quamby
Jett
Torana
Yamba
Aviator
To have more information, please feel free to consult with our best optometrists in KL.