Boasting enhanced features & a clearer vision, step up your style with an array of dazzling colors from FreshKon Colors Fusion Monthly, Wear your favourite color and make a statement now with FreshKon Colors Fusion Monthly that are designed with Unique 3-tone colors. This unique feature create a radiance that replicates the natural depth and dimension of beautiful eyes, so you can change the color of your eyes completely without looking artificial. Not only will you look lovely, FreshKon Colors Fusion Monthly are also very comfortable to wear and easy to handle. Additionally, these disposables are hygienic to wear as you can simply toss them out after a month of wear.
Lens Description
Iconic Look – Freshkon Color Fusion Monthly with 11 dazzling and exciting colors to achieve your own distinctive style
Optimal Comfort – Hydrophilic (water-loving) surface for comfortable wear,easy to fit with no curling lens problem
Excellent Vision – Larger optical zone for clearer view with no peripheral vision
Oxygen Permeability Efficacy – Strategic dispersion of micro-colorants does not compromise on the oxygen permeability. Benefit: Optimum oxygen flows through the cosmetic lenses, allowing for healthy and beautiful eyes
UV Inhibitor – No
Hydro Micro-Insulation Technology – Micro-colorants are locked and insulated, isolated from your eyes. Benefit: Superior wearing comfort & lens performance with Freshkon Color Fusion Monthly.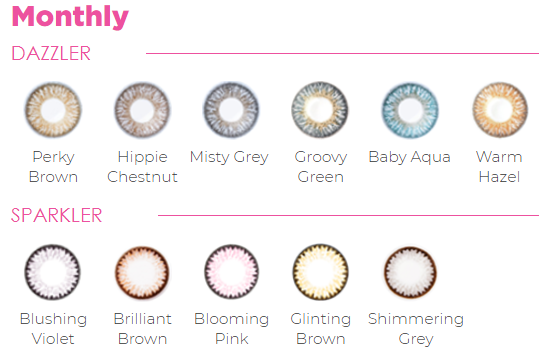 Product Specifications
Pack Size
2pcs
Water Content
55%
Material
Methafilcon A
Center Thickness
0.07mm @ -3.00D
Diameter
14.2mm
Base Curve
8.6mm

Power Range

-0.00D (plano)
-0.50D to -6.00D (0.25 steps)
-6.50D to -10.00D (0.50 steps)
Free shipping nationwide for order above RM200 🇲🇾 . Get rewards points when you purchase but dont forget to create an account first. We are having promo Buy 4 save RM20. If you are interested you can directly contact our store Malaya Optical or directly purchase at Shop.Malayaoptical. Grab the promo before February 2021 and get a freebies while stock last!Terms and condition apply.