Essilor Lenses X Series captures every detail that you need and work to produce a masterpiece. The advent of digital tools like computers, tablets and smartphones has radically transformed the needs of near-vision.
These presbyopes aren't just reading; they are also performing multiple tasks at a near-intermediate distance. Due to this kind of vision demands, the progressive lenses do significantly help them to experience clear vision in various distances. Moreover Essilor Lenses- X Series are specifically designed to satisfy an individual who highly connected with digital use.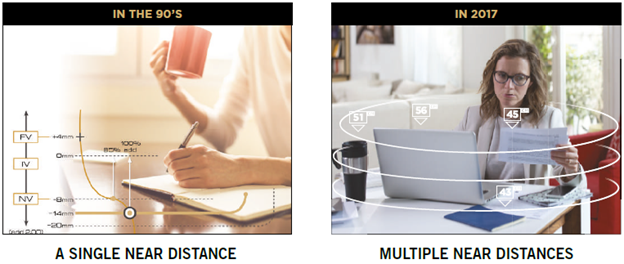 Routine activities such as working on a computer screen, reviewing documents, typing on a keyboard, watching videos, answering mobile phone, writing text messages, sharing data with friends and family requires a comfortable and clear vision all over the day. Presbyopes vision are dynamic and involves numerous distances. Thus, they able to shift smoothly from one task to another, without being held back by their vision. With x3D and x4D lens series, the combination of new formula designed the lens precisely and assures for softer and smoother vision for multiple views in one gaze movement.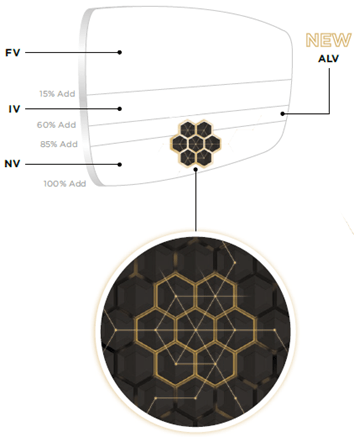 Building on the innovations of the Varilux S Series lenses that incorporate Nanoptix™, Synchroneyes™ and 4D™ technology, Varilux X Series lenses provide presbyopic wearers with the best vision possible at every distance, even in low light, for every activity, by incorporating W.A.V.E. 2 Technology.
The four main incorporated technologies in x Series lenses are the Xtend technologies which provide unique design calculation that extends wearers vision within arm's reach. Second is 4D technology for quicker access to every area of the lens, Nanoptix technology which virtually eliminates the off-balance feeling, followed by Synchroneyes technology; provide smooth transition between visual zones.
BENEFITS of VARILUX X SERIES
TRUE VISION – Feel safe whenever you wear your glasses
EASY ADAPTATION – Adapt quickly to your new glasses
LARGE READING AREA – Capture all close up information clearly
SMOOTH VISUAL ADJUSTMENTS – Seamless transitions between seeing zones
SEE CLEARLY WITH JUST A GAZE – You don't have to move your head to find the sweet spot on the lens
SHARP VISION – Reduced image distortions across all vision zones
COMFORTABLE VISION – From the moment you put on your glasses
Differences that makes every one of us to move towards today's world is the ability to do multitasking quickly and effectively. Nowadays, the use of digital devices has changed the need of its users and people required comfortable vision to organize all their assigned tasks. By choosing the correct ophthalmic lenses, you can never missed out from experiencing the wonderful benefits of the lens. It always been customized personally based on the understanding of your vision requirement for better and greater view. For more information do look for best optometrist near me.