Biofinity is a monthly contact lens that is suitable for patients that are looking for excellent health and comfort from a lens. In addition to being ideal for new wearers, this contact lenses are also an ideal upgrade for existing wearers who want better lens performance. Biofinity is different from other high oxygen lenses because it features our exclusive Aquaform Comfort Science. This technology creates a naturally hydrophilic contact lens that retains water within the lens, minimizing dehydration. It also combines low modulus and high oxygen transmissibility for added comfort and breathability.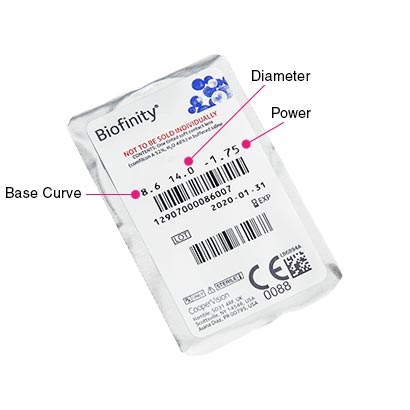 Benefits of Biofinity Contact Lenses
The patented Aquaform Technology in these premium monthly contact lenses has a 48% water content and a naturally wettable lens surface that lasts all day long. All of which ensures that your eyes stay hydrated throughout the day, while the silicone hydrogel material of the lens itself allows more oxygen to reach the eye than with most other soft contact lenses. This keeps them fresh and prevents them from drying out as the day goes by.
Ideal for those susceptible to dry eyes. Biofinity contacts are ideal to stand up to the demands of modern living, reducing the effect of air conditioning and digital screen use can have on your eyes, making them incredibly reliable.
How long can you wear Biofinity Contacts?
Biofinity contacts are monthly contact lenses and can be reworn for up to a month if you clean and store them nightly with a multi-purpose solution, such as our best-selling and affordable comfi All-in-One Solution.
Can you sleep in Biofinity?
Alternatively, if approved by your optician, these monthly lenses can be worn continuously with up to 6 nights/7 days of comfortable wear. This means you can wear them throughout the day and when sleeping for up to 6 nights/7 day without removal. These extended wear lenses give you total freedom in how you wish to wear them, and are ideal if your two weeks are never the same. However, you'll need to speak with your optician to determine if your eyes are suited to sleeping in your contact lenses.
Let's make an appointment with us at Malaya Optical Optometrists, we are ready to advice you!