Air Optix for Astigmatism contact lenses have been created by Alcon & Ciba Vision to correct the effects of astigmatism and achieve clear, uninterrupted and stable vision. These toric contact lenses are designed to stay in place when you blink and move your eyes, while providing exceptional comfort and hygiene.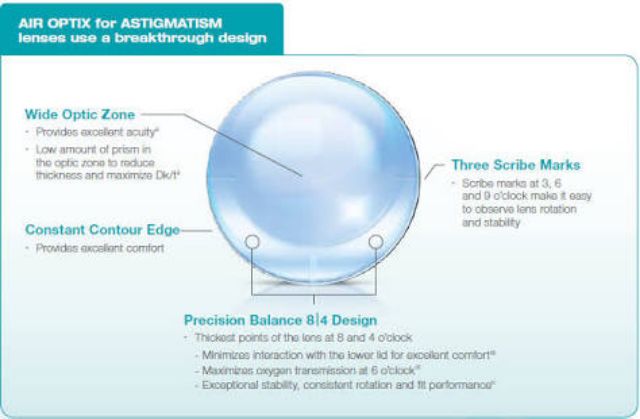 Benefits of Air Optix for Astigmatism contact lenses
These toric contact lenses for astigmatism work to offer a secure fit, with stable vision through their Precision Balance 8|4TM Design technology. By featuring two points of stability, the lenses remain on your eyes during blinking. This helps your lenses maintain amazing visual acuity from morning through till night.
These monthly contact lenses also make use of SmartShield Technology to offer a high level of comfort from day 1 to day 30, with a lens surface naturally resistant to dirt and deposits. Eyes will stay moist, refreshed and healthy when you wear these ultra-comfortable toric contact lenses for astigmatism.
Air Optix for Astigmatism are ideal silicone hydrogel contact lenses for dry eyes or for those wearers with busy lifestyles. Enjoy relief from the effects on your eyes of late nights, early starts and long hours working when you wear these monthly contact lenses. It can be worn for 30 days, for 16 hours a day, provided they are cleaned and stored using contact lens solution each night. If approved by your optician, they can also be worn for up to a week. You'll need to remove nightly, before cleaning and storing them with contact lens solution. They can be worn daily for an entire month or for 30 consecutive days provided you have sought advice from your optician.
Toric lenses designed to correct astigmatism
Ideal for dry eyes
TriComfort technology delivers exceptional comfort
Precision Balance technology for excellent visual acuity
Visitint technology for easy application
Is Air Optix For Astigmatism a monthly contact lens?
Air Optix For Astigmatism is a monthly toric, silicone hydrogel that corrects astigmatism. Slim and lightweight, it is barely noticeable and provides a high level of moisture and hydration, ensuring comfort and seamless vision during wear. As a monthly lens, it must be cleaned and stored each night after wear with contact lens solution. Air Optix For Astigmatism is not currently approved as an extended wear lens, you cannot sleep in this lens.
Let's make an appointment with us at Malaya Optical Optometrists to know your astigmatism power.