Air Optix Aqua Multifocal contact lenses offer the freedom from reading glasses, by correcting presbyopia and delivering clear and seamless visual transitioning at all distances.
Created by Alcon & Ciba Vision as part of their Air Optix range, these lenses are designed to correct the age-related issue of presbyopia and the eye's inability to switch focus effectively between different distances. Air Optix Aqua Multifocal offers the very best in contact lens technology. Enjoy 30 days of consecutive daily wear, or two weeks of extended wear if approved by your optician.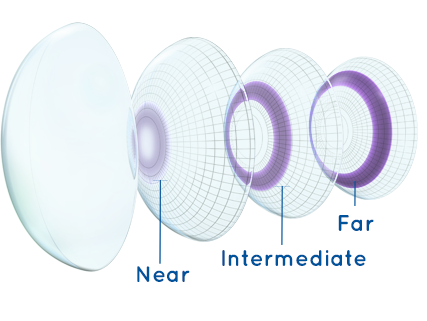 Air Optix Aqua Multifocal Benefits
By using Unique Precision Profile technology, these multifocal contacts are able to blend several prescriptions into one lens and achieve clear and crisp vision at short, intermediate and long distances. Whether it's up close, far away, or at the back of the room, you'll see all objects clearly when wearing these ultra-comfortable multifocal contact lenses.
The silicone hydrogel material of these monthly contact lenses helps to facilitate a healthy flow of oxygen through the lens to your eye. Offering up to six times the amount of oxygen offered by standard hydrogel lenses, these silicone hydrogel contact lenses promote healthy eyes, keeping them fresh and hydrated all day long. In addition, you'll find Air Optix Aqua Multifocal highly comfortable lenses due to their impressive water-retention and resistant-free deposit, making sure nothing gets between you and clear vision.
Benefits & Features
Multifocal lenses to correct astigmatism
Highly breathable, allows more oxygen into the eye
Precision Profile design ensures clear vision across all distances
SmartShield technology defends against deposits
Visitint technology (handling tint) for easier application
How Long Can You Wear Air Optix Aqua Multifocal?
Be sure of 30 days of quality daily wear with these monthly contact lenses when you follow a simple contact lens cleaning routine. As well as nightly removal, these lenses then require cleaning and storing using a contact lens solution to maintain their wettability, comfort and hygiene. You can also wear these multifocal lenses as extended wear lenses for up to two weeks, provided you have approval from your optician who can confirm if your eyes are suitable to sleep in contact lenses.
Let's make an appointment with us at Malaya Optical Optometrists, to know more details.