Soflens 59 contact lenses combine excellent performance, comfort and visual acuity providing daily wear for monthly replacement. The creation of the Soflens 59 contacts are done based on the recent fashion trends of the modern youth and is the latest version of the popular Soflens Comfort lenses from Bausch and Lomb brand, which is designed following advanced Unfit Technology.
Bausch and Lomb Soflens 59 eye lenses are made for everyday comfort and clear vision. Soflens 59 has a balanced integration of lens design, material properties, and manufacturing process to achieve simplicity in lens fitting & refitting and it helps you easy handling.
They are composed of deposit resistant Hilafilcon B Polymer, which prevents protein build up. They are made up of time-tested protein resistant material that provides comfort, visual acuity, and top-notch performance.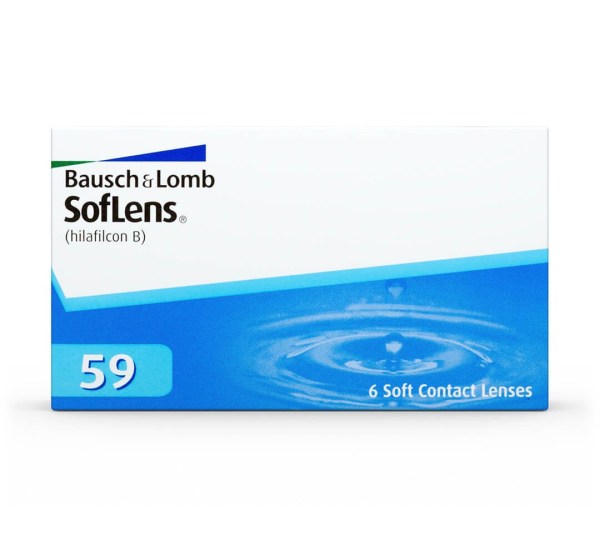 Parameters
Material:
hilafilcon B
Water content:
59%
FDA Material Group:
II
Oxygen Permeability (Dk/t):
22
Manufacturing Method:
cast-molding process
Base Curves:
8.6 equivalent base curve
Diameter:
14.2mm
Powers:
-0.50D to -6.00D in .25D steps -6.50D to -9.00D in .50D steps
+0.50D to +6.00D in .25D steps
Center Thickness:
0.14mm (@-3.00D)
Visibility Tint:
Light Blue
You can wear these disposable lenses daily for up to two weeks. The number 59 in their name suggests the water content they contain. Ideal for contact lens wearers prone to dry eye, these contact lenses have been designed to stand up to the test of modern living. As a result, they work to lessen the effects on your eyes that factors such as digital screen use, air conditioning and indoor heating can have.
Benefits & Features
Monthly contact lens
Deposit resistant material
Ensures clean, crisp vision
Ideal for dry eyes
59% water content
Bausch and Lomb Soflens 59 should be removed at the end of the day. Soak them in a quality disinfecting solution and leave it for the night. In this way, the contacts won't have any dangerous contaminants and foreign objects on them, making your eyes stay clear and healthy. You will observe zero to minimum contaminant buildup on them with such a frequent lens replacement schedule.
Where to buy?
To purchase Soflens 59, you can order online through shop.malayaoptical.com or if you just nearby Petaling Jaya area you can drop by to our shop at Malaya Optical Optometrist.