PureVision2 for Astigmatism are innovative toric contact lenses from PureVision. PureVision2 Toric For Astigmatism contact lenses are designed to reduce spherical aberration across both the cylinder and sphere meridians of the lens for incredible vision. PureVision2 Toric for Astigmatism also incorporates Auto Align Design, a unique stabilization system optimized to deliver consistently crisp, clear vision all day, every day with excellent stability and comfort. An Auto Align Design helps these lenses to remain on your eyes throughout the day, minimising rotation when your head or eyes are moving. As a result, they deliver sharp, balanced vision unaffected by visual distortions, blurs or halos.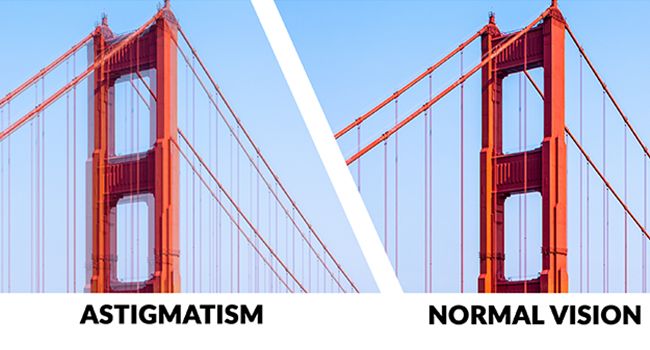 Astigmatism is an eye condition that can cause vision to look blurry or distorted, and often leads to headaches or dizziness. It happens when the lens of the eye is more oblong in shape, rather than spherical. The shape of the lens is important because when the light enters the eye and passes through a spherical lens, it hits the retina in one spot, producing crystal clear vision. However, when light passes through the elongated lens it hits the retina in multiple points, resulting in the fuzzy vision those with astigmatism experience.
If you've been diagnosed with astigmatism and require corrective lenses, you may think that eyeglasses are your only option. Fortunately, this isn't the case. Toric contact lenses, which are made especially for people with astigmatism, have come a long way over the years. Modern day contacts for astigmatism provide consistent and comfortable vision correction. Bausch and Lomb's PureVision 2 HD for Astigmatism is a great example of a toric contact lens that uses advanced lens technology to provide you with the correction and comfort that you deserve. So why choose PureVision 2 HD Toric over other toric contact lenses on the market? Well, there are several unique aspects of PureVision lenses that will greatly benefit seasoned wearers and brand new patients alike.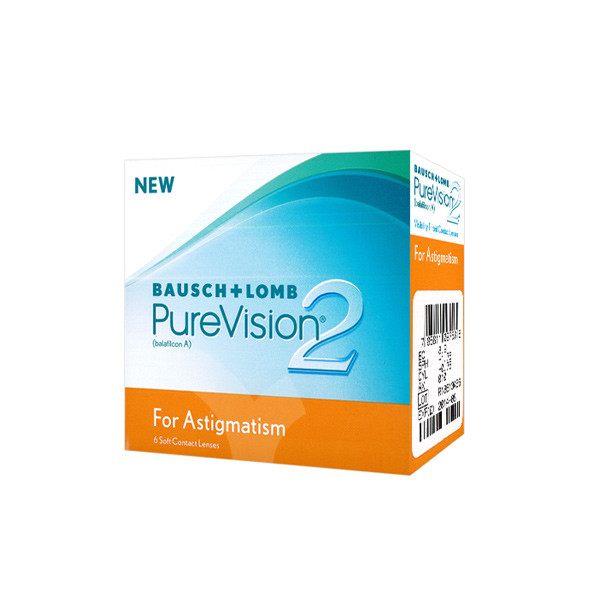 Suitable for up to 30 days of daily wear, these monthly contacts need to be removed each night before bed. You'll then need to clean and store them with an appropriate contact lens solution to enjoy comfortable and hygienic lenses the very next morning.
PureVision 2 HD for Astigmatism features an aspheric design to provide amazingly clear vision. Manufactured differently than regular spherical lenses, aspheric lenses have varied curvatures over the lens to precisely bend and focus the light coming into the eye. Typical contact lenses move around and rotate during wear. Toric contact lenses, however, must stay relatively stationary to provide the best clarity. PureVision 2 HD Toric's advanced design offers consistent clarity and comfort, while greatly reducing the haziness and blurring associated with quick eye movements. PureVision contacts also feature rounded edges for added comfort and handling tint for easier contact lens care.
Designed to reduce spherical aberration on both the cylinder and sphere meridians of the lens.
Patient Benefit: Incredible vision with reduced halos.
Auto Align Design – Hybrid ballasting (peri and prism design), a large diameter (14.5 mm), and large optic zone (8 mm).
Patient Benefit: Amazing stability and orientation deliver consistently crisp, clear vision.
Thin, rounded edge design and moisture-rich packaging solution.
Patient Benefit: Outstanding comfort on insertion and throughout the day.
Parameters
Material:
balafilcon A (silicone hydrogel)
Water content:
36%
Oxygen transmissibility:*
91 Dk/t**
Optics technology:
Aspheric optics
Base curve:
8.9 mm
Diameter:
14.5 mm
Optic zone:*
8.0 mm
Center thickness:*
0.10 mm
Powers:
2011: Plano to -6.00D (0.25D steps) -0.75D, -1.25D, -1.75D
2012: +6.00D to -9.00D (0.50D steps above -6.00D) -2.25D
Axis:
10° to 180° in 10° steps
Visibility tint:
Light blue
Replacement schedule:
Monthly
Modality:
Daily wear
* Measurement at center -3.00D -1.25 x 180.
** Based on boundary and edge corrected Dk.
Where to buy?
To purchase PureVision2 HD Toric for Astigmatism, you can order online through shop.malayaoptical.com or if you just nearby Petaling Jaya area you can drop by to our shop at Malaya Optical Optometrist.