PureVision Multi-Focal contact lenses–the silicone hydrogel lens that gives presbyopes the ideal solution for natural, crisp vision. Many patients are unaware of multifocal lenses–and need you to bring the option to them.
PureVision Multi-Focal contact lenses feature an innovative optical design allowing you to see clearly at all distances – near, far, and everywhere in-between. The PureVision brand is also the first family of silicone hydrogel lenses made of AerGel, a unique material designed to deliver extraordinary comfort and health.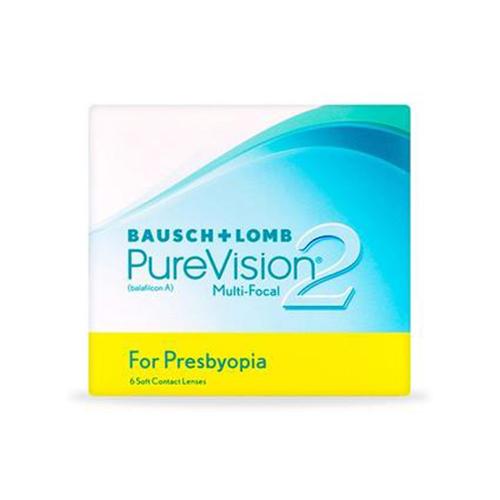 When you choose PureVision Multifocal to deal with presbyopia — you're in good hands. Bausch & Lomb are leaders in multifocal contact lenses. Their cutting edge design allows for remarkable clarity at all distances and smooth transitions between correction zones. To take the guesswork out of wearing contact lenses, Bausch & Lomb has built in even more features. PureVision Multifocal contacts have a visibility tint to make them easier to see in solution and on the finger, in addition to an indicator that shows when lenses are inside out.
Exceptional intermediate visual quality throughout the crucial 16- to 48-inch range, utilizing the wide-intermediate power profile (1) proven successful in SofLens Multi-Focal lenses. More natural presbyopic correction, with smooth transitions enabled by our center-near aspheric design. Exceptional comfort for patients experiencing lens dryness due to a rounded-edge profile (3) and smooth, consistently wettable lens surface.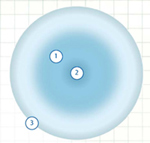 Parameters
Material:
balafilcon A
Water Content:
36%
Oxygen Permeability:
91 x 10–11[cm3O2 (STP) x cm]/(sec x cm2x mmHg)@ 35° C Polarographic Method
(Boundary and Edge Corrected)

101 x 10–11[cm3O2(STP) x cm]/(sec x cm2 xmmHg) @ 35°C Polarographic Method
(Boundary Corrected, Non-Edge Corrected)
Manufacturing Method:
FormCast manufacturing process
Base Curve:
8.6 mm
Diameter:
14.0mm
Powers:
+6.00 to -10.00 in 0.25D steps
Add Power:
Low up to +1.50D, High +1.75 to +2.50D
Center Thickness:
0.05mm to 0.50mm
Visibility Tint:
Light Blue
Inversion Indicator:
No
Key Features & Benefits
Exceptional multi-focal design for people with presbyopia
All-Distance Optics allow you to see clearly near, far and in-between
Comfort-enhancing AerGel material repels debris and stays moist all day
Allows natural levels of oxygen for healthy, white eyes
Designed to provide 30 days of excellent vision and comfort – easy to remember to replace them once a month
Where to buy?
To purchase PureVision Multi-Focal, you can order online through shop.malayaoptical.com or if you just nearby Petaling Jaya area you can drop by to our shop at Malaya Optical Optometrist.