Menicon Ortho-K Lenses works as a continuous wear lenses to correct myopia. Myope is an eye condition of where distance image appear blur and near image look clear. Normally, the standard correction available for myopia correction is using glasses, contact lens or lasik surgery. Today, there is another great alternative way to correct myopia condition, named as orthokeratology.

Menicon Ortho-k designed orthokeratology lenses provide a non-surgical option for patients with myopia. During sleeping time, this lenses corrects your defective vision over night. It able to shows its potential work with or without moderate astigmatism. With special geometry, it re-shapes cornea for patient to see clear and sharp throughout the day. The central area of the cornea is being correct to the right shape without any feeling. When patients remove this lenses in the morning, natural vision is achieve when patients are awake. Dependent on the degree of myope, a clear vision can achieve as early as after few nights. This process is reversible too.
Advantages of ortho-k lenses:
Safe and reversible option versus refractive surgery.
Freedom from visual correction during the day.
Excellent vision to undertake all sorts of activities.
Minimise allergies and dry eyes problem.
High Dk material with maximum corneal oxygenation, keeping cornea healthy.
Fitting based on latest software calculation to improve the first time wearing experience.
Material approved by FDA up to 30 days continuous wear.
Right and left lenses in different colours to avoid mistake.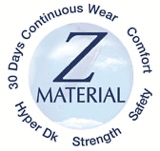 Orthokeratology contact lenses are manufacture by Japanese company Menicon. The material used in this lens is call Menicon Z. Currently, it is world's most advanced material. Oxygen transmission of Menicon Z lenses is the highest value among all. It contains DK of 163 (ISO / 189 Fatt). Thus, it is describe as a hyper oxygen-permeable material. It is also the only material certified by American FDA to wear continous for 30 days and nights. Of course, it is only a possibility orthokeratology lenses are not worn during the day. The safety margin is very wide. Additionally, the Menicon Z material has the lowest possible bacterial adhesion level. The safety is very critical. There were no patients with corneal inflammation recorded after using this lens around the world. Menicon Z is characterized as highest resistance to scratches and grease, whose particles found in tears.
Two special care for Menicon ortho-k lenses will be MeniCare Plus and Menicon Progent. MeniCare Plus is an all-in-one, multi-purpose lens solution for that fulfills greatest real comfort. MeniCare Plus enhancing wettability and reducing lens deposits. Beside, Menicon Progent is a weekly protein remover. It is disinfectant and intensive cleaner compatible for this type of contact lenses.

The fitting takes place at Malaya Optical Optometrist near Damansara Uptown and you may also get consultation at Subang Jaya, your certified ortho-k contact lens specialist. It is fit individual and custom-made especially for eyes from most hyper-oxygen permeable material. During visit, we
examine visual acuity based on current myope
check front section of your eyes using a slit lamp (eyelids, conjunctiva, cornea)
scan topography graph (corneal curvature, corneal diameter) of cornea to access if the lens is suitable for your eyes.
Book your appointment today with us to know more about Ortho-k lenses and fittings.