People nowadays uses spectacle to cover up their blemishes and also hide themselves behind the eyeglasses.
That's not right! Eye glasses are not for you to hide yourself! It's for you To show. To be seen. To be noticed. To be stared. To be uniquely and individually beautiful. To feel good.
Many ladies tone down their eye make-up and even shy away from make-up altogether, as if wearing glasses and looking attractive are mutually exclusive. These women are wrong. You can wear glasses and look glamorous all at the same time.
The mantra 'less is more' in make-up for women who wear glasses is simply NOT true. It may apply to women who wear multifocal, which are an extreme prescription but strong eye make-up when wearing glasses is a great style statement. The frames can be considered as a fashion accessory and it also helps to know that glasses always tend to direct the onlooker's attention to the eyes.
If you apply Concealer, you have to be careful that all creamy products applied under the eyes will warm up as the day goes on and therefore be rubbed off. This may happens to the under-eye skin which usually rubs against frame. So what you need to do is to apply something to make the concealer settle into places. You can try to apply loose powder over the top, which acts as a wonderful de-shiner because it absorbs all the oil. You can also use translucent powder or a special under-eye brightening powder.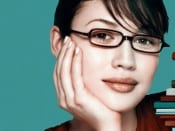 Let's move on to the Mascara. Clumpy lashes look particularly bad behind lenses. So to achieve lush, smooth lashes, you'll need to have a quality product and the right application technique. Whether you wear glasses or not, clumpy lashes look bad anyway. Never pump the wand into the tube as that will dry out your mascara more quickly and leave you with lumps. Also, while applying, be sure to wiggle the wand at the base of your lashes and pull it outwards to coat each lash.
Now you may have asked whether it's recommendable to wear False lashes with glasses on. I wouldn't recommend that, unless you are going for a very dramatic effect. For women who want to emphasize their lashes, single lashes sparingly applied look more natural. Plus, you can add a few more, one at a time, depending on the effect you want. When you add false lashes, I would recommend you let them dry and set in a 90-degree angle upwards, so when they droop slightly as you wear them they still give the illusion of lifting the ends of your lids.
Let's talk about eyeshadow. You must be indecisive over Neutral or Vibranteyeshadows. I would recommend women with eyeglasses to wear stronger eye make-up and opt for vibrant eyeshadow; their eyes are framed by the glasses and as a result can seem like an artwork within. Feel free to use brighter shades, such as apple green, fuchsia pink, etc. These will look especially good on women who wear heavy black or coloured funky frames. But it is important to find the exact shade that flatters your skin colour and dress. I would recommend using your favorite eyeshadow in a cream version that dries into a powder and has good staying power. Use your fingers to blend the shadow in well.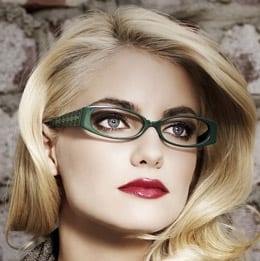 No make-up will be complete without Eyeliner, as it draws attention to your eyes. But the thickness of the liner has no special rules and depends on the shape of the eye you are trying to create. You can create an elongated tapered line that is thicker at the end (inspired by cats' eyes), or make a very thin line using a dark powder colour that ties all the single eyelashes together along the lashline and simply defines the eye. Besides, lining the eye in general takes a bit of practice. That's why they say 'Practice makes perfect'.
Nowadays, 'Cat's eyes' and 'Smoky eyes' looks are the In trend and exude a glamorous feels. We carry that brand of eyeglasses namely Andy Wolf, a handmade Austrian product. But the smoky eye/nude lip look is sometimes considered a bit theatrical. One easy way to turn a daytime look into a sophisticated evening look is to use a liquid black eyeliner to create a Sixties-inspired cat's eyes look of the kind made famous by Brigitte Bardot. You can start experimenting both looks and see which one suit you better.
Now you may be in dilemma to choose Creamy eyeshadows or Powder versions and Matte or Shimmer. That would really depend on whether your personal preference is powders or creams. Creams are easier if you are applying a single colour all over the lid. But remember, the texture you select depends on where you want to place the eye make-up: the important rule to remember is that a matte shade looks good on the centre to the edge of your lashes and a shimmery colour looks great in the inner corners of the eye.

We often speak about Brows framing the face. With glasses, you already have a symmetrical frame to work with and this can be more dramatic depending on the kind of frame you have chosen. The recent, vintage, 'cat-eye' glasses are a fun way to experiment with shapes that suit your face.
With the use of a fine-angled eyeliner brush to fill in and shape brows, it tends to come across as more natural. A lot of people like to use a pencil so they can literally draw on each hair, but both techniques work well if you take the time to match both brows. You can try to brush the hairs upward with a clear mascara to hold them in place or literally treat them like hair and use a disposable mascara spoolie brush sprayed with hairspray!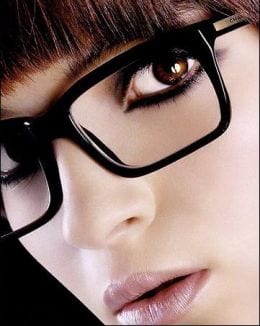 There is no real difference in how women with or without glasses should wear Foundation. With foundation, you should aim to get an overall even effect. Light coverage is normally for the warmer times of the year. In cooler months, heavier full-coverage foundations work better, as they even out skin tone more effectively without feeling heavy and also provide a welcome layer of protection against the elements. It's recommended to use foundation according to the state of your skin on any given day. So if your face feels a bit more oily when you start on make-up, then reach for a more matte foundation. If you have used a heavy night cream before going to bed, then select a light foundation the next morning. Don't be afraid to mix colours and textures in foundations to suit your mood and the tone of your skin.
Just as with foundation, there are no special requirements when it comes to wearing Blush with glasses. But yes, using too much blush will look more odd when you have glasses on. Use a bronzer sparingly to warm up the skin, especially on the outer-most areas of the face so the lighter area in the centre is even more pronounced. Now it's strongly recommended to perfect the make-up using a bright pink or apricot blush. This completes the look naturally. But it's important to keep in mind the layering of textures. Applying a cream blush on freshly powdered cheeks will result in a paste that won't blend into the skin. Use cream blush on skin that not been powdered and then set it with a translucent powder.
Now it's important to keep shimmer to a minimum. Therefore, the parts to be applied Highlighter will be the tops of your cheeks, cupid's bow above the lip, and deep in the inner corners of your eyes. Basically, you are trying to create light and glow on your face, not oily face.
Let's touch on another part that's essential to everyone; Lips. Lip colours don't have anything to do with glasses. Lip colour is ultimately about the level of drama a woman wants to create. You can use all three textures – glossy, matte or powdery shimmer – all at the same time when it comes to lips. Jennifer Lopez and Kim Kardashian are known for adding all sorts of dimension to their pout by adding multiple shades and textures on a nude lip. Here's how to do it: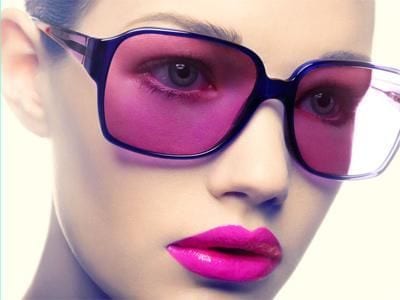 Start with a lip pencil, shading it gradually inwards towards the center of the lip. Then follow it with a golden apricot color of lipstick and finally top it with a shimmery gloss applied just at the center of the lips. Press gently together. Very Hollywood!
Now what are you waiting for? Start experimenting today with your make-up to accentuate your beauty. Remember, you don't have to hide behind your glasses anymore. Your glasses are to accessories your face. You wear the glasses, not the other way round. At Malaya Optical, we don't just sell unique individual eyeglasses, we create individualism. Visibility is life.