Can Bausch & Lomb Ultra last long ? Here an explanation regarding your questions. Bausch & Lomb is a leading global eye health corporation which is wholly owned by their subsidiary Valeant Pharmaceuticals International; announced that the US Food and Drug Administration (FDA) has approved for Bausch & Lomb Ultra lenses that can be worn for up to six nights and seven days continuously. First introduced in 2014 in the US, it is the only brand of contact lenses that include Moisture Seal technology, that contain a combination of material and manufacturing process, which helps to remain 95% of lens moisture for almost 16 hours.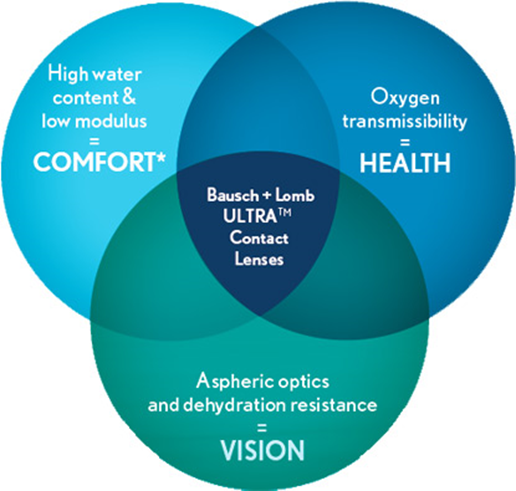 The Bausch & Lomb Ultra lenses offer exceptional lens wear experience, backed by outstanding clinical performance and now, simply, continuous wear for up to six nights and seven days. In fact, Bausch & Lomb Ultra are engineered to supply all-day comfort and consistently clear vision. It may enhance their wettability with a high oxygen transmissibility level which means the ability of the lens to let oxygen reach the eye and the flexibility of the lens material to be deformed.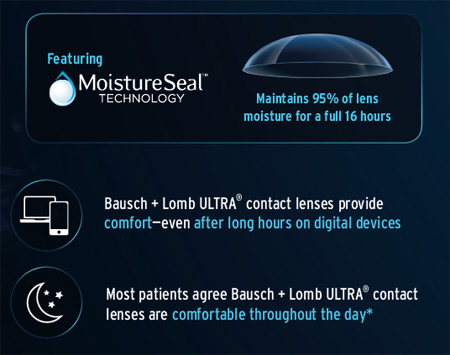 However, it is significant for us to read on the safety information for extended wear of the lenses. Bausch & Lomb Ultra might have the risk of microbial keratitis and other infection vision has been shown to be greater among users of extended wear and daily wear contact lenses. Hence, if a patient who has experiences with eye discomfort, excessive tearing, vision changes or redness of the eye, they should be instructed to remove the lenses and promptly contact your eye care specialists. 
Although, most eye care specialists would trust and recommend it for their practice and patients because with these extensions of wearing lens indication, it could be suited to patients who prefer a longer wearing schedule as part of their lifestyle. Bausch & Lomb Ultra are extremely comfortable lenses in handling digital screen strain which is helping your eyes to stay moist every time you put in your contacts.
Let's get started to check your eyes with Malaya Optical Optometrists now!