Bausch & Lomb is the one world's most famous and respected healthcare brands, offers a wide variety and best of eye health products including contact lenses and lens care products, pharmaceuticals, intraocular lenses and other eye surgery products. Their priority is the well-being of people they serve. Bausch & Lomb lenses cover the entire spectrum of wear modalities and include well-known brand names for example, Ultra, BioTrue ONEDay, PureVision, Soflens, Boston and Optima. In this post, i would like to tell the benefits of Bausch & Lomb Ultra if youre wearing it.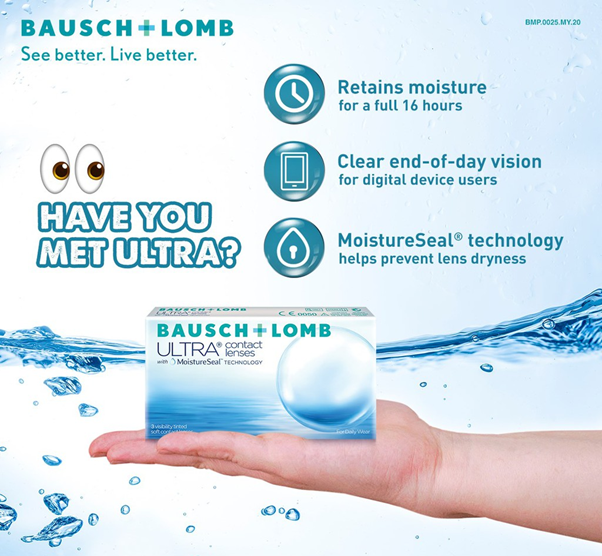 If you spend a few hours a day by looking at your computer screen and want the contact lens that can keep up with your digital life? If so, you can try Bausch & Lomb's ULTRA. Bausch & Lomb Ultra was first launched to the US market in 2014. As mentioned earlier, this lens is designed with the user in mind of digital devices! When you look at your screen computer, you will blink your eyes 66% lower than you normally would. So it could cause your contacts to become dry. But Bausch & Lomb is aware of this problem and responding to it by making contact lenses with extreme comfort by incorporating MoistureSeal Technology. . Therefore, this is the benefits of Bausch & Lomb Ultra if you are wondering.

MoistureSeal technology is an exclusive technology that retains moisture and makes the surface of Ultra contact lenses extremely wet. It is created through a two-phase manufacturing process. For Phase 1; it produces a very breathable unique silicone material. Phase 2 is where the wetting agent called PVP is implanted through the lens as well as on the surface. The result is a lens that retains 95% of moisture for 16 hours! And also 9 over 10 of their patients agree that Ultra helps reduce their eyes from feeling dry and tired after a day looking at their digital devices.
The other benefits of these contact lenses is the visual clarity provided. Ultra contacts are designed with aspheric optics. Its design helps to relieve light and glare; which means your vision will be better in low light conditions, including night driving. In conclusion, Bausch & Lomb Ultra is almost a good brand and a fantastic contact lens option!
Let's visit our website Malaya Optical to book your appointment with our expert optometrists now!