In this article, we will explain Acuvue Trueye vs Acuvue Moist and compare which one is better. Both Acuvue contact lenses are created by renowned manufacturer Johnson & Johnson, known to offer high quality contact lenses for sensitive eyes to stand up to the demands of today's challenging environments.
Acuvue Trueye and Acuvue Moist are titled as Johnson & Johnson's most popular lenses. They boast a high level of UV protection and being a daily disposable means they're an incredibly hygienic way of wearing contact lenses. So, you can enjoy a fresh new pair of contacts every day. The soft and spherical design of the contacts allow for easy application with the additional benefits of a 123-inversion indicator, to tell you if they're inside out.
Acuvue Trueye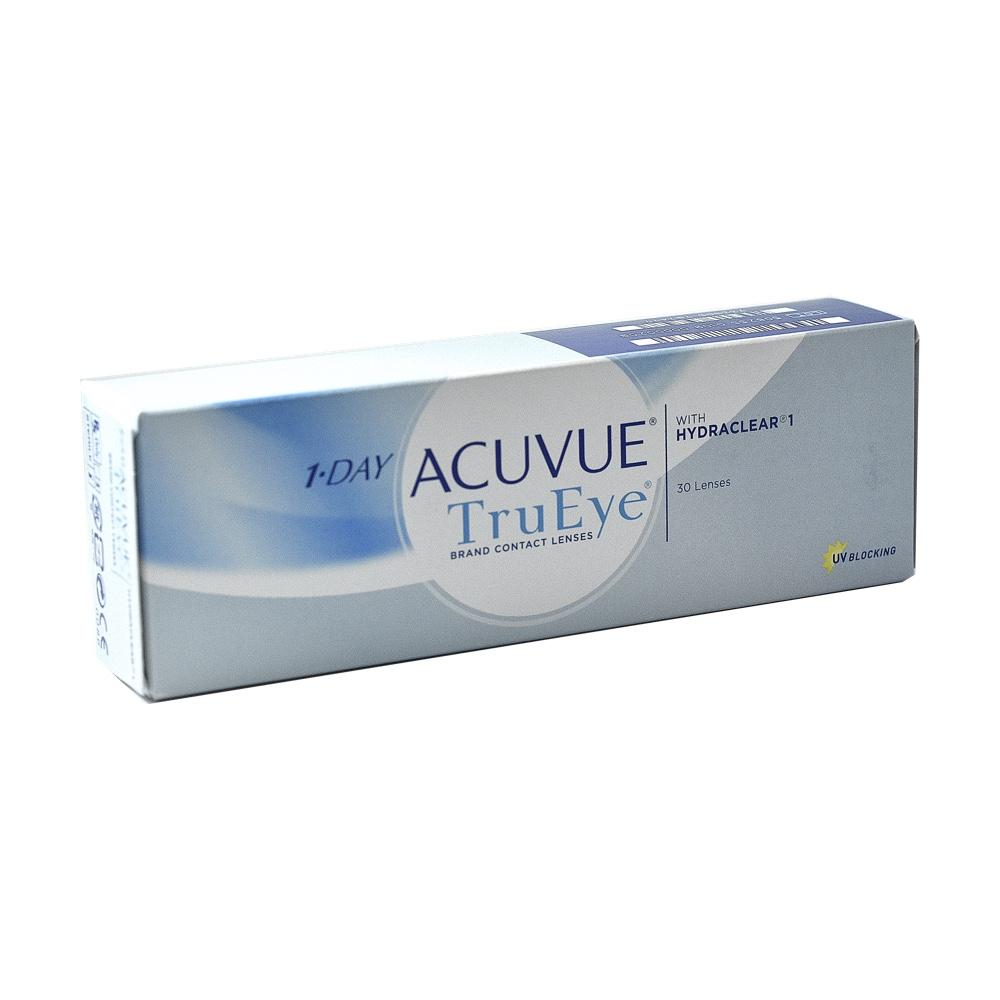 Acuvue Trueye contact lenses offers a high level of hydration and comfort, perfect for people who wear their lenses regularly for a long period of time during the day. Thanks to Hydraclear technology and its silicone hydrogel material, these highly breathable lenses are constantly lubricated and allow six times more oxygen into the eye compared to standard hydrogel lenses. They can last long hours to keep up with prolonged screen use and dry or dusty environments, making them ideal for the active contact lens wearer.
Acuvue Moist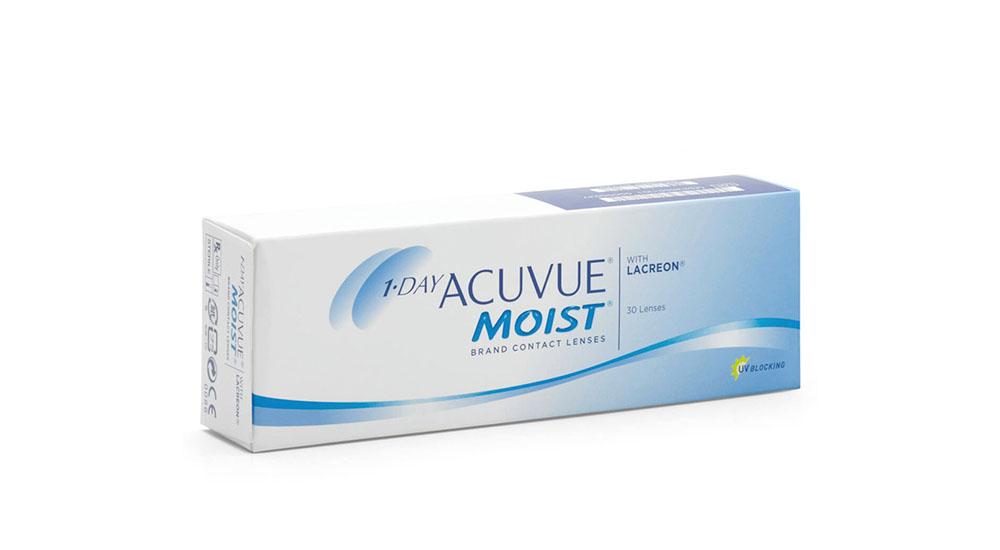 Acuvue Moist contact lenses deliver incredible comfort to keep up with your busy day, designed specifically for people who suffer from allergies, or itchy eyes. Made with advanced Lacreon technology, the lenses are designed with an embedded wetting agent to provide long-lasting cushion of moisture, making them an ideal daily disposable option for anyone with a busy lifestyle. They are available in both toric and multifocal form.
What are the different between them?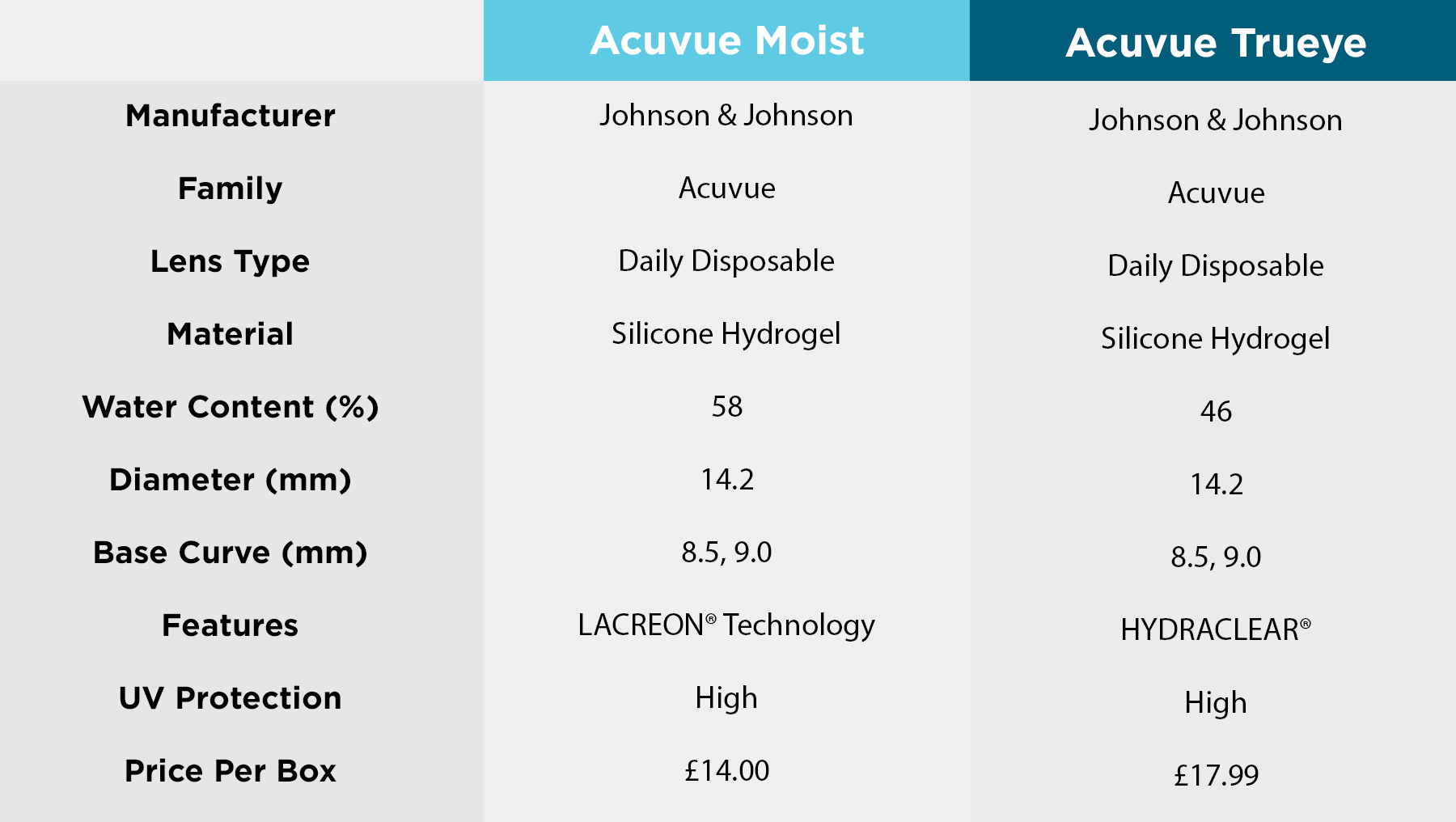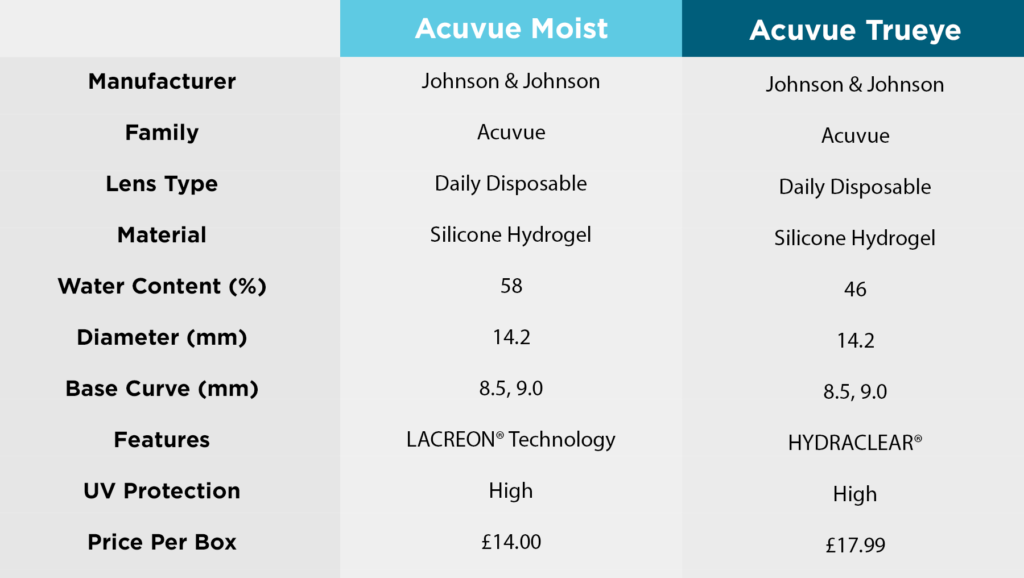 As you can see, there are only subtle differences between these two pairs of contact lenses. The main distinguishing feature is the technology used by each lens to retain moisture and keep them comfortable.
Features
Acuvue Moist comes complete with Johnson & Johnson's exclusive Lacreon moisture retention technology, which locks in wetness over the surface of the lens so that your eyes remain lubricated throughout the day.
Acuvue Trueye use Hydraclear technology does a very similar job, however, it is known to last for even longer. This means Acuvue Trueye can generally be worn for longer periods than Acuvue Moist as they retain moisture for more hours of the day.
UV Protection
Both lenses boast very high levels of UV protection. UV protection is vital for keeping your eyes safe against the sun's rays on the UK 's odd hot days! Don't forget to pop on your favourite pair of UV protection sunnies on those bright days.
Value For Money
Tthe value added of the comfort and new technology in Trueye shows in the price that is coming in slightly more expensive than Acuvue Moist. However, as we've seen, their superior comfort over extended periods of wear ensure they are worth every penny to a regular contact lens wearer.
The Acuvue Moist provide good value for money for someone who is new to contact lenses, or perhaps only wants to wear lenses occasionally. Those looking for cheaper Acuvue contact lenses will find that Acuvue Moist deliver outstanding comfort at a very affordable price.
Which one is better?
As we have discovered, the features and benefits of the Acuvue Trueye and Acuvue Moist are closely aligned. Both are made of exceptional quality materials and the latest technology to ensure long-lasting comfort.
If you are a regular contact lens wearer, it may be worth the extra pennies going for Acuvue Trueye for optimum levels of comfort. If you are someone who chooses to wear contact lenses every now and then, stick with Moist for that pocket-friendly alternative to glasses.
Where to buy?
If you think Acuvue Moist is the best lens for you, then click here to our online contact lens website at shop.malayaoptical.com to purchase online
If you think Acuvue Trueye is the right contact lens for you, click here to purchase online Acuvue Trueye contact lens
In case you need consultation from optometrist before buying it online, you can visit our shop. To book your appointment, click here.