Acuvue TruEye contact lens are owned by Johnson & Johnson, known to offer high quality contact lenses for sensitive eyes to stand up to the demands of todays challenging environments. In additon to that, Acuvue TruEye also specially designed for patients who wants to take care of their eyes today and for years to come and intensively and place a priority on eye health. The Acuvue range gives you freedom from wearing glasses to enjoy an active lifestyle with the options of daily, two weekly and monthly contact lenses to choose from. For Acuvue TruEye contact lens, it only available for daily disposable and does not provide astigmatism and multifocal lenses range.
Acuvue TruEye contact lenses help keep eyes in their natural state all day and over time. Thanks to the Hydraclear 1 technology which uses a cornea-lid inspired design that makes Acuve TruEye lenses are almost invisible to the eye. Acuvue TruEye contact lenses offer more than just vision correction with built of Eye-Inspired Design.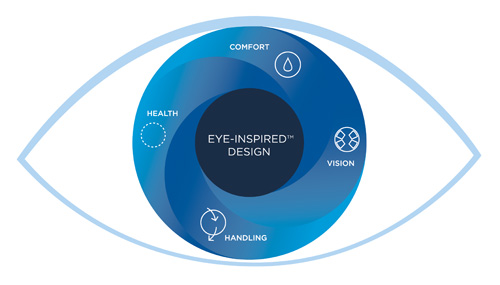 Hydraclear 1 technology
Embedded PVP mimics the mucin on both the cornea and eyelid will help to minimize lens interaction to be nearly invisible to the eye itself. Mucins on both the lid and the cornea allow the lid to glide over
the cornea without adherence.
– The cornea cannot discern between the lens and the eyelid.
– The eyelid cannot discern between the lens and the cornea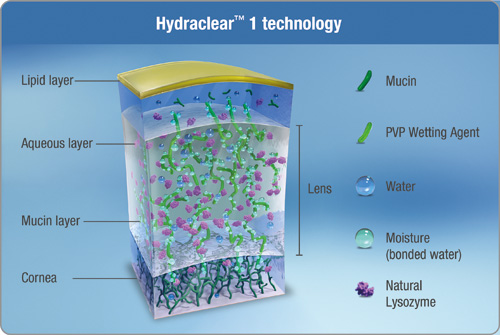 Benefits of Acuvue TruEye
Provides healthy lens wear without compromising comfort
• Hydraclear 1 technology maintains the natural environment
of the eye and gives that no-lens feeling.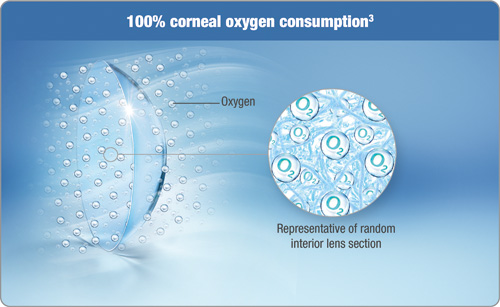 Hydraclear 1 technology and the high performance lens material
• Allows the same oxygen uptake as the natural eye, helping
to keep eyes white.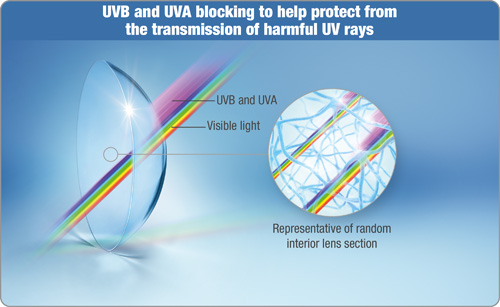 The highest UV blocking in a contact lens
• Helps reduce UV exposure with Class 1 UV-blocking
• Helps protect your eyes from transmission of the sun's harmful rays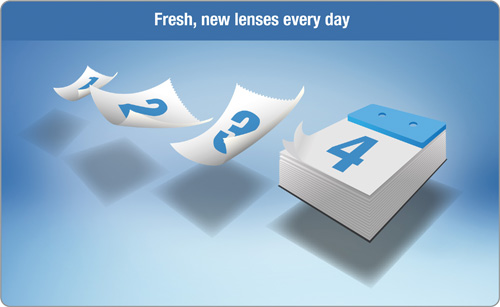 The freedom and convenience of a fresh, new lens every day
• Daily disposables are the healthiest way to wear contact lenses7,8
• No cleaning required
Acuvue TruEye Contact Lenses Specification
Lens material
narafilcon A
Wetting technology
HYDRACLEAR® 1 technology
Water content
46%
Base curve
8.5mm, 9.0mm
Diameter
14.2mm
Power range
-0.50D to -6.00D (0.25D steps)
-6.50D to -12.00D (0.50D steps)
+0.50D to +6.00D (0.25D steps)
Centre thickness
0.085mm (-3.00D lens)
Oxygen transmissibility (Dk/t)
(boundary and edge corrected)3**
118 x 10-9 (-3.00D lens)
Oxygen flux (% available to central cornea)4
98%
Class 1 UV-blocking***
99.9% UVB, 96.9% UVA
Visibility features
Visibility tint '123' inversion indicator
Recommended replacement schedule
Single use only: 1-day replacement
Pack sizes available
30, 90, 180 lenses
Where to buy?
To purchase Acuvue TruEye contact lenses, you can order online through shop.malayaoptical.com or if you just nearby Petaling Jaya area you can drop by to our shop at Malaya Optical Optometrist.