Acuvue Define was released to the US market in 2015. Since it's built on the Acuvue Moist platform, it comes with the comfort, vision, and UV protection of the most prescribed daily contact lens. Acuvue Define contact lenses go beyond colored contacts by boosting your natural eye color and creating an authentic look. This contact lenses also available with correction for near and farsighted prescriptions.
This contact lens contains Lacreon Technology same like Acuvue Moist that is made of an elastic, inflammation decreasing material with uniquely designed edges. Therefore, this dual-action approach helps keep your lens comfort up and inflammation down. In addition that that, Lacreon Technology permanently embeds a water-holding ingredient which is similar to that found in natural tears. This will helps providing up to 20 hours cushion of moisture for exceptional comfort. With beauty wrapped in comfort technology, pigments are safely enclosed between two layers of lens material to prevent direct contacts with your eyes.
Besides, Acuvue Define is one of the highest levels of UV protection that is available in a daily disposable contact lens. It has built-in UV protection that blocks 97% of UVB and 82% UVA rays.
Acuvue Define is available in seven designs. Each design blends seamlessly with your unique iris pattern to make more noticeable without cover your natural eye beauty.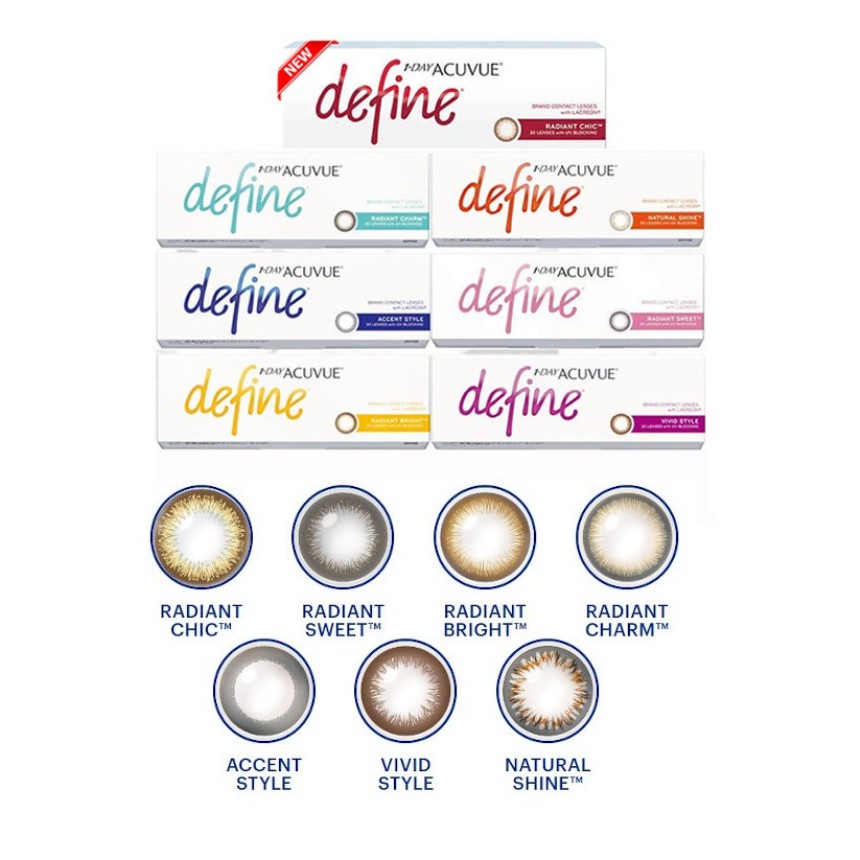 RADIANT SWEET™ for a sweet endearing look (Dark Brown Outer Ring + Espresso + Caramel Iris)
RADIANT CHIC™ for a standout look
RADIANT BRIGHT™ for a bright captivating look (Brown Outer Ring + Amber + Light Mocha Iris)
RADIANT CHARM™ for a deep enchanting look (Black Outer Ring + Grey + Honey Iris)
ACCENT STYLE for an elegant look (Black outer Ring + Grey + Charcoal Iris)
VIVID STYLE for a vibrant look (Chocolate Brown outer ring + Brown Iris)
NATURAL SHINE™ for a sophisticated look (Black Outer Ring + Caramel & Espresso Iris)
Acuvue Define is marketed as a beauty product towards women between the ages of 20 to 40 who wear makeup but are not looking for a traditional colored contact lens. The lens is designed to enhance the contrast and appearance of your iris, an area that often becomes less defined with age.
Where to buy?
If you're looking for a subtle, bold, defining, or vibrant appearance to your eyes (without having to wear colored contact lenses) you should give Acuvue Define a try! To purchase, you can order online through shop.malayaoptical.com or if you nearby Petaling Jaya area you can just drop by to our shop at Malaya Optical Optometrist.