PROJECT DETAILS
Hospital Name

Malaya Optical

Date

19-02-14

Diseases

Vision Screening

Location

Malaya Optical Damansara Uptown
Recently, Malaya Optical collaborated with International Medical University (IMU) to run a 2 day vision screening at the Sri Sempurna International School, Cheras. The vision screening team comprises of a doctor, 2 optometrists and healthcare professionals.
Sri Sempurna School was established in 1993, providing the Malaysian School Syllabus. In 2013, the school launched the Cambridge Primary Syllabus and the International General Certificate of Secondary Education (IGCSE). The school is noted for taking a holistic approach in educating and molding students, aiming at academic excellence as well as holistic development of the individual student, which includes character building, spiritual growth, leadership, life skills, and physical education.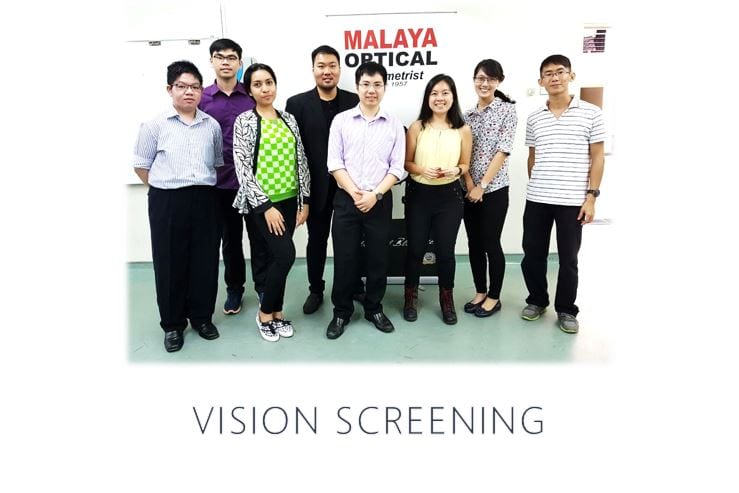 During the event, over 500 students, including the teachers and staffs were screened for vision abnormalities. They first went through a modified ETDRS Chart aimed to screen and categorize the students by age-group. This is to ensure that the student's current visual acuity was being assessed, based on their eye developmental stages and ability to resolve words and numbers. The next stage is to go through refraction and spectacle power examination to make sure the student's prescription is optimal.
These will enable the optometrist to get the best tentative correction for the students, before giving advice for treatment. Finally, students screened with uncorrected refractive errors will be referred for further investigation, with the aim to correct their eye-sight to enable them to function in everyday life. Uncorrected refractive errors may hamper class performance, eye-hand-coordination, emotional state, and social disparity. It may even lead to depression or lack of confidence in students, particularly while they are growing up and receiving learning experience at school. At Malaya Optical, we provide vision screening and care to all age groups. If you are interested to arrange vision screening for your establishment, do drop us an email or directly contact us.