Miacare Confidence Color Monthly is a perfect combination of health and beauty that providing long-lasting comfort for your eyes. It is also the world's 1st silicone hydrogel daily contact lens. Miacare backed by the resources of BenQ Materials, a leading optical material manufacturer in Taiwan. Miacare brings to you silicone hydrogel contact lenses that are manufactured using a revolutionary technology called the EautraSil Hydrophilic Silicone Technology, beginning a new era of comfortable and healthy contact lens wear for your eyes.
EautraSil Hydrophillic Silicone Technology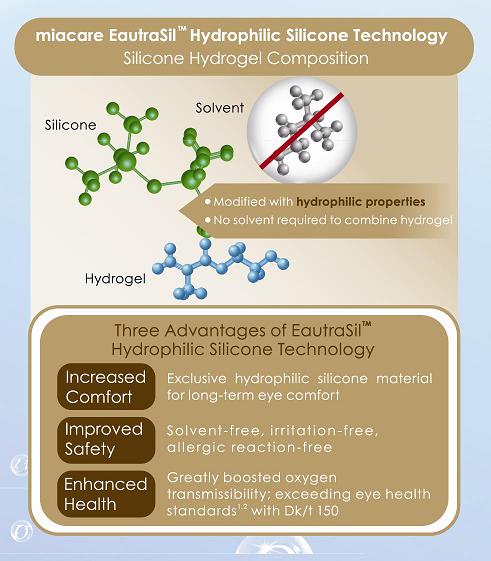 With miacare's revolutionary EautraSil Hydrophillic Silicone Technology setting a new benchmark in the industry with our high oxygen transmissibility and the use of dot-matrix colour printing, miacare Confidence gives you long-lasting comfort coupled with natural Asian beauty rolled in one!
2. 6 Times more Oxygen Transmissibility to Your Cornea, Providing All-Day Comfort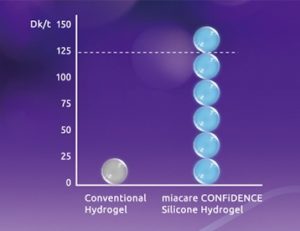 Far exceeding the minimum desirable Dk/t 125 required in the closed-eye state. An ample amount of oxygen is allowed to pass through the lens quickly to the cornea, effectively preventing hypoxia-related complications. Health and Beauty work synergistically, without compromising your comfort and style.
3. Dot-matrix colour printing technology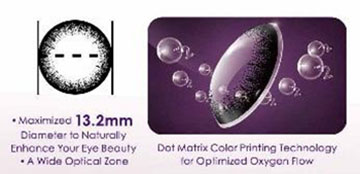 Dot-matrix colour printing technology with large unobscured area to allow for oxygen passage. The colorants are distributed evenly on the lens, creating clear air tunnels to make circle lens even more breathable. The denser outer rim and sparse inner rim blends with your eyes naturally. This would make your eyes look bigger and vivid.
4. Double Moisturizing Agents: Hyaluronic Acid and Sodium Alginate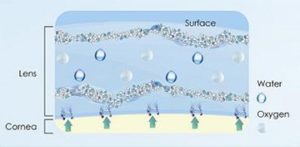 The effect of Miacare's advanced moisturizing agents, HA and SA, combined with the lens' low modulus, making the lens feel smooth and less dry, even with extended wearing. This unique formula is developed by Miacare to moisturize and revitalize your eyes for better eye health.
5. Smart Peripheral Edge Design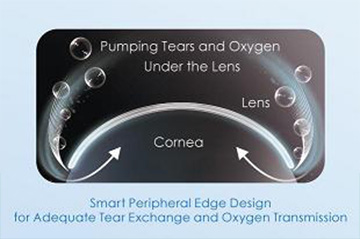 Smart peripheral edge design which helps to improve surface wettability, reducing irritation and providing extra comfort.
6. Unique Color Blocking Technology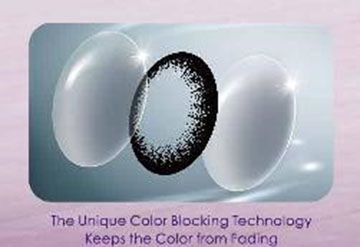 Unique colour blocking which provides fade resistance. The tri-layer printing technique secures the colorants between the two outer layers. No direct contact with your eye. No worries about staining allergies and infections.
7. Low Modulus – High Comfort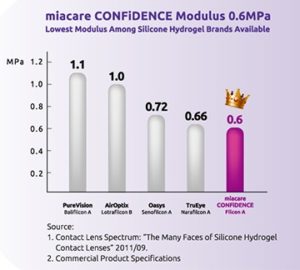 With hydrophilic silicone, less silicone is required to combine hydrogel. As a result, the low modulus affords softer, more comfortable wear.
Product Details
Miacare Confidence Color Monthly comes in a pack of 2 lenses (1 pair) per box. Miacare Confidence Color Monthly available in 2 colors that are Mystic Black and Charming Brown.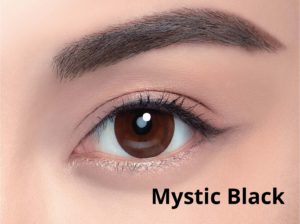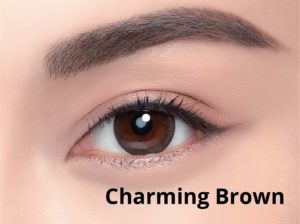 Box Contains    : 2 lenses/ box
Replacement    : Monthly Disposable
Water Content : 47%
Base Curve      : 8.mm
Diameter : 14.0 mm
Where to buy?
Are you looking for a colour lens that helps you to dazzle and add that shine to your eyes but without compromising their health at the same time? Let Miacare Confidence give you the solution. To purchase, you can order online through shop.malayaoptical.com or if you nearby Petaling Jaya area you can just drop by to our shop at Malaya Optical Optometrist.