Digital Eye Strain is defined as the physical eye discomfort felt after two or more hours in front of a digital screen. Essilor Lens Eyezen is here now to protect you from getting digital eye strains. A combination of factors including the proximity at which we view digital screens, the frequency and length of time of this use, and physical responses to screening habits, have conspired to cause visual discomfort.
Digital Eye Strain originates from the over exertion of the ciliary eye muscles. When focusing on close objects, the eyes accommodate to try and create the clearest possible image. The eye accommodates by flexing the ciliary muscle which changes the curvature of the crystalline lens. Digital eye strain comes from this prolonged contraction or "flexing" of the ciliary eye muscles.
Here are some of the most common conditions you can experience by staring at screens for too long:
Dry eyes
Eye Strain
Tired Eyes
Headaches
Harmful Blue Light is all around you, due to the increasing use of devices and new lighting technologies inside and sunlight outside. Harmful Blue Light is one of many risk factors such as age, genetics, diet, lifestyle, and occupation that may contribute to age-related macular degeneration (AMD). AMD is a leading cause of severe vision loss and blindness in adults over the age of 60.
Essilor Lens Eyezen
Crizal Eyezen are new and innovative lenses designed to address modern digital lifestyle, and provide comfort and protection. They have been engineered with 3 exclusive technologies.
Eyezen focus – Helps to see more clearly and comfortably regardless of the size and distance of the screens.
Light scan – protect eyes from harmful blue light
WAVE technologies – provide sharper vision than traditional single vision lenses.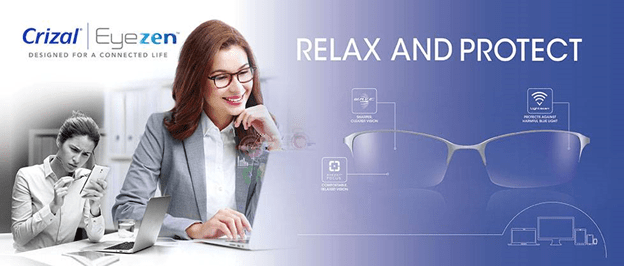 EYEZEN FEATURES
Maximized distribution of the prescription power on the lens to provide extra focusing support and contain a small amount of accommodative relief to help alleviate eye strain caused by viewing near objects, like cell phones and tablets.
Deflection of a significant amount of the dangerous blue-violet light while letting beneficial blue-turquoise light pass through
Fine-tuned lens surface providing a sharper vision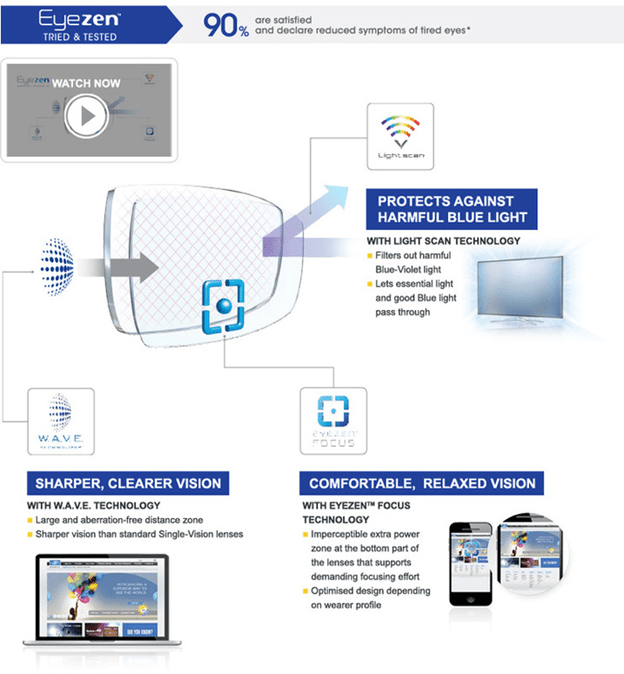 BENEFITS OF EYEZEN LENSES
Reduce visual fatigue during prolonged use of a smartphone and allow better readability of small characters.
More vivid colors in the day, sharper vision at night
Reduce glare and help to prevent premature aging of your eyes caused by prolonged exposure of harmful blue-violet light
Eyezen lenses are a more complete solution to modern vision problems than ordinary single vision lenses.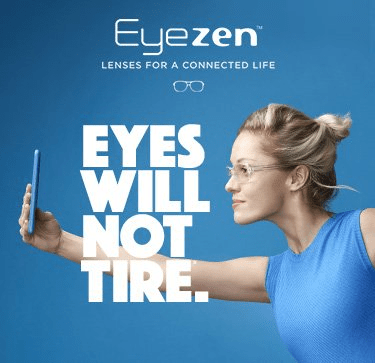 Let's screen your vision today and do let us know if you have experienced digital eye strain as well. Book an appointment with the best optometrist in KL now.