I'm interested in wearing contact lenses. How long does it take to get used to them?
Depending on your eye sensitivity and whether you choose Soft or rigid gas permeable (RGP) contact lenses, it may take only a day or it could take two weeks or more for your eyes to adjust to the lenses. Some people's eyes never adjust, but that's rare.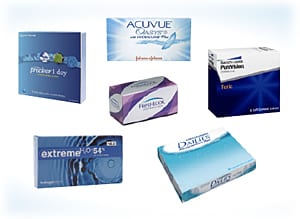 Are contact lenses difficult to care for?
There are certain steps you need to take to ensure that your eyes stay healthy and your contacts last as long as possible.
The exceptions are daily disposable contact lenses and some extended wear contacts that are discarded every time they're removed. With these, you throw them out when you're done wearing them, so there's no care regimen at all.
Can a contact lens get lost behind my eye?
No. At worst, you might have trouble finding it under your upper eyelid if you rub your eye and dislodge the lens from its proper position. If necessary, your Optometrist from Malaya Optical in Klang Valley can help you locate and remove the lens.
How old must children be before they can wear contact lenses?
That depends on how responsible the child is. This decision is best made jointly between you, your child and your Optometrist.
What kinds of contacts are available?
Contact lenses come in various material types, replacement schedules and wear schedules. Many wearers find disposable contact lenses and extended wear contacts are the most convenient.
Replacement schedules. Your Optometrist at Malaya Optical will prescribe your replacement schedule. It depends on the contact lens material and design, as well as your lifestyle and the condition of your eyes.
Conventional soft contacts can last up to a year; conventional rigid gas permeable (RGP) contact lenses can last even longer.
Frequent or planned replacement contact lenses last one to several months.
Disposable contacts last from one day (daily wear) to up to two weeks (extended wear).
Wear schedules. Daily wear contact lenses must be removed before sleep. Extended wear contacts can be worn continuously (day and night) for up to a certain number of days, usually seven to 30 days.
Special contact lenses. Special contact lenses include bifocal contact lenses, colored contacts, orthokeratology contact lenses that correct your vision while you sleep, theatrical contact lenses, contact lenses for astigmatism and UV-blocking contacts.
Are disposable contact lenses worth the extra money?
Our Optometrist in Damansara Uptown highly recommend disposable contact lenses such as Acuvue, Soflens, Purevision, Focus, Air Optix, Biomedics, Sauflon, and etc. They are an excellent choice health-wise, because there is less opportunity for protein and bacteria to build up on them. Also, if you wear daily disposable contact lenses, which are discarded at the end of the day, you won't need to buy contact lens solutions to clean and disinfect them after each use.
Extended wear contacts let you start your day with clear vision.
Is there really a big difference between daily wear and extended wear contact lenses?
Yes. Extended wear contacts are made of special materials that allow more oxygen to reach your eye, which makes them safer for wear during sleep.
The FDA determines the maximum amount of time that extended wear lenses can be worn before removal. Some brands are approved for up to seven days of continuous wear; others can be worn for up to 30 days.
Where is the best place to buy contact lenses?
After your Optometrist in Damansara Uptown prescribes your contact lenses, you can order lenses from them directly. At Malaya Optical we keep a huge inventory of disposable contact lenses such as Oasys, Moist, TruEye, Air Optix, Biomedics 55, Biomedics 38, Safe Gel, Silicone Hydrogel lenses, Freshlook Colorblend and etc.