Ray-Ban Malaysia Sunglasses
Ray-Ban Malaysia is the world most famous and best-selling brand in the world. They make the most trendy and unique eye wear collection the world has seen.

These sunglasses and eye glasses are designed with meticulous detail and made of the best and highest quality manufacturing standards to offer you comfort and design. From our experience, one of Ray-Ban most popular designs are Ray-Ban Aviator, Ray-Ban Wayfarer, Ray Ban Club Master, Ray Ban Justin, RayBan Erika, Ray-Ban New Release, RayBan Icons, Ray Ban Tech, Ray Ban Rare Prints, Ray-Ban Kids, Ray-Ban Carbon Fiber, Ray-Ban Aviator New Release, Ray-Ban Wayfarer Original, Ray-Ban Polarized, Ray-Ban Mirror Coating, and Ray-Ban Limited Edition. We have majority of these design at store, obviously as they are most sort after, we update our regular customers immediately when new products arrives. Therefore, if you are fast enough u might get a chance to grab a pair yourself.

When you buy Ray-Ban sunglasses or Ray-Ban Malaysia eye wear you can enjoy superb clear vision and from the sun's glare, with rocking good looks and fashionable appeal. These sunglasses from Ray-Ban are always on promotion or sale at Malaya Optical in Damansara Uptown. It would be this years resolution as a MUST Have fashion accessories. We have over 900 original and authentic design to order from and upto 100pairs for immediate collection. Such wide selection is only possible with our huge fan base of Ray Ban hard core members.
Ray-Ban Malaysia: The history of the sunglasses' top-seller
Ray-Ban came to light as a creating as the first sunglasses military request from the US. It was use first by pilots reported that the glare from the sun was giving them headaches and altitude sickness. The Ray-Ban Sunglasses New Release provided a new kind of glasses with green lenses G15, which would cut out the glare without obscuring vision. Within a short period, Ray-Ban sunglasses became a star amongst the military and also the people of the world. These sunglasses are best as protection and also a fashion statement.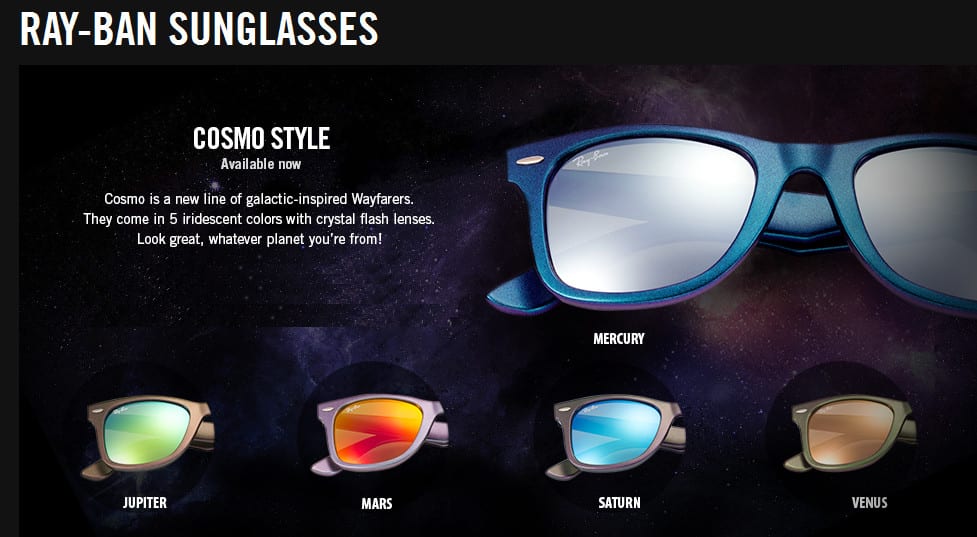 Ray-Ban sunglasses became influential during the rise of the celebrity culture, contributing to the power of rock music and helping movie stars to build their influence in fashion. For more than seven decades, RB sunglasses have revolutionized the eyewear industry and become indispensable for trendsetters to get noticed, who now – more than ever .
Ray-Ban Original best sellers
Malaya Optical in Damansara Uptown brings you the Ray-Aviator, the most loved style of the brand. This classic piece of eyewear is a revolution in metal eyewear and fits perfectly on any face shape, looking great on both men and women of all ages. Most of the popular Hollywood celebrities have set a trend with their Aviator Sunglasses, especially actors like Tom Cruise, Johnny Depp, or Brad Pitt and Angelina Jolie.
Ray-Ban Wayfarer is the other sunglasses model that enjoys the same popularity as the Aviators. It was launched in early 1950's and immediately loved and flaunted by Hollywood stars and influential singers like Madonna, Elvis Presley and Michael Jackson. Wayfarer sunglasses and their variation, new Justin sunglasses, became a must-have fashion accessory for every wardrobe at all times.
After its two most successful styles, Ray-Ban launched the Clubmaster edition. It was loved by old and new music generations, Ray-Ban Clubmaster sunglasses are a great example of rediscovering a classic style, as they keep the original design and adapt themselves to the current fashion trends. They are available in multiple colors of lenses and frames, and have become a top seller for this season. What are you waiting for? Get your new edition of Ray Ban Sunglasses now from Malaya Optical in Damansara Uptown.