如何透过视觉来提高您的高尔夫球技?
大多数的高尔夫球手都不知道太阳眼镜的重要性。太阳镜可以视为您其中一个的辅助工具,从中提高您的技术。大多数人都会具备一双好的球鞋,甚少着重在一副高尔夫太阳眼镜。适当的高尔夫太阳眼镜不但能为高尔夫球手辨别更好的球道和果岭,不妨碍您的摆动,还能更完善地将球掌握其中。在Malaya Optical,我们代理着各种特殊的高尔夫太阳眼镜如: Oakley Radar, Oakley Polarized, Rudy Project, Tag Heuer Sunglasses, Zero RH 等。这些太阳眼镜有利于您提高瞄准挥杆的同时,也能保护您的眼睛免受紫外线的伤害或者一些罕见的伤害。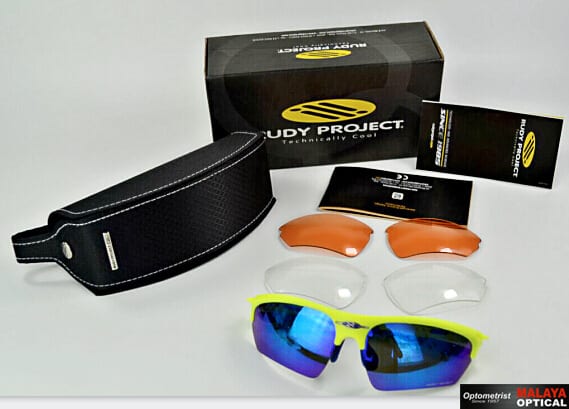 防止紫外线:高尔夫球是一门户外运动,所以您应该穿佩戴100%不受紫外线辐射影响的太阳眼镜。
镜片颜色:从色彩学的原理来看,颜色镜片更能吸收蓝光,从而促使了人类对绿色和白色的敏感度,而棕色或琥珀色的镜片则能增加对比度。若您偏向于自然色彩,则可以选用中性灰色或G-15灰绿色的镜片。虽然偏光镜片可以帮助高尔夫球手减少眩光,但也会使高尔夫球手不但难以识别绿色,更会有草坪平坦的错觉。
太阳镜款式:高尔夫球手常常会觉得太阳眼镜干扰着他们的视野线。当他们摆动时,头部将稍微移动,而镜框就会干扰他们的注视。问题的解决方法非常简单,只要您佩戴一副没有底边的镜框或佩戴一副更大的镜框,这就不阻碍您的视线啦!
合适的镜框:当您正准备挥杆并往下一看时,不适合的眼镜就会从鼻梁上滑下。为了确保不发生这样的事情,您可以选择有镜腿的眼镜,而且可以轻松地调整
镜片:大多数的高尔夫太阳眼镜如Oakley,Rudy Project和Zero RH都可以配制合适的镜片。然而,那些佩戴Multifocal或progressives的高尔夫球手们可能已经开始察觉到,只有把头低下才能好好地看到球。多焦点功能不但影响了您对距离的判断出现了错觉,或许还会造成头部不舒服。因此,一位专业的高尔夫球手,必须佩戴一副专属高尔夫球的太阳眼镜。

Rudy Project has created a series of specific high performance golf glasses and sunglasses for those who play golf, to guarantee the performance of a champion. And a champion of the calibre of Edoardo Molinari, in fact, has chosen to rely on the technology and quality of Rudy Project, always guaranteeing:
Perfect face fit thanks to the ergonomic design and Total Comfort System, which provides adjustable terminals and nosepiece.
The lenses do not mist over thanks to the ventilation systems Air System, Air Channel and Vent Controller.
Super lightweight, thanks to the use of innovative materials such as Kynetium™, Grilamid®, carbon and titanium.
Protection from wind, dust and shocks due to ImpactX™ technology lenses, guaranteed unbreakable for life.
Optimal vision on the green, thanks to the revolutionary ImpactX photochromic lenses specifically designed for golf that allow high level control of light and the perfect balance of brightness between the objective and the background.
The golf glasses from Rudy Project can also adopt custom optical solutions that can correct individual sight defects.
更多相关资讯,欢迎到Malaya Optical咨询。