Journey As An Optometrist
Started way back in 1957 from the beginning of times through the hands of my grandfather, Ho Kai.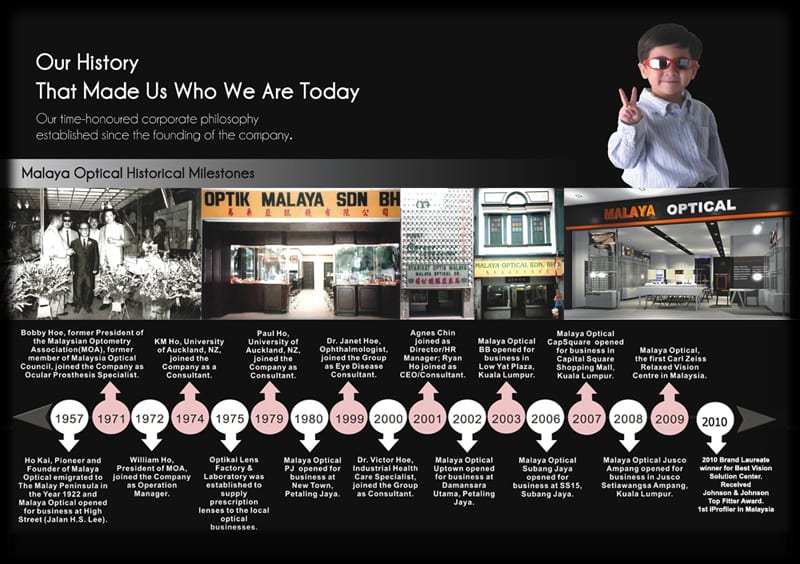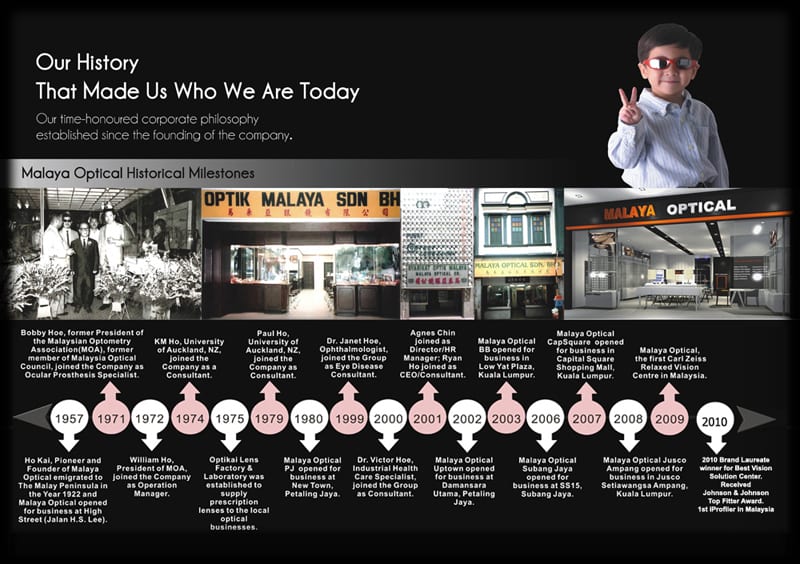 1957 Ho Kai, Pioneer and Founder of Malaya Optical emigrated to The Malay Peninsular in the year 1922 and Malaya Optical opened for business at High Street (Jalan H.S.Lee)
1971 Bobby Hoe former President of Malaysian Optometry Association (MOA), former member of Malaysia Optical Council, joined the company as Ocular Prosthesis Specialist
1972 William Ho, President of MOA, joined the company as Operation Manager
1974 KM Ho,University of Auckland,New Zealand joined the company as consultant
1979 Paul Ho,University of Auckland,New Zealand joined the company as consultant
1980 Malaya Optical PJ opened for business at New Town,Petaling Jaya
1999 
Dr.Janet Hoe, Ophthalmologist joined the company as Eye Disease consultant
2000 
Dr.Victor Hoe Indutrial Health Care Specialist, joined the company as consultant.
2001 Journey as an Optometrist Agnes Chin joined as Director/HR and Ryan Ho joined as CEO/Consultant in the company.
2002 Malaya Optical Uptown opened for business at Damansara Utama Petaling Jaya
2003 
Malaya Optical Bukit Bintang opened for business in Low Yat Plaza Kuala Lumpur
2006 
Malaya Optical Subang Jaya opened for business at SS15,Subang Jaya
2007 
Malaya Optical CapSquare opened for business in Capital Square Shopping Mall, Kuala Lumpur
2008 
Malaya Optical Jusco AU2 opened  for business in Jusco Setiawangsa Ampang Kuala Lumpur
2009 Malaya Optical become the first Carl Zeiss Relaxed Vision Centre in Malaysia
2010 
2010 Brand Laureate winner for the Best Vision Solution Center. Received Johnson & Johnson Top Fitter Award. Malaya Optical is also the first Optometrist center in Malaysia that using the iProfiler in Malaysia.
As the story goes, the Journey as an Optometrist never ends as we always constantly seek to achieve high level of Professionalism and eye care values.